Tacko Fall and his mother from Senegal were reunited for the first time in seven years during Senior Night at Central Florida (UCF).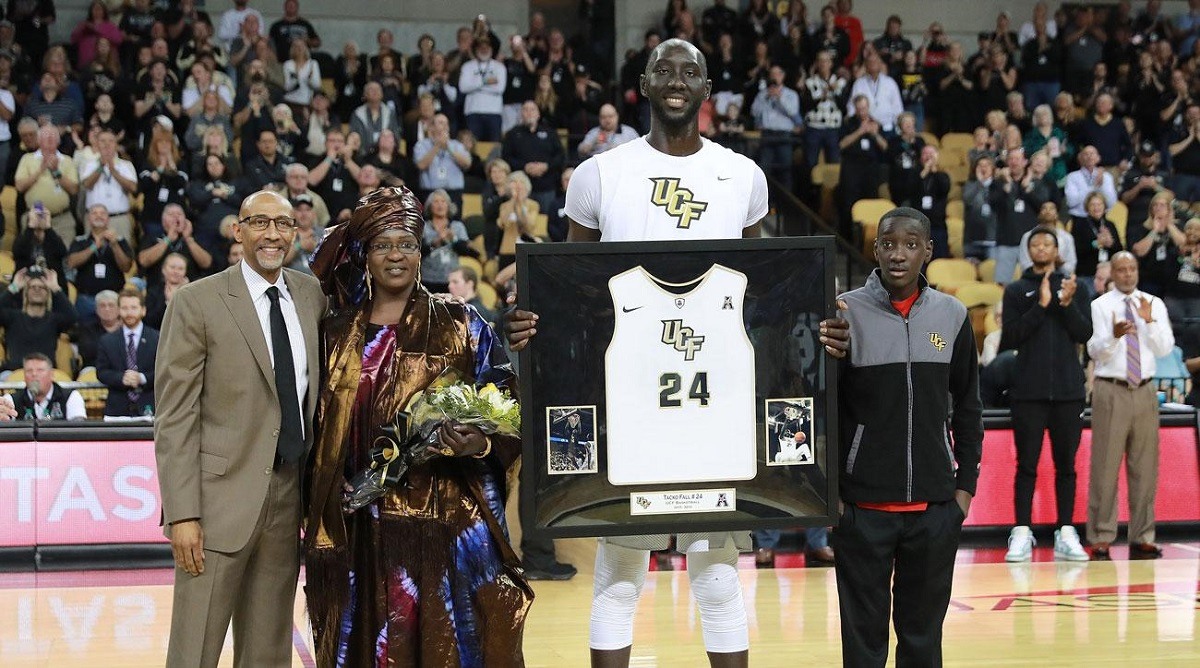 Marianne Sene had never seen her son play basketball before in person. She picked a good game to watch because #25 UCF defeated #20 Cincinnati 58-55.
Fall, a 7-foot-6 senior originally from Dakar, Senegal, leads the nation in field goal shooting at 76.5 percent. He currently holds the NCAA record for highest shooting percentage at 74 percent.
Fall is UCF's third-best scorer with 11.2 points per game. He leads the team with 7.3 rebounds and 2.5 blocks per game.
Fall posted five double-doubles this season, including a rare 20-20 double-double. He scored 20 points and hauled down 23 rebounds against SMU last month.
Tacko Reunion
Tack Fall left Senegal at age 15 and moved to America to hone his basketball skills.
"I honestly can't imagine doing that," said UCF head coach Johnny Dawkins.
Fall moved to Houston and trained with former NBA star Hakeem Olajuwan. He attended high school in Florida before moving to Orlando to play for the UCF Knights.
"I left my home in Senegal seven years ago to learn to play basketball, to get an education and to make a better life for me, my mom and my family," said Fall. "I'm just so glad she's able to see me play at UCF, so she will know now that it's all been worth it."
Fall and his mother, Marianne Sene, were reunited at the airport a couple of days before Senior Night.
"I have thought about that (moment) every day since I've been here," Fall said. "I felt like I was dreaming. It was incredible."
His mother Marianne, decked out in a traditional boubou, watched he son play in a live game for the first time. She also appeared with Tacko as part of Senior Night festivities at UCF.
Tacko Fall's mom came to watch him play for the first time @UCF_MBB 🙏pic.twitter.com/Kuhaas9bAo

— SI College Hoops (@si_ncaabb) March 8, 2019
UCF Respect, Better Late Than Never
Central Florida (23-6) is trying to get respect on the football field and on the basketball court. The UCF Knights put together a string of winning seasons, yet continuously snubbed by the college football playoff committee. They did not get an opportunity to play in the National Championship.
It's no different in basketball either. The American Conference is one of those mid-major conferences that will never get the same respect as the major conferences. It's hard to argue against the talent in the ACC, SEC, Big Ten, and Big 12. But UCF, Cincy and Houston are playing great basketball this season.
The AP Poll finally added UCF to the Top 25 this week for the first time this season. They might not be impressed with the AAC, but they were impressed with a spectacular road win over #8 Houston.
UCF won seven out of their last eight games. They are riding high on a five-game winning streak that also includes a big upset win against conference foe the Houston Cougars. UCF stunned #8 Houston at Houston (28-2) and snapped their 33-game home-winning streak. Tacko Fall scored 13 points and added 10 rebounds in the five-point victory.
NBA Bound
Fall will declare for the NBA Draft at the end of the season. He is not projected to be a first-round lottery pick, but NBA scouts love his size at 7-foot-6.
Fall has a chance to become the tallest player in the NBA Draft since Yao Ming in 2002. Ming stood 7-foot-6 when he played for the Shanghai Sharks and the Houston Rockets.
Fall's teammates at UCF insist he grew at least another inch since the season started, so he might be closer to 7-foot-7.
Oregon's Bol Bol, the son of NBA great Manute Bol, missed most of this season with an injury. In what little time he played, Bol Bol impressed scouts with his shooting ability. Bol Bol is only 7-foot-3, which seems small compared to his father. Manute holds the NBA record for tallest player at 7-foot-7.