A rare Tom Brady rookie card set a record on Thursday, becoming the first football card to top a $1 million sale price.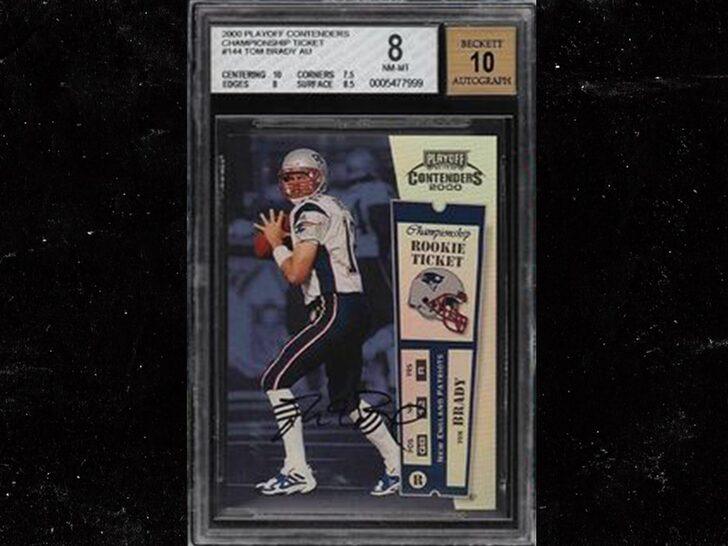 Brady's autographed 2000 Playoff Contenders Championship Ticket card sold for $1.32 million on the PWCC Marketplace, one of the top markets for sports card sales. The card received a grade of near mint-mint 8 from Beckett Grading Services (including a perfect 10 subgrade for centering) and a pristine 10 grade for its signature.
As an example of how much the market has boomed, another version of this card with a higher grade (9 for condition and 10 for signature) sold for $400,100 two years ago.
Avid Brady fan scoops up the card
ESPN reported that noted Brady fan and avid card collector James Park bought the card.
Park said in comments posted to PWCC's Instagram account that he lived in Boston for a decade, so naturally, he roots for the seven-time Super Bowl-winning quarterback.
"I've also had a love of collecting cards since I was a kid," Park said. "Given Brady's uncontested status as GOAT in football, this card is an important piece of sports history and of any collection."
Card auction records broken left and right
The sale easily eclipses the previous known record for a sale price, $861,000, for a 2017 National Treasures signed Patrick Mahomes card sold last month. Only five copies of that card exist.
ESPN notes the record could soon be broken again as Lelands auction house is auctioning another signed Brady 2000 Playoff Contenders Championship Ticket. That card features an 8.5 grade on its condition and a 9 grade on its signature.
Sports card auctions have shattered records in the past year. A 1952 Topps Mickey Mantle rookie card graded 9 by PSA set the new benchmark with a sale of $5.2 million in January. The basketball record belongs to a 1-of-1, signed 2018-19 National Treasures Luka Doncic Logoman card that brought $4.6 million at auction in February.