Ryan O'Reilly scored two goals for the Saint Louis Blues in Game 4 of the Stanley Cup Finals to defeat the Boston Bruins 4-2 and even the series at 2-2.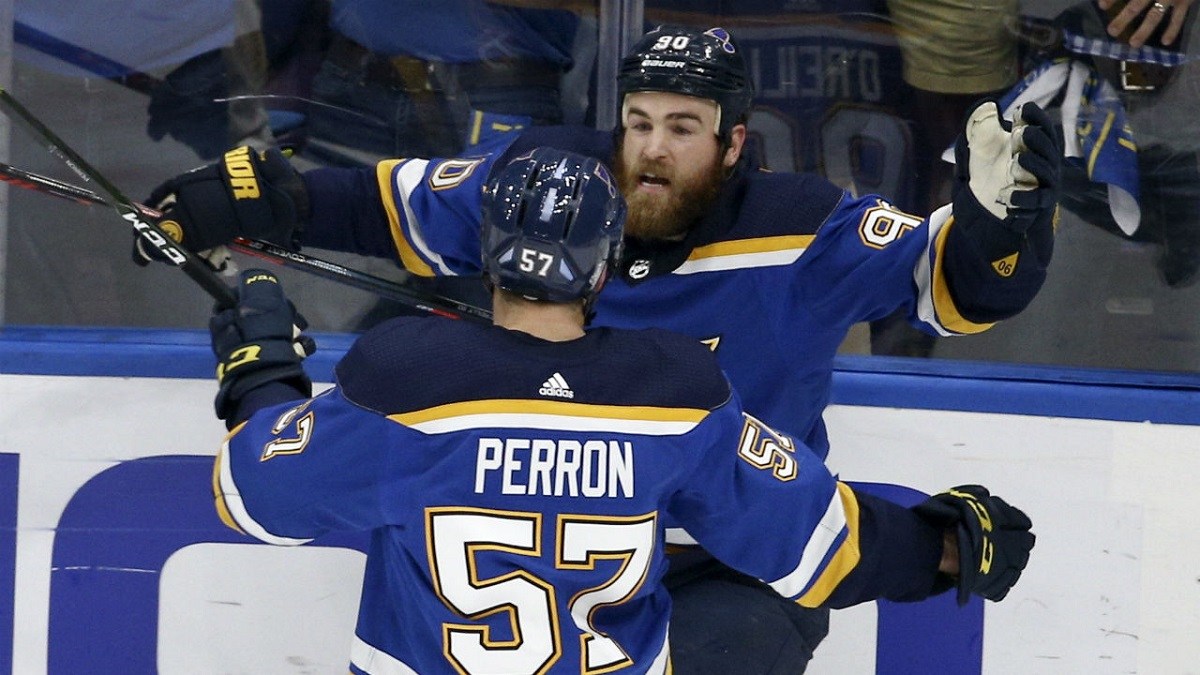 In front of a frenzied hometown crowd in downtown St. Louis, which included "Mad Men" star and Blues superfan Jon Hamm in attendance, the Blues won their first home game in the Stanley Cup Finals in 49 years.
O'Reilly scored in the first minute of the game to put the Blues up 1-0. Bruins goalie, Tuukka Rask, looked impossible to beat this series, but the Blues finally snuck a few by the stonewalled goalie from Finland.
O'Reilly also scored the game-winning goal, his second of the game, to break a 2-2 tie score with 9:22 remaining in the third period.
"We knew what we had to do tonight to be a better team," said Blues head coach Craig Berube. "We were relentless tonight. Didn't stop for sixty minutes."
Meanwhile, Bruins captain Zdeno Chara took a puck to the face. He might have broken his jaw and he's listed as out indefinitely. During a freak play in the second period, a deflection from a shot by Brayden Schenn clipped Chara.
Without their captain, the Bruins could not prevent the Blues from winning Game 4 on the blood-stained ice.
Bounce Back and Rebounds
It's a fine line between success and hell for a goaltender. No matter what happens the rest of the Stanley Cup Finals, the two hottest goalies led their teams to the finals this year. You can only go as far as your goalie in the playoffs. Sure, you have to figure out how to score goals against a hot goal on the other side of the ice, but it also comes down to your goalie saving one more goal than the other guy.
Rookie Jordan Binnington tended goal for Game 4 despite getting pulled by Berube during a rout in Game 3. Binnington looked sensational with 21 saves to bounce back with a huge victory.
Tuukka Rask posted 34 saves but he allowed three goals. The Blues scored an empty netter late in the game to officially seal the deal. However, Rask didn't look all that bad aside from allowing a couple of goals to Ryan O'Reilly on rebounds.
"He spit out some rebounds," said Bruins coach Bruce Cassidy. "I don't have an issue with his rebound control."
Overall in the playoffs, Rask has a 93.8 save percentage. His only other loss in the Finals came in overtime in Game 2.
GO CRAZY, ENTERPRISE CENTER!!!!! #stlblues #WeAllBleedBlue pic.twitter.com/w950t2Ux06

— St. Louis Blues (@StLouisBlues) June 4, 2019
The Blues/Bruins Stanley Cup Finals resumes on Thursday for Game 5 in Boston. The Bruins opened as a consensus -155 on the moneyline to win Game 5 on their home ice.