From a betting standpoint, Saturday's Grade 3 Southwest Stakes at Oaklawn Park lacks value. Do you want 3/2 Essential Quality or 8/5 Jackie's Warrior? There are five other horses in the field, but this isn't a rhetorical question.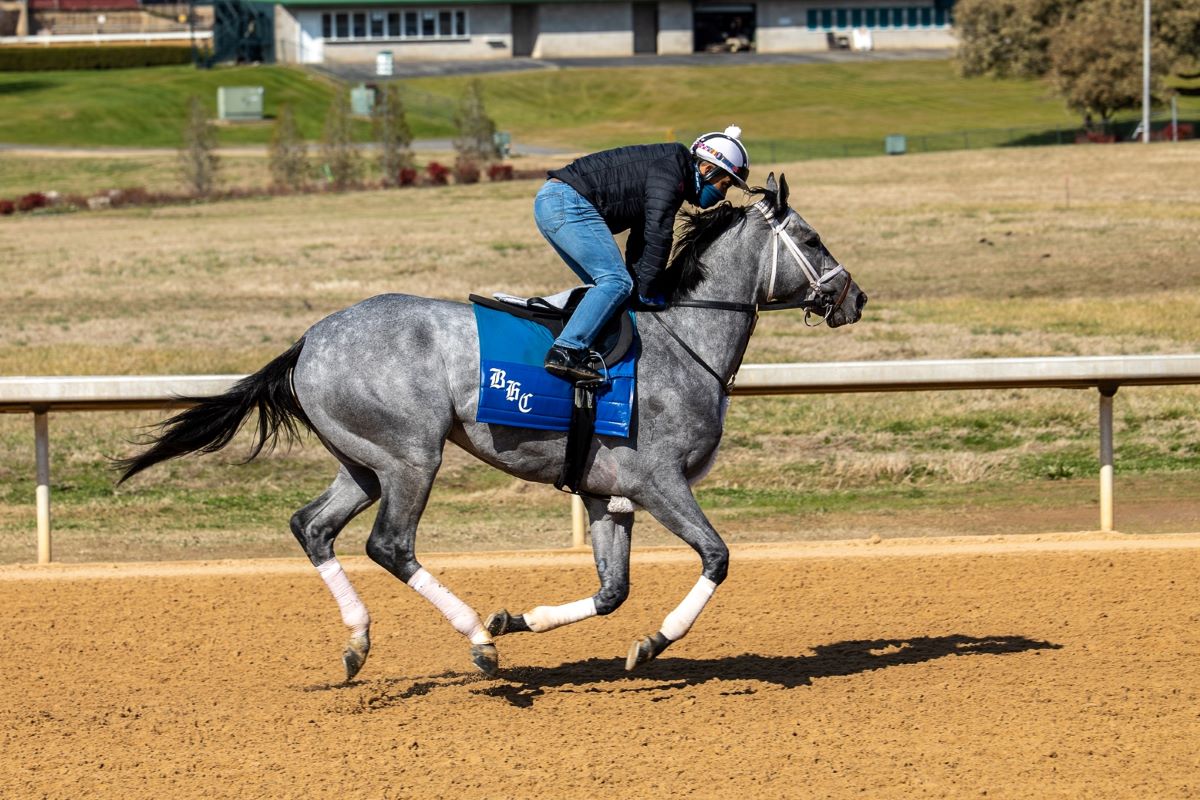 From a watching standpoint, the 1 1/16-mile Southwest lacks nothing. How can it, when you have the reigning Champion 2-Year-Old taking on one of his fastest contemporaries? And, how can it when that contemporary and his connection have had three-plus months to contemplate avenues of revenge for the last time these two raced?
Before we parse those storylines, let's dispense with the formalities. The Southwest offers 10-4-2-1 Derby qualifying points along with its hearty $750,000 purse. It's the latest Oaklawn stepping stone toward the Grade 1 Arkansas Derby on April 10.
The Southwest jumped into national prominence courtesy of two horses, Lil E. Tee and Pine Bluff. Those two went 2-3 in the 1992 Southwest, which impressed nobody coming into the 1992 Kentucky Derby. Not when all the prerace buzz surrounded Breeders' Cup Juvenile champion Arazi, who Time Magazine said "was fast winning a reputation as the second coming of Secretariat."
So much for the second coming
Going off at 17/1, Lil E. Tee passed a tiring Arazi entering the stretch. Then, he reeled in Casual Lies to win an improbable Derby. Two weeks later, Pine Bluff won the Preakness.
In 2004, Smarty Jones catapulted from winning the Southwest to winning the Derby and the Preakness, and the Southwest became a race worth watching in most years. Especially since it became a Derby trail stop in 2013.
This year is no different. Postponed 12 days due to the ice storms besieging Arkansas, the Southwest gives us the aforementioned Champion 2-Year-Old – Essential Quality – making his 3-year-old debut. The reason Essential Quality wears the crown isn't because he was unbeaten in three juvenile starts, two of those Grade 1s.
Essential Quality won Round 1
Essential Quality wears the crown because when he and Jackie's Warrior went head-to-head in one of those Grade 1s – the Breeders' Cup Juvenile – Essential Quality prevailed. His off-the-pace victory came by three-quarters of a length over Hot Rod Charlie. Jackie's Warrior, the 9/10 prerace favorite, finished fourth.
Since then, Essential Quality whiled away the winter at trainer Brad Cox's Fair Grounds base. He clocked eight workouts, with the last two coming on Feb. 14 and 20. Even with the winter postponements at Oaklawn, Cox had no intention of audibilizing out of the Southwest and running the son of Tapit in the Grade 2 Risen Star at Fair Grounds.
"The mile and an eighth, off a layoff, I just didn't think it made the most sense for him," Cox told Oaklawn's Jennifer Hoyt. "We're going to get through the first one before we decide where the second one will be. Off the layoff, the mile and a sixteenth just made more sense than a mile and an eighth."
Southwest will answer plenty of questions
Detractors can say the fast early pace in the Breeders' Cup Juvenile opened the door for Essential Quality. But he did stalk the pace winning the Breeders' Futurity earlier that fall. Detractors can also point to what the nearly four-month layoff means, which is a legitimate concern.
So, if this presents you the opportunity to beat the head wearing the crown, your logical stop is Jackie's Warrior. Whatever questions Essential Quality faces, multiply those by five when discussing Jackie's Warrior. While he too makes his 3-year-old debut here, Jackie's Warrior does so after the most disappointing effort of his young career.
That was his fourth in the Breeders' Cup Juvenile. What's more disconcerting about that race is that Jackie's Warrior did everything according to trainer Steve Asmussen's playbook. He let the pace unfold, stalked it well, took the lead entering the stretch, and then folded like origami in deep stretch. The questions about Jackie's Warrior's ability to navigate two turns began the moment he finished 3 ¼ lengths behind Essential Warrior.
How Jackie's Warrior responds will tell his Derby tale
To that point, Jackie's Warrior was not only undefeated – owning the only triple-digit Beyer Speed Figure (a 100) of any juvenile – but untested. He led at every call in his first four races. Most notably, all four of those races came around one turn.
Forget Essential Quality for the moment. That's the essential question stalking Asmussen and Jackie's Warrior all winter – can he handle two turns? How you answer this question determines who you like in this race. Especially since Jackie's Warrior is likely the true speed in this race.
---
Grade 3 Southwest Stakes/Oaklawn Park
Morning Line (Jockey/Trainer)
Essential Quality, 3/2 (Luis Saez/Brad Cox)
Saffa's Day, 10/1 (Ricardo Santana Jr./Steve Asmussen)
Last Samurai, 12/1 (Jon Court/Dallas Stewart)
Jackie's Warrior 8/5 (Joel Rosario/Steve Asmussen)
Santa Cruiser, 12/1 (Richard Eramia/Keith Desormeaux)
Woodhouse, 8/1 (David Cabrera/C.R. Trout)
Spielberg, 9/2 (Martin Garcia/Bob Baffert)
---
The only other horse in the conversation is the one who passes for having early speed: Bob Baffert's ubiquitous Spielberg (9/2). Usually, Baffert shippers to Arkansas dominate the conversation like Arazi did before that 1992 Derby. But the inconsistent Spielberg isn't one of Baffert's 3-year-old varsity runners, a fact illustrated when Freedom Fighter beat him to the wire in their last workout.
Outside of that, there's the little fact of Spielberg finishing a non-threatening fourth – by 11-plus lengths – to Medina Spirit in the Robert B. Lewis last out.
The pick: Jackie's Warrior. He's the lone speed in this race and, unless Spielberg finds something heretofore missing and presses him, this is Jackie's Warrior's redemption race. Crunching the numbers, Asmussen wins 20% of his races coming in off a 61-180-day layoff, according to the Daily Racing Form. Finally, with bigger Derby preps looming, how much will Cox crank up Essential Quality for this outing?