Up until last week, the Grade 2 Tampa Bay Derby looked to be the sole province of Sole Volante. The Sam F. Davis Stakes winner was more than a prohibitive favorite. He was the only horse anyone was talking about in the Kentucky Derby prep.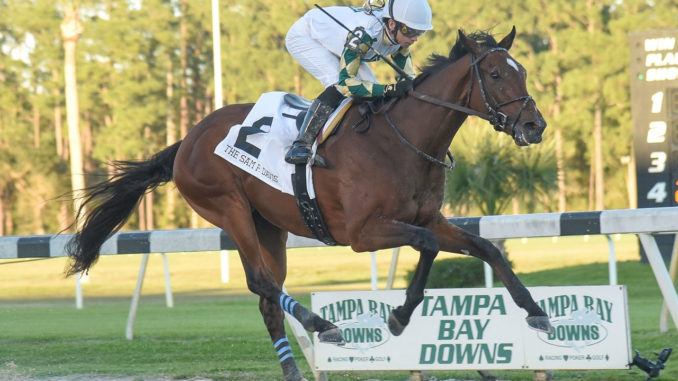 That changed last week when Chance It's trainer, Saffie Joseph Jr., called an audible and scratched his horse from the Fountain of Youth because of concerns over breaking from his outside post and catching Gulfstream Park's quick first turn. The second part of that audible was shipping Chance It north from the Miami suburbs to Tampa Bay for the Tampa Bay Derby.
He's still the 2/1 favorite, but now, Sole Volante isn't the primary focus of attention in Saturday's Tampa Bay Derby, which offers 50-20-15-5 Derby Qualifying points to the top four finishers. The 1 1/16-mile race at Tampa Bay Downs is one of three Derby preps happening around the country Saturday, joining the Grade 3 Gotham at Aqueduct, and the Grade 2 San Felipe Stakes at Santa Anita.
Sole Volante's Coming-Out Party
Just like the Tampa Bay Derby is a prep for the March 28 Florida Derby at Gulfstream, the Sam F. Davis was the prep for this race. In that race last month, Sole Volante announced himself as a legitimate Derby contender. He opened plenty of eyes when he blew past odds-on favorite Independence Hall in midstretch to win by 2 ½ lengths going away.
It shouldn't have been a revelation, considering Sole Volante had two previous victories on turf before the Davis. His closer style set up perfectly for a race featuring plenty of early speed. And should the son of Karakontie duplicate or improve the 108 Equibase Speed Figure he clocked in that race, he'll win this race and likely vault to the front row of Kentucky Derby contenders.
That said, Sole Volante does have that one third-place finish on his resume thanks to Chance It. The two began their rivalry in the Jan. 4 Mucho Macho Man Stakes just before the Davis. There, Chance It scored a head-bobbing victory over As Seen On Tv, who just finished third in the Fountain of Youth.
History Precedes Itself
So Sole Volante and Chance It already have a history. How Chapter 2 in this history plays out depends on several factors, starting with the pace of this race. A fast pace will once again set up nicely for Sole Volante's closing skills. As for Chance It, who is racing away from his Gulfstream comfort zone for the first time, he'll definitely factor into setting the pace. But jockey Paco Lopez can't let the horse get out in front of himself and get embroiled in a speed duel.
Especially with two other notable horses waiting to pick up the pieces should the two favorites falter: Spa City and Market Analysis. Both are pace-pressers like Chance It, both are coming off maiden victories, and both are blue of blood in the pedigree department.
Two Others To Watch
The son of 2007 Kentucky Derby winner Street Sense, Spa City chalked a 105 Equibase Speed Figure in his maiden win at Gulfstream last month in a 1 1/8-mile, two-turn race. While he's lightly raced (3 starts: 1 win, 1 second), his ceiling is high.
"Lightly raced" also defines Market Analysis, since the Tampa Bay Derby is only his second outing. The son of Honor Code through the legendary AP Indy paternal line won a seven-furlong race at Gulfstream in January. While his debut 94 Equibase Speed Figure isn't in the class of the aforementioned, that pedigree gives Market Analysis plenty of ability to go two turns.
Market Analysis' connections also bode well for putting him somewhere on your tickets. Todd Pletcher is his trainer, and Hall-of-Famer John Velasquez is his jockey. Pletcher has won this race five times, the most of any trainer. He's also trained two Kentucky Derby winners, Super Saver (2010) and Always Dreaming (2017), who both also raced in the Tampa Bay Derby.
As for Velasquez, he's ridden two of Pletcher's Tampa Bay Derby winners: Verrazano and Carpe Diem.
Tampa Bay Derby Odds
Texas Swing, 12/1
Spa City, 10/1
Relentless Dancer, 12/1
Chance It, 5/2
Market Analysis, 8/1
Mo Mosa, 30/1
Sole Volante, 2/1
Letmeno, 12/1
Unrighteous, 20/1
Bye Bye Melvin, 20/1
King Guillermo, 15/1
Tons of Gold, 30/1