Storm the Court's 2020 season defines the term "sophomore slump," which explains why you're seeing the Champion 2-year-old in the starting gate for Saturday's Grade 3 Ohio Derby at Thistledown.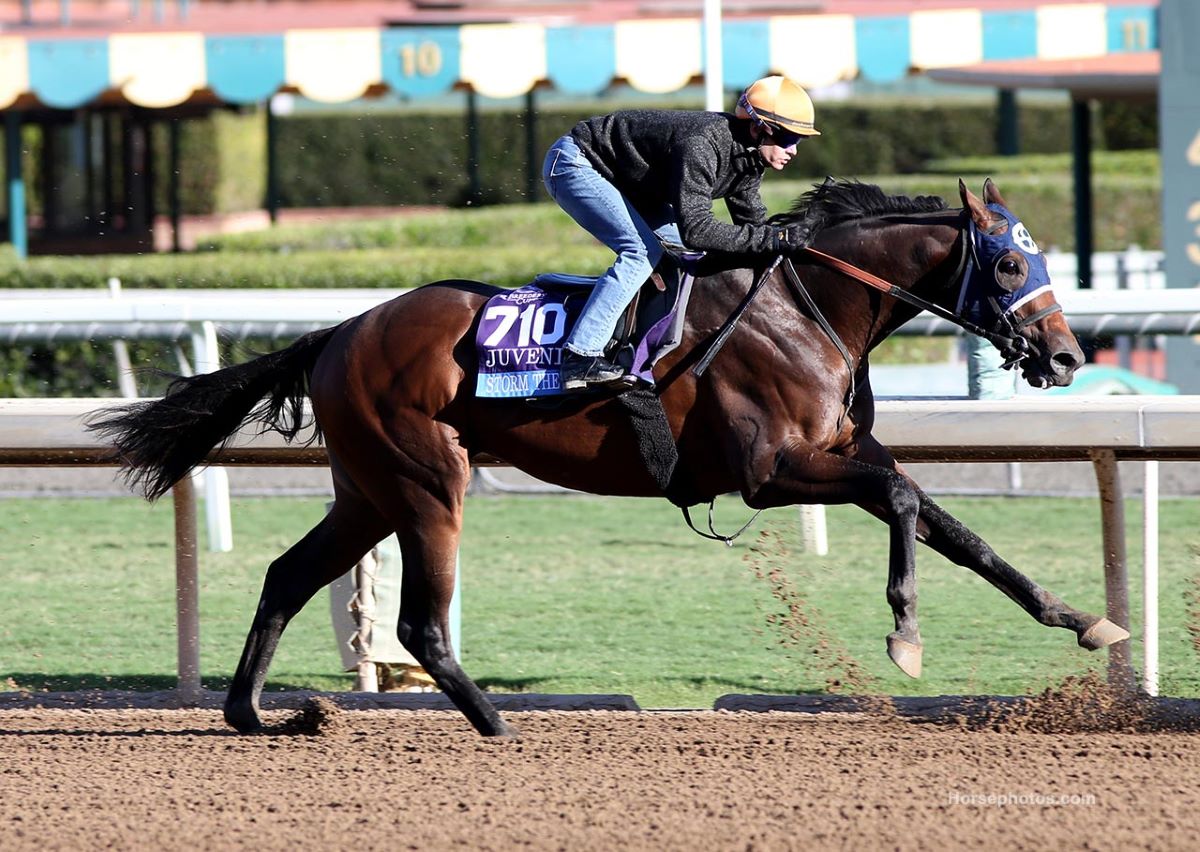 The consolation for Storm the Court? There are two. He gets back Flavien Prat, the West Coast's top jockey, who ships in fresh from winning the Santa Anita Park riding title. And Storm the Court opens as a 3/1 favorite for the 1 1/8-mile Ohio Derby. The race offers 20-8-4-2 Kentucky Derby qualifying points to the top four finishers.
Thistledown officials opened the race to a limited number of spectators, and masks are "highly encouraged."
If running against the likes of Rowdy Yates, Lebda, and Established at Thistledown seems like a step down for Storm the Court, well, it is. The Breeders' Cup Juvenile winner at 45/1 last fall, Storm the Court is mired in a three-race losing streak that saw his Kentucky Derby prospects plummet. He currently sits at 200/1 at Circa Sports, 125/1 at William Hill-Nevada, and 50/1 at Oddschecker. He isn't even listed in the Kentucky Derby Future Wagering pool.
While Storm the Court currently sits 15th on the Kentucky Derby points ladder with 32 points, he, Rowdy Yates (250/1), and Soros (40/1) are the only three Ohio Derby horses listed on any Kentucky Derby future boards. In Rowdy Yates' case, he's at least won a 2020 race – the Riley Allison Derby at Sunland Park in January.
0-for-2020
You can't say the same about Storm the Court. In his last start, he finished a badly-beaten sixth in the stronger second division of the Arkansas Derby. Two starts ago, in what was probably his best race of the year, Storm the Court finished a well-beaten, but game, third to Authentic and Honor A.P. in the San Felipe Stakes. He opened with a fourth in the Grade 2 San Vicente Stakes, although his 103 Equibase Speed Figure in that race was his best outing of the season.
Ohio Derby
Morning Line (Jockey)
Dean Martini, 20/1 (Ricardo Mejias)
Rogue Element, 30/1 (John McKee) Also Eligible
Rowdy Yates, 15/1 (Tyler Baze)
Lebda, 7/2 (Alex Cintron)
Dack Janiel's, 15/1 (Julie Burke)
Sprawl, 15/1 (Paco Lopez)
Informative, 12/1 (John Bisono)
Bear Alley, 30/1 (Gerardo Corrales)
Code Runner, 6/1 (Ricardo Feliciano)
South Bend, 8/1 (Rafael Bejarano)
Soros, 15/1 (Luan Machado)
Established, 30/1 (Mitchell Murrill)
Storm the Court, 3/1 (Flavien Prat)
Unrighteous, 20/1 (Deshawn Parker)
Celtic Striker, 15/1 (Reylu Gutierrez)
On top of his subpar form, Storm the Court starts outside from post 13. So if you're understandably lukewarm on Storm the Court – even in this field – where do you look for value? There's the Steve Asmussen tandem of Rowdy Yates (9/2) and Code Runner (6/1). Rowdy Yates owns four stakes victories and Code Runner has three, including two this year at Sam Houston Race Park in March, and in a June 8 allowance at Lone Star Park.
There's second-favorite Lebda (7/2), winner of two non-graded stakes this year: the Miracle Wood Stakes in February and the Private Terms Stakes in March, both at Laurel Park. His best graded-stakes placing is third in the Grade 3 Iroquois Stakes last year.
Digging Deep Unearths These Two Value Nuggets
Go deeper and you find two intriguing selections: Established (30/1) and Sprawl (15/1). Established is a maiden, which normally gives cause for pause in a stakes race, but his two losses showed enough speed for trainer Michael Stidham to take a flier. In his last start, Established finished a strong second by a half-length to the favorite and more experienced Per Capita. The Constitution progeny was 7 ½ lengths clear of the third-place horse and earned a solid 92 Beyer Speed Figure for his efforts.
As for Sprawl, he turned in an 89 Beyer in his last race, a May 28 1 1/16-mile allowance at Churchill Downs. He won by 2 ¼ lengths. He's 2-for-2 running two turns on dirt, but until that last start, Sprawl's form sprawled all over the place. His last four starts before that race were a third, seventh, fourth, and sixth.
That inconsistency makes Sprawl a perfect horse for this field of slump-busters, possibilities, and prayers. Nobody knows what they're getting, which means there's value to be had – somewhere.
The pick: Established. I don't trust Storm the Court from a value or form standpoint. As for Established, you're not going to get him at 30/1, but anything north of 5/1 is value for a horse on the rise.