Should he stay, or should he go? Russell Wilson says he wants to play for the Seattle Seahawks for the remainder of his career, but if they were to trade him, the quarterback told his agent that he'd prefer to play with the New Orleans Saints, Chicago Bears, Las Vegas Raiders, or Dallas Cowboys.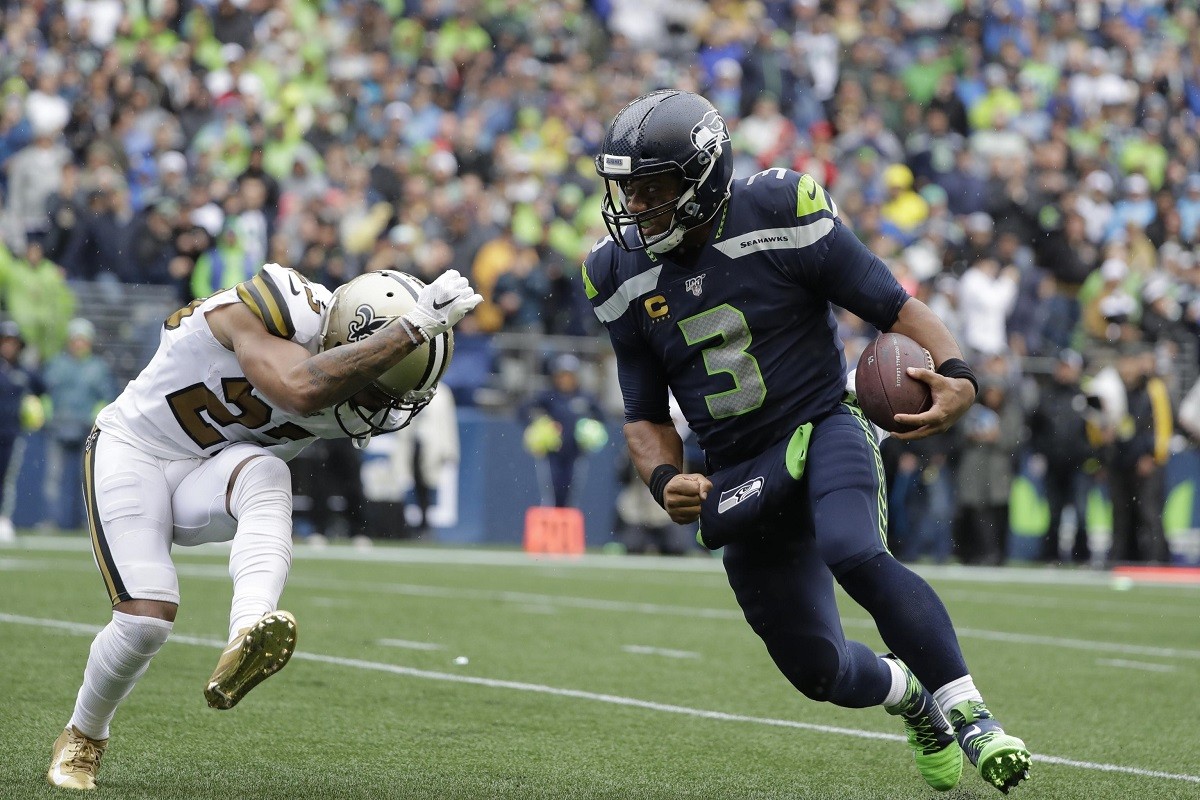 Wilson, 32, has three years remaining on his current contract, which is a four-year deal worth $140 million.
Mark Rodgers, Wilson's agent, told ESPN's Adam Schefter about his client's four-team list. Wilson has a no-trade clause in his contract, but he'd waive it for the Saints, Bears, Raiders, or Cowboys.
---
Russell Wilson Trade List
New Orleans Saints
Chicago Bears
Las Vegas Raiders
Dallas Cowboys
---
The grass is always greener on the other side of the fence, especially for franchise quarterbacks. After Tom Brady revitalized his career with the Tampa Bay Bucs and won a Super Bowl without the aid of Bill Belichick, it definitely made many players rethink their futures. Wilson is among those veteran players who are wondering what life could be like with a different vibe and team.
Wait, Wilson Unhappy?
Last season, Wilson tossed a career-high 40 touchdowns for the second-most in NFL. He passed the 4K yards mark for the fourth time in his career with 4,212 passing yards, which ranked him #9 overall. His 73.5 QBR was ranked #8 in the league.
Wilson started the season with a bang. He tossed 14 touchdowns in the first three games, including in back-to-back games with five touchdowns. Defenses adjusted and he only tossed four or more touchdowns twice more last season.
Wilson isn't unhappy, but he's definitely pissed about the sacks and knockdowns. In 2020, opponents took advantage of the porous Seattle O-line and sacked Wilson 47 times.
Opposing teams sacked Wilson 394 times during his nine-year career spanning 144 regular-season games. That set a record for most sacks allowed for a QB during his first nine seasons with a team.
The Seahawks were knocked out of the NFC wild-card game by a 30-20 loss against the LA Rams. The Rams' stifling defense held him to 147 passing yards and two touchdowns. They also sacked him five times.
The bad blood has been festering for several seasons, according to a recent report in The Athletic. The Seahawks compounded problems when coaches didn't listen to Wilson's ideas on how to fix the stagnant offense. Wilson clashed with offensive coordinator Brian Schottenheimer, who failed to adjust to defenses throughout the season. The Seahawks hope that newly-hired OC Shane Waldron will have a better pass protection plan.
The Seahawks have a winning culture thanks to Pete Carroll and Wilson, but they're a spendthrift franchise. They let some of their best offensive lineman depart in free agency, or fail to lure the top lineman free agents with lucrative contracts.
Who Dat Wilson
Drew Brees is expected to retire. Backup QB Jameis Winston is ready to compete with Taysom Hill for the starting quarterback job. Wilson likes New Orleans because of how Sean Payton relates to his quarterbacks. The Saints head coach had a tight relationship with Brees.
Out of all the teams on Wilson's list, the Saints look like the best option and his best shot at winning a Super Bowl in the next few seasons. But if Wilson goes to the Saints, he'll be battling Tom Brady and the Tampa Bay Bucs for the NFC South division title.
Michael Thomas, the Saints' super-stud wide receiver, didn't waste any time before he tried to recruit Wilson to come to the Big Easy. If the Saints can pull a trade with Wilson and the Seahawks, it could tilt the balance of power in the NFC South.
From Saints WR Michael Thomas' Instagram. Safe to believe he'd be in favor of a trade for Russell Wilson… pic.twitter.com/qEQnWsHFoo

— Field Yates (@FieldYates) February 25, 2021
Sin City Wilson
The Las Vegas Raiders have Derek Carr under contract. Despite the rumors, the Raiders want to stick with Carr. Instead, the Raiders are fielding offers for backup QB Marcus Mariota. A couple of teams are interested in Mariota, including the Chicago Bears, Carolina Panthers, New England Patriots, and Washington Football Team.
But would the Raiders move on from both Carr and Mariota to acquire Wilson in a trade with the Seahawks? If you have that opportunity, you jump all over it!
Wilson and Jon Gruden are chummy, which makes sense that he'd love to come to Sin City to play with the Raiders. Gruden took a shine to Wilson when he prepped for the 2012 NFL Draft. The young neophyte appeared on Gruden's QB Camp show on ESPN, and he impressed Gruden with his honest answers. It's fun to go back and watch Wilson's interview from 2012 with Gruden knowing that Wilson would go on to become a successful quarterback and win a Super Bowl with the Seattle Seahawks.
Wilson to Da Bears or Da Cowboys?
The Chicago Bears are in the middle of a quarterback crisis after Mitch Trubisky and Nick Foles didn't work out. Da Bears would love to have a stable quarterback like Wilson lead them into battle at Soldier Field, if they can persuade the front office to make a bold move with a trade with the Seahawks.
The Dallas Cowboys already have a quarterback, but Dak Prescott is no Russell Wilson. Besides, Prescott has yet to return after a gruesome ankle injury that derailed him last season.
Now that word is out about Wilson's affinity for the Cowboys, Jerry Jones will be blowing up the cell phone of John Schneider, the Seattle Seahawks GM, until he can finally make them a trade offer for Wilson that they can't refuse.