PUBG Mobile Americas Pro League (aka PMPL Americas) features 20 teams from North America and Latin America competing for a $50,000 first-place prize, with the top eight teams qualifying for the PUBG Mobile World League Championship. At the start of the second week of action, 20 teams played through Map 30 of 80 scheduled games. Loops, an eSports team from Brazil, tops the PUBG Mobile Americas Pro League leaderboard with 314 points. B4 eSports and Wildcard Gaming are right behind in the chase pack.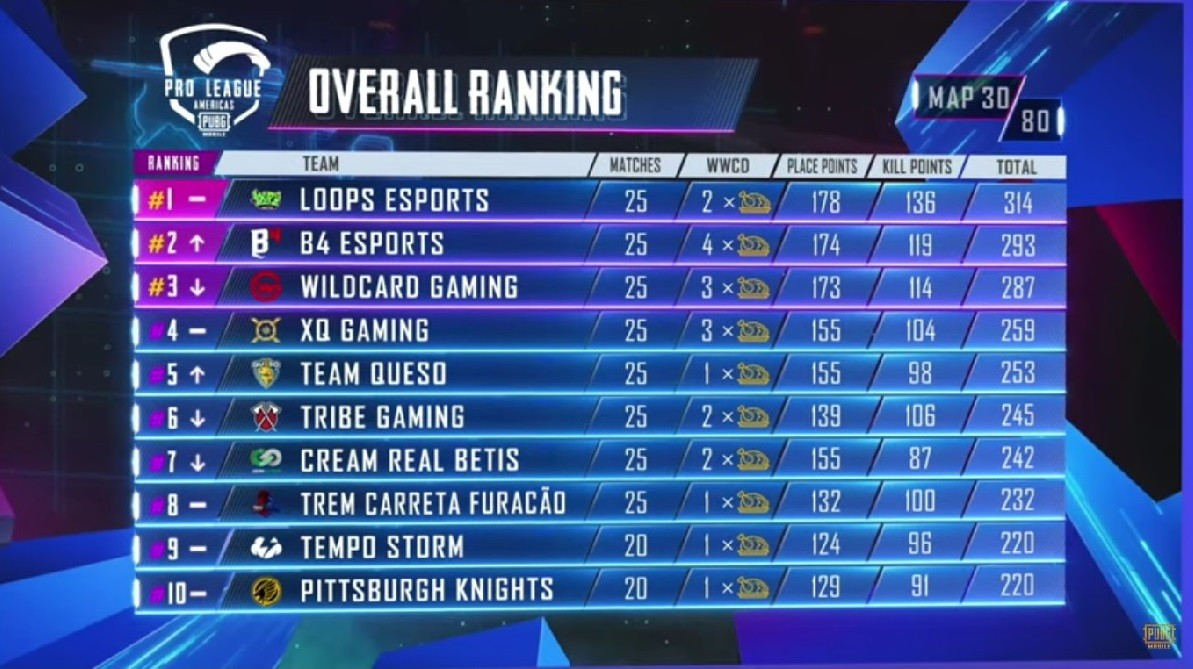 PUBG Mobile recently celebrated its second birthday. Tencent, the creator of PUBG, intended to host a live event, but moved the series online due to the coronavirus outbreak.
The top eight teams from the PUBG Pro League Americas will advance to the World League Season Zero by joining the West League. More than $850,000 in cash prizes will be awarded in the PUBG World League Season Zero.
The Americas region is split between North America, Latin America, and Brazil. Teams qualified by placing in the PUBG Mobile Club Open prior to the pandemic, with six teams from North America, five teams from Latin America, and four teams from Brazil. They filled out the final five teams from round-robin qualifiers and PUBG league play from various other eSports teams.
All teams in the PMPL Americas will min-cash for $2,000. The top-heavy event includes a first-place prize worth $50,000 and a second-place prize worth $25,000.
PMPL Americas Week 2 Highlights
After the first day of action in Week 2, two Brazilian teams top the PUBG Pro League leaderboard, with Loops eSports and B4 eSports out in front.
B4 won four chicken dinners, but they're only in second place with 293 points. B4 had a lower kill points (119 vs. 136 kills by Loops), which is why they're stuck in second place.
Loops leads with two victories and chicken dinners, but they lead all teams in kills with 136.
American pro squad Wildcard Gaming secured three chicken dinners, and they're holding down third place overall with 114 kills.
PMPL AMERICAS LEADERBOARD THRU DAY 6
1. Loops eSports 314 (2 Wins)
2. B4 eSports 293 (4 Wins)
3. Wildcard Gaming 287 (3 Wins)
4. XQ Gaming 259 (3 Wins)
5. Team Queso 253 (1 Win)
6. Tribe Gaming 245 (2 Wins)
7. Cream Real Betis 242 (2 Wins)
8. Team Carreta Furcao 232 (1 Win)
9. Tempo Storm 220 (1 Win)
10. Pittsburgh Knights 220 (1 Win)
11. Cloud9 219 (1 Win)
12. Ace1 211
13. Omen Elite 189 (1 Win)
14. Alpha766 187 (2 Wins)
15. Cultu BGBG 167 (2 Wins)
16. Enxame Gaming 161 (1 Win)
17. Mezexis 141 (1 Win)
18. Lazarus 140 (1 Win)
19. Team Solid 138 (1 Win)
20. GRUNTo eSports 124
Even though Temp Storm and the Pittsburgh Knights didn't play on Day 6, they still retained spots in the Top 10 with 220 points each. Team Cloud, with 219 points, sits in 11th place even though they sat out Day 6. Those teams played only 20 matches versus 25 from everyone else.
After every week of action, teams redraw their groups. You can follow the action via YouTube, Facebook, or Twitch.