Caddo River, one of three Brad Cox Kentucky Derby entries and the one pace horse in this year's field, won't be that pace horse. Cox scratched him from the Derby Sunday morning because of a fever.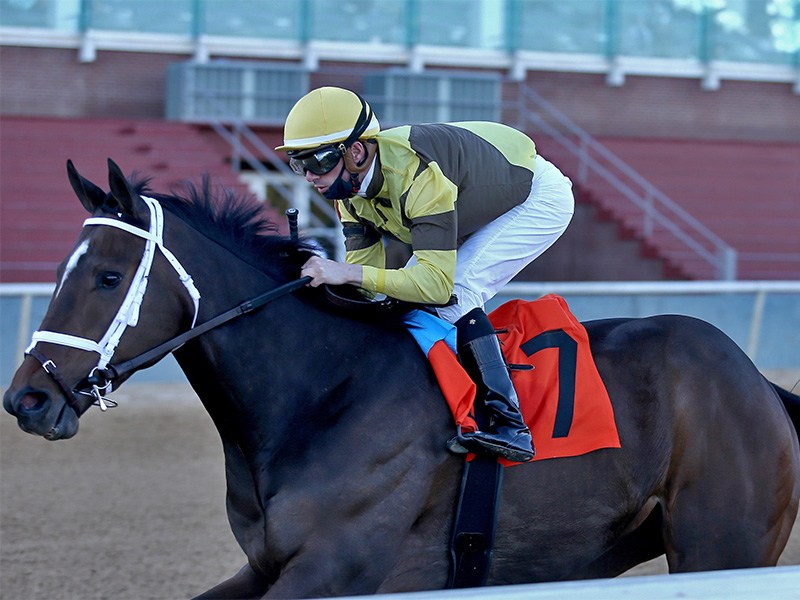 This opens the gate for Brooklyn Strong, who gets into the field with his 10 points. Mark Schwartz, who owns the Remsen Stakes winner, put the gelding back on the Triple Crown trail late last week. Not 48 hours later, he was rewarded with a Kentucky Derby starting post.
Brooklyn Strong will work out Monday morning at 6 a.m. ET at Parx, his home track. Should nothing untoward happen, he'll leave for Louisville Monday evening.
As for Caddo River, his departure leaves Cox with unbeaten presumed favorite Essential Quality and Risen Star winner Mandaloun. Not a bad pair for a Derby rookie trainer to open with.
Caddo River takes the early pace of the race with him
It also leaves the race missing the one need-the-lead horse in the field. Caddo River was projected as the early, pace-setting speed in a race loaded with pressers, stalkers, and closers. The Smarty Jones winner and Arkansas Derby runner up, Caddo River sandwiched those two in-the-money finishes around a dismal fifth in the Rebel Stakes. In that race, jockey Florent Geroux mysteriously held him back, neutralizing the colt's chief weapon, his pace-setting speed.
Caddo River worked out at Churchill Downs Friday. He covered five furlongs in 1:00.6 and all seemed normal until Saturday morning.
"We noticed he was off his feed and took his temperature yesterday afternoon. It was slightly elevated," Cox told Churchill Downs. "It's just really bad timing being this close to the Derby. We drew blood on him (Sunday) morning and his white cell counts were a little high. We just can't run him on Saturday with being a little off his game."
The Derby bubble is empty
Cox told Horse Racing Nation he isn't sure about rolling Caddo River out for the May 15 Preakness.
Derby entries close Tuesday at 11 a.m. ET. As of now, and barring a 2020-like, zero-point Money Moves parachute into the field, no more point-carrying horses are on the bubble. Connections removed all horses carrying Derby points from consideration.