The previous two MVP winners, Patrick Mahomes (Kansas City Chiefs) in 2018 and Lamar Jackson (Baltimore Ravens) in 2019, are at the top of the betting board for the 2020 NFL MVP odds. Mahomes is the overall favorite at 7/2 odds while Jackson is listed at 6/1 odds to win back-to-back MVP awards.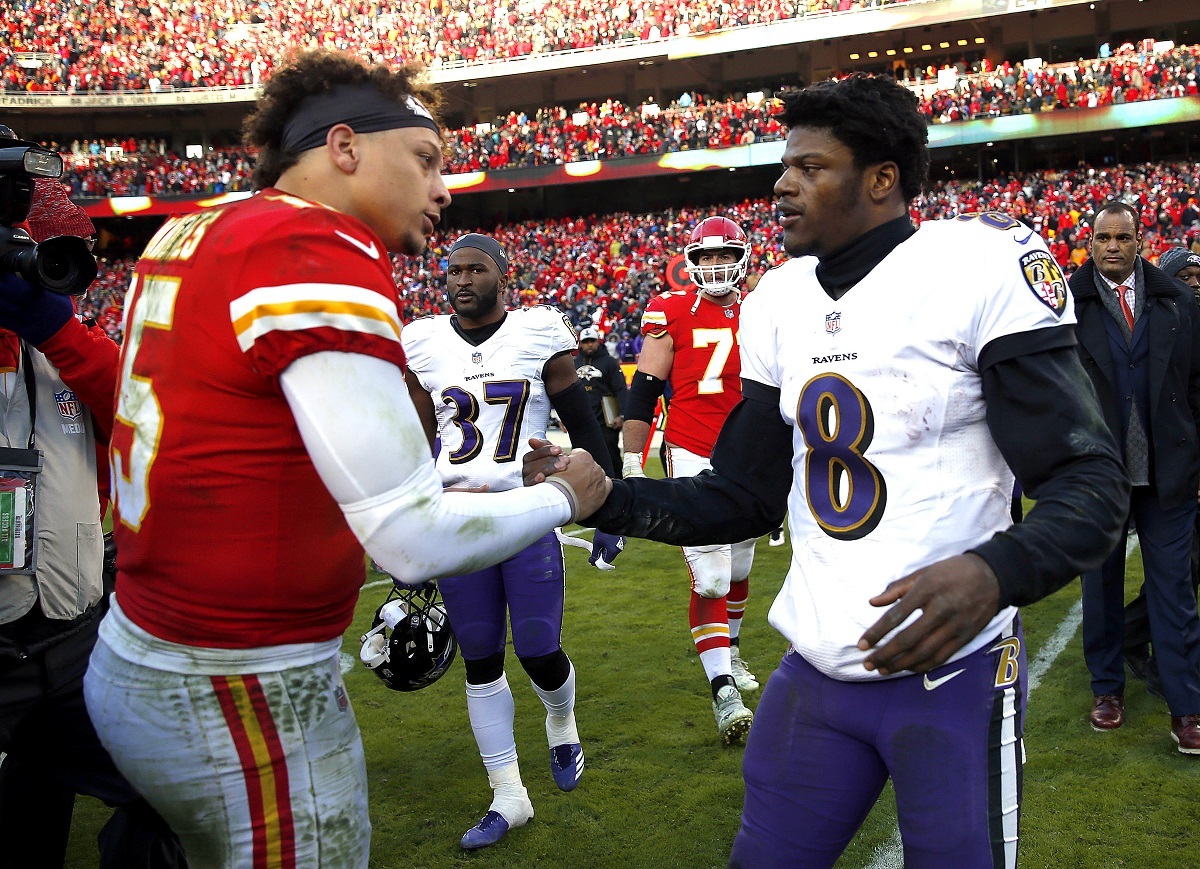 Tom Brady, now playing for the Tampa Bay Buccaneers, finds himself at 16/1 odds to win his third MVP. Russell Wilson, a perennial MVP Candidate, has 9/1 odds to win his first-ever MVP.
Drew Brees, a future of Hall of Famer and the leading NFL passer, has 18/1 MVP odds. The veteran New Orleans Saints QB will try to win Who Dat nation one more Super Bowl title before he retires. But he's actually never won the regular season MVP.
2020 NFL MVP Odds – Top 7
Patrick Mahomes 7/2
Lamar Jackson 6/1
Russell Wilson 9/1
DeShaun Watson 14/1
Dak Prescott 15/1
Tom Brady 16/1
Drew Brees 18/1
DeShaun Watson comes in at 14/1 odds, but can he pull off a strong statistical season and win the MVP without his favorite target? The Texans made a baffling trade when they shipped DeAndre Hopkins to the Arizona Cardinals in exchange for running back David Johnson.
Dak Prescott, at 14/1 odds to win the MVP, has yet to extend his contract with the Dallas Cowboys. Jerry Jones picked up an insurance policy by signing Andy Dalton as Prescott's backup.
Other QB MVPs: Murray, Rodgers, Matty Ice, Jimmy G
Quarterbacks won the MVP in 12 out of the last 13 seasons. It seems like an obvious choice that either Lamar Jackson or Patrick Mahomes will win a second MVP this season, and their odds reflect the recent historical trend.
But what if either of them gets injured? Can any of the second-tier QBs secure the MVP this season?
Billy Hill listed Aaron Rodgers at 18/1 odds to win his third MVP. He won the MVP twice in the early 2010s.
Matty 'Ice' Ryan shipped the MVP in 2016. He's only 33/1 odds during a rebuilding season with the Atlanta Falcons.
Jimmy G had a rough Super Bowl, but the San Francisco 49ers QB offers some value at 33/1 odds to win the MVP.
Kyler Murray, another value pick at 20/1 odds, survived a baptism by fire during a rocky rookie season with the Arizona Cardinals. The Cards added Hall of Famer DeAndre Hopkins to the roster, which should boost Murray's stats across the board.
2020 MVP Odds – More QBs
Kyler Murray 20/1
Aaron Rodgers 25/1
Carson Wentz 25/1
Jimmy Garoppolo 33/1
Matt Ryan 33/1
Baker Mayfield 50/1
You can back Philip Rivers to 50/1 odds to win the MVP. He's playing what might possibly be his last season in the NFL with the Indy Colts.
In case you were wondering, #1 pick Joe Burrow, is 80/1 odds to win the NFL MVP in his rookie season with the Cincinnati Bengals.
In New York City, the fight to become Gotham's top quarterback begins between Daniel Jones (NY Giants) and Sam Darnold (NY Jets). William Hill listed Jones at 66/1 odds to win the MVP, and Darnold at 80/1.
RBs for MVP: CMAC, D-Henry, Kamara
With the NFL evolving into a pass-happy league, running backs have taken a backseat to quarterbacks in the MVP race. Adrian Peterson (2012 MVP) is the lone running back to secure the MVP trophy since 2007.
After a stellar rookie season, Saquon Barkley fought off ankle injuries in 2019. If the Giants can turn around their losing ways, it will be behind Barkley's dual-threat ability to destroy defenses as a running back and a receiver.
2020 MVP Odds – Top RBs
Saquon Barkley 30/1
Christian McCaffrey 40/1
Derrick Henry 40/1
Zeke Elliot 50/1
Alvin Kamara 75/1
Oddsmakers showed some serious respect for Derrick Henry with 40/1 MVP odds. Henry had a monster season, which is one of the reasons why the Tennessee Titans made a deep run in the playoffs. Can he continue steamrolling everyone in his path?
Christian McCaffrey could be worthy of a flier at 40/1 odds to win the MVP. The Carolina Panthers rebooted the franchise to rebuild it around McCaffrey. Carolina added a new head coach and quarterback, but they have a bona fide superstar with CMAC. After all, how many other running backs have a 99 rating on Madden Football?