The United States will look to advance to the medal rounds of the men's hockey tournament at the Beijing Winter Olympics when it takes on Slovakia in the quarterfinals on Wednesday.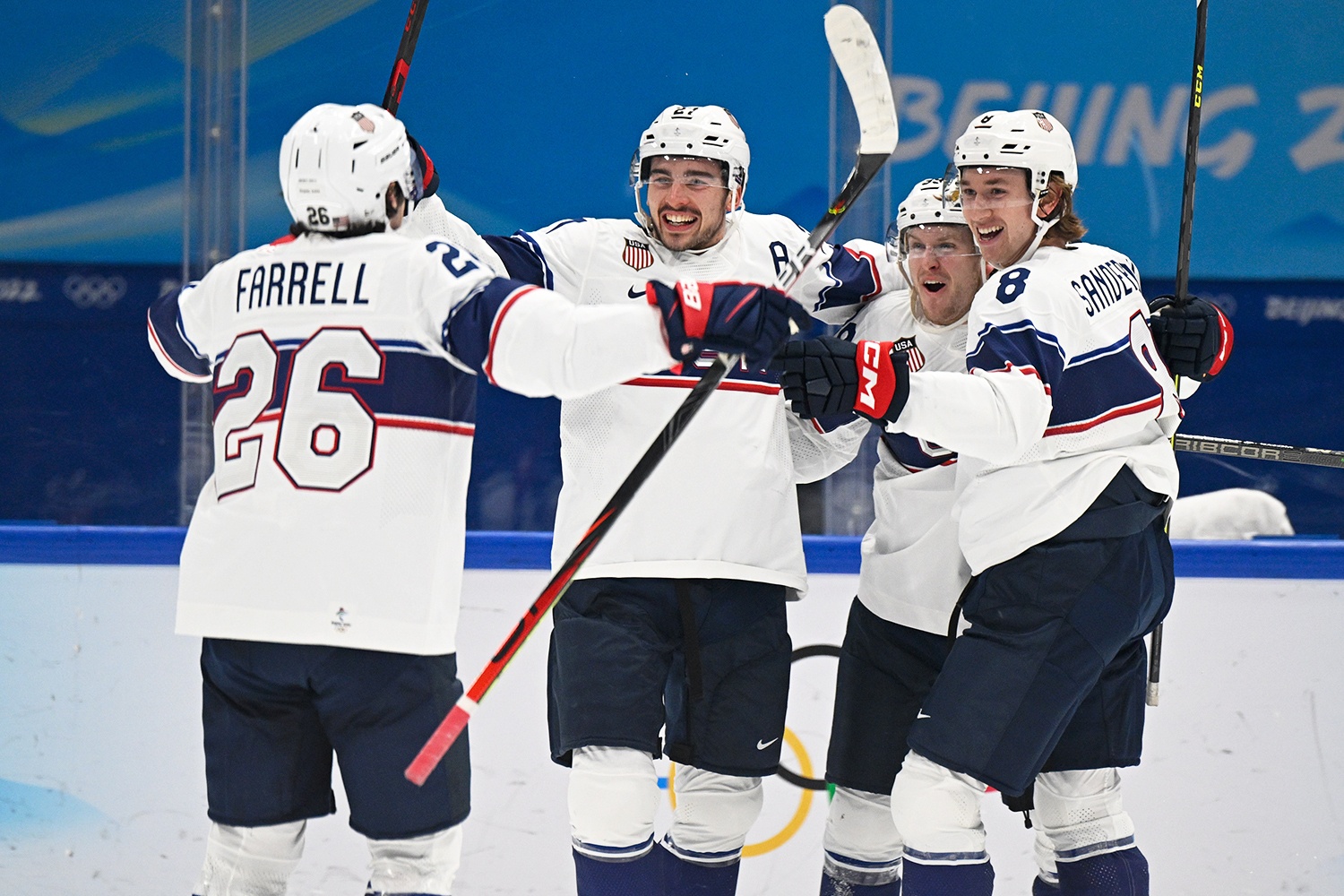 Slovakia advanced to the final eight with a decisive 4-0 win over Germany in their Tuesday playoff matchup.
Young Team USA impresses in Beijing
The United States is undefeated so far in Beijing, the only men's team to get this far without at least dropping a point by going to overtime. It's an impressive performance for a team that came together at the final hour after the NHL pulled its participation in the Winter Olympics over COVID-19 disruptions to its own schedule.
Team USA began with a relatively simple 8-0 win over host nation China. It then surprised Canada 4-2, before wrapping up round-robin play with a 3-2 victory over Germany. The perfect record won Group A and earned the Americans a bye to the quarterfinals.
"We have a lot of young guys, but we're a mature team," forward Nathan Smith said after the win over Germany. "Our leadership group of older guys do a really good job of getting the younger guys going for games."
The United States enters its quarterfinal matchup as a -235 favorite over Slovakia (+190). While Slovakia dropped its first two games to Finland and Sweden, it defeated Latvia 5-2 in its final game to improve its playoff seeding. That set up a date with Germany in the playoffs.
While Team USA may enter as the favorite, the Americans will be wary of a Slovakian side that handled the same German team that gave the United States trouble.
"Everyone feels pretty good about their game," defenseman Nick Abruzzese told reporters. "There's obviously room for improvement for all of us. And I think, you know, when it comes down to it, the coaches do a great job of letting us know what we can do."
Canada, Sweden battle in Olympic hockey quarterfinal
All four men's Olympic hockey quarterfinals will take place on Wednesday in Beijing.
On the USA's side of the bracket, Sweden will battle Canada in a matchup between two traditional hockey powers. Canada eased past China 7-2 in the playoff round, and will now face a Swedish team that went 2-1 in Group C play, dropping an overtime decision to Finland. Sweden enters a slight -115 favorite over Canada (-105).
---
Men's Olympic Hockey Odds – Quarterfinal Games (via DraftKings Sportsbook)
Slovakia: +190
USA: -235
Denmark: +360
ROC: -475
Switzerland: +255
Finland: -330
Canada: -105
Sweden: -115
---
In the other half of the bracket, the Russian Olympic Committee (-475) will take on Denmark (+360). The ROC team looked to be the favorite heading into the tournament, and can advance to the medal rounds if they turn aside a pesky Danish team that knocked off Latvia 3-2 to get to the quarterfinals.
Finland (-330) faces Switzerland (+255) in the last semifinal. Switzerland defeated the Czech Republic 4-2 to get through the playoff round, while Finland earned a bye to the quarterfinals by topping Group C.