Catalina Huzum, winner of the 2019 UK Dealer of the Year Championship, and the first woman to receive the award, has shared her best blackjack tips in an exclusive interview with OnlineGambling.com.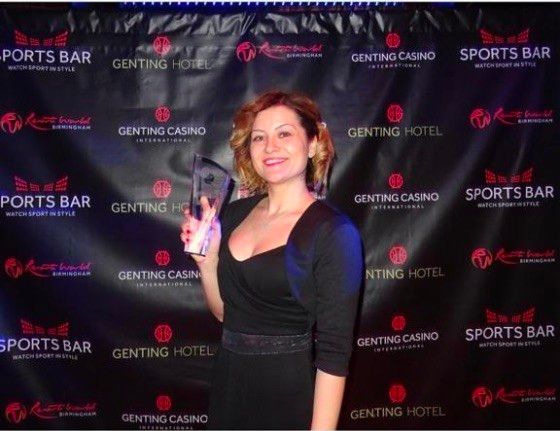 The competition, which was held at the Genting International Casino, Resorts World Birmingham in March, pits the top croupiers in the UK against one another for a cash prize and a place in the European Dealer Championships.
The judging panel, which includes previous championship winners and casino industry experts, awards points to each contestant for their technical skills, control of the game, and customer service.
Huzum, a croupier at Les Ambassadeurs Club in Mayfair, London, beat 26 competitors to win the £2,000 cash prize, and the title of UK Dealer of the Year for 2019. She has more than 14 years of experience as a dealer for blackjack, roulette, and poker in casinos across Romania, Cyprus, and the UK.
OnlineGambling.com interviewed Huzum after her win to discover what it takes to be the best croupier in the UK, and her top tips for new blackjack players.
Q: How did your career as a croupier begin?
About 14 years ago, I was looking for a summer job in Romania, and an advert in a newspaper grabbed my attention. The local casino was recruiting for its training school. I signed up and trained to deal the main casino games: roulette, blackjack, and Caribbean stud poker. The first things I learnt were how to handle chips, spin a ball, and shuffle cards − essential skills a croupier needs, which require dexterity and lots of practice.
Q: How did you come to work at Les Ambassadeurs?
Following the course, I was offered a job in the casino. I enjoyed the night shifts, and the experience and excitement of the gaming floor. Within four years, I was promoted to a supervisor position and, in 2011, I earned my first job in a casino outside of Romania.
For four years, I worked in casinos in Cyprus and then, in 2015, I took the challenge to work as a croupier in the UK. I had one goal in mind: to work in the private casinos in Mayfair, London − in particular Les Ambassadeurs Casino. In October 2016, I was offered a job as dealer/inspector there, and a few months after the UK Dealer of the Year competition, I was promoted to a gaming team leader role. It's a great place to work as they always value their employees.
Q: What has been the highlight of your career so far?
Representing my club for the UK Dealer Championship, for sure. I was inspired by the fact that male croupiers have dominated this championship every year. There is no reason why women cannot have great casino careers and succeed in this industry.
I was very happy when the management at Les Ambassadeurs chose me to be one of the croupiers to represent the club at the championship. I really believe our team was the best there, and when I went into the semi-finals, I wanted to win for our club prestige and my dream to be the first woman to win the championship.
Q: Do you ever sit on the other side of the table as a player?
I've been in the casino industry for many years, so I only play for fun and, very occasionally, like on holidays or when I'm out with friends.
Q: What are your best tips for someone playing blackjack for the first time?
Always take gambling as a form of entertainment, otherwise it can harm you. Take the time to read the basic blackjack rules and learn the payouts of the game. If you want to improve your game, reading about basic strategies will help, but also learn the house edge of a casino too.
Q: If you drew 16 in your first two cards, would you stand or double down (stick and twist)?
Double down? Never! I'd stand on a hard 16 against a dealer 2-6; otherwise, hit.
Q: How important is it for blackjack players to understand the rules, odds, and house edge before playing?
It's essential. At Les Ambassadeurs, we highly promote a socially responsible culture, and ensure our customers understand the rules of the games and house edges. We also provide all the information necessary for players in leaflets around all areas of our gambling facilities.
Q: What are the most common mistakes you see beginner blackjack players make?
Most beginners don't read the basic rules or take the time to understand how the game is played. I have seen many players that didn't even know what a blackjack game was, but they still wanted to play it!
Otherwise, I would also say playing on tables with continuous shuffling machines (CSM). A CSM typically holds four or five decks, and each round requires a fresh deck of shuffled cards. Unlike traditional shufflers, this one gathers discarded cards from one or more rounds and randomly mixes them without pausing. This keeps the house edge constant throughout the rounds, and eventually, increases your chances of losing. A good blackjack strategy is to play at the tables with traditional automatic shufflers."
Q: Any others you want to add?
New blackjack players will sometimes play on when they should quit. Even if you start to turn a profit, even after an hour, I would advise you to walk away. Most players will keep on playing even when they start losing, because they think that by betting more, they will increase their chances of winning. Don't fall for greed!
Finally, I see many amateur players playing side bets in blackjack. It may be an exciting prospect, but while you may win a few side bets, in reality, you lose more because the edge on the game is high for the house."
Follow Huzum's expert advice and learn how to play blackjack. Then, test your skills with one of our top casinos.