Conor McGregor hasn't fought since losing to Khabib Nurmagomedov in October 2018, but a win against Donald Cerrone next month could set the Irishman up for a rematch for the lightweight championship.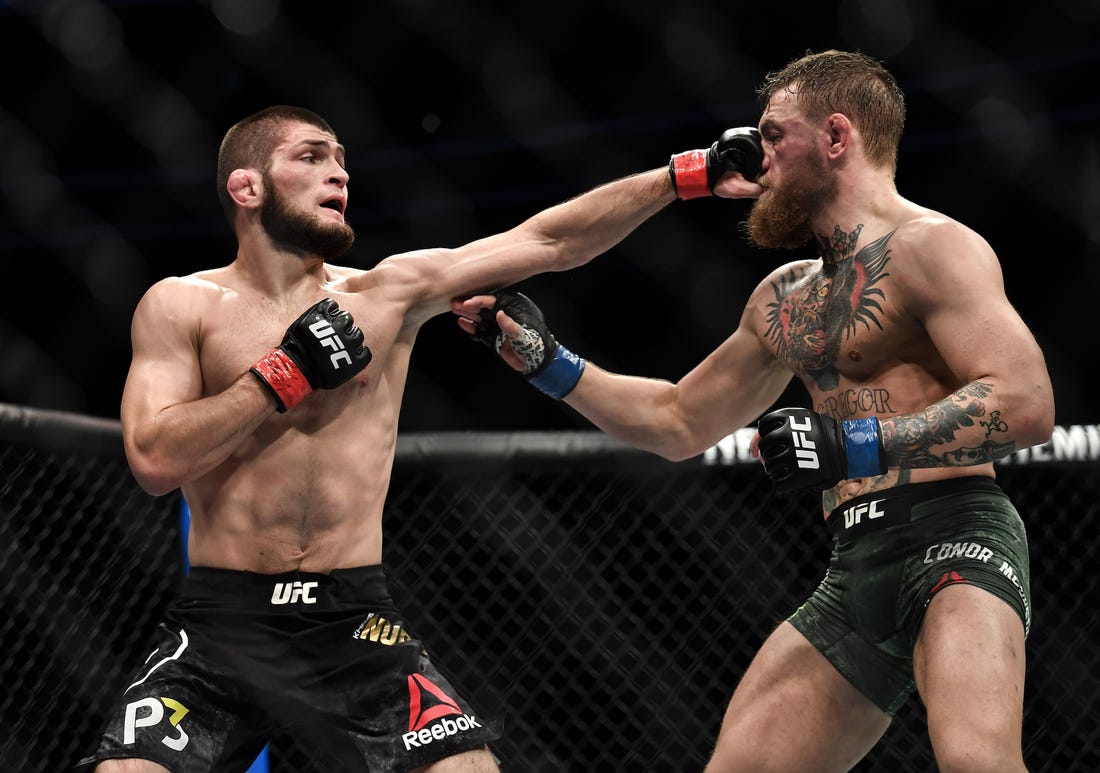 UFC president Dana White told ESPN that if McGregor and Nurmagomedov can each win their early 2020 bouts, there is a very strong possibility that the two could meet up for a rematch later in the year.
McGregor Planning Ahead
According to White, McGregor (21-4) has already been planning for the possibility of fighting Nurmagomedov (28-0). The fight between McGregor and Cerrone at UFC 246 will be a welterweight match where the weight limit is 170 pounds, despite the fact that both men typically fight at 155 pounds.
White says that this was a calculated decision, as it would allow McGregor to make an easy weight cut and step in if anything should happen to challenger Tony Ferguson for Nurmagomedov's April 18 title defense.
"He's hoping if he beats Cowboy, he can turn right around and fight Khabib, but that timing isn't going to work out," White told ESPN. "But you know Conor. His thing is, 'I'll fight Cowboy, I'll beat Cowboy, and I'll be ready to fight Khabib at 155 if anything happens.'"
Justin Gaethje Wants His Shot
That announcement didn't go over well with Justin Gaethje (21-2), the No. 4 lightweight contender who believed he was moving toward a potential lightweight title fight after his own win over Cerrone in September. Gaethje, who has won each of his last three fights by first-round knockout, took to Twitter to share his thoughts on White's pronouncement.
Lol at @danawhite "if Conor gets through Cowboy"… what a crock of shit. https://t.co/R07b0P40o5

— Justin Gaethje 🇺🇸 (@Justin_Gaethje) December 11, 2019
"What a crock of shit," Gaethje wrote.
Nurmagomedov shot down the idea of a rematch as recently as this summer, but White defended his decision, saying there are many reasons why a McGregor vs. Nurmagomedov rematch makes sense for the promotion.
"Look what Conor has done over the last however many years," White said. "And then he loses to Khabib in a fight that was, we've talked about bad blood, try next-level bad blood … so, Conor is in line next for this fight if he beats Cowboy."
McGregor is a -235 favorite over Cerrone (+188) in their January fight, while Nurmagomedov (-205) is a solid favorite over Ferguson (+166) in their April title fight. Odds are not yet available for a hypothetical rematch between McGregor and Nurmagomedov.
As those odds suggest, both men are fighting opponents capable of pulling upsets, which means there's a real chance that plans for a rematch could be derailed. White says that McGregor's decision to fight at 170 pounds also sets him up in case that he loses to Cerrone next month.
"He's considering a [Jorge] Masvidal fight. I think [it's] a bad idea, but Conor gets pissed off when I say it's a bad idea," White told ESPN. "I'm not saying he can't beat Masvidal, anybody can beat anybody on any given day, but why?" Why go after that fight if you could possibly just wait? This is the reason that Conor McGregor is so intriguing, and why so many fans love to watch him fight."