Down to the NFL's final four, what's the best bet on the board for Sunday's two championship games? Here's a closer look at the Green Bay-San Francisco matchup entirely from a gambling perspective.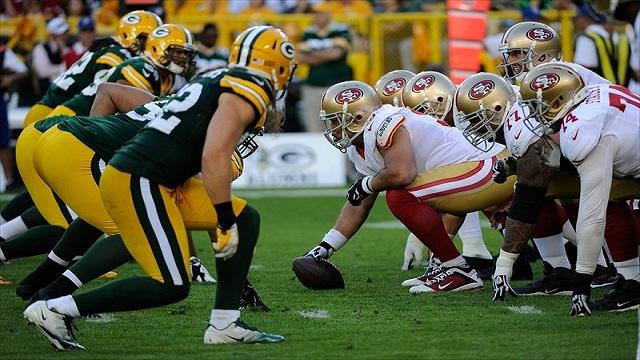 Let's begin with a disclaimer by stating the obvious: You don't have to bet on this game.
Many sports gamblers who survived the long four-month haul of NFL betting fall prey to the temptation of wagering on every post-season game. This is a mistake.
Unlike previous football weekends when more than a dozen games were on the wagering menu to chose from — actually, closer to 100 if we include college football — we're now down to just a couple of matchups. The possibilities are now far more limited. Given the intense interest in the conference championship games, identifying a discernable edge is next to impossible. Anyone who promises insider information or outlier knowledge is being dishonest. Don't fall for the hype.
That stated, we here at OG understand most readers want information from a gambling perspective. And so, let's now analyze the Green Bay-San Francisco matchup.
San Francisco -7.5 or Green Bay +7.5?
This point spread opened up at 49ers minus-7. It's been bet up to minus-7.5 at just about every major sportsbook.
One thing is clear. There's an enormous difference between the half-point line move. Capturing the Packers at plus-7.5 is far preferable to getting only plus-7. By similar logic, capturing the 49ers at minus-7 is far preferable to laying minus-7.5. The decision to bet either side is entirely predicated on which number is available.
That said, let's presume the prevailing point spread is San Francisco minus-7.5.
Facts to Know:
Since the 1970 NFL-AFL merger, the home team has gone 32-17 SU and 26-23 ATS.
The previous game between these two teams resulted in a 37-8 blowout, won by San Francisco. The 49ers easily covered the point spread, which was minus-3.
Since that mid-season game, Green Bay is 6-0 SU and 4-2 ATS.
Since that mid-season game, San Francisco is 4-2 SU and 4-2 ATS.
The Packers were 6-2 SU and 5-3 ATS on the road this season.
The 49ers were 8-1 SU and 6-3 ATS at home this season.
Subjective Analysis:
Packers' QB Aaron Rodgers has been in plenty of big games before. He's posted a 10-7 career playoff W-L record. For all the accolades the 49ers so rightly deserve for earning the NFC top seed, Rodgers' experience should be weighed heavily here when picking a side. Moreover, Green Bay was held to their fewest points of the season (a trash touchdown with a 2-point conversion) in a humiliating 29-point loss at San Francisco in mid-season. We should look for a far better effort this time around.
The Packers' defense has also carried much of the load en route to a 13-3 season. Green Bay's defense allowed just 17 points-per-game the last six contests. This is the kind of team that's traditionally a strong value — experienced QB, solid defense, getting points.
However, San Francisco has demonstrated its ability to completely shut down opponents and looks to be the superior unit. When the 49ers defense plays at peak level, this team looks unbeatable. Offensively, the 49ers have been explosive — eclipsing the 30-point mark in half of their games. They've also faced a considerably stronger schedule of opponents. The 49ers are rightly favored, but should they be laying more than a touchdown?
Several factors appear to neutralize each other when weighing the evidence. However, getting the added half-point with the underdog is a tipping point. The Packers are more than capable of winning this game outright. Getting more than a touchdown makes them a compelling team to bet on in this situation.
Over or Under 46.5?
The total opened up at 45 and has been bet up to 46.5. Some handicappers think this total could reach 47 by kickoff. However, let's presume the betting total is 46.5 for the purposes of discussion.
Facts to Know:
The last ten NFC championship games have resulted in 6 overs and 4 unders.
The previous game between these two teams resulted in a 37-8 final, totaling 45 points. The scoring total fell just shy of the closing number, which was 48. Hence, the under cashed.
The Packers posted 3 overs and 5 unders in their 8 road games this season.
The 49ers posted 4 over and 5 unders in their 9 home games this season.
Subjective Analysis:
The betting public likes betting overs and these two teams could deliver points. However, both defenses are also capable of domination. If either defense flexes its muscles, the number should fall below the total.
Here are a few significant stats to look at from last week:  QB Jimmy Garopollo was just 11/19 for 131 versus Minnesota, which wasn't impressive. He'll have to do much better than that against Green Bay. Second, the 49ers rushed by more than a 2 to 1 margin last week, with 47 rushes and just 19 passes. Assuming a similar game plan carries over, the 49ers stressing the running attack will drain the clock and significantly help under bettors.
This is a very challenging total to handicap. No discernable edge appears to exist. It might be best to pass on the total.
The Final Verdict:
If you decide to bet on this game, recent trends slightly favor Green Bay getting a generous number of points and the under. However, no bet on the total is advised.
Green Bay +7.5
Late Added Information: Green Bay's team total is posted at 19.5. Green Bay has scored 20-plus points in six straight games. QB Aaron Rodgers has produced 20-plus points in all 17 of his career playoff appearances. Based on history, a wager on the Packers team total to go over 19.5 is worth strong consideration.
Green Bay Team Total Over 19.5
---
Have you checked out OnlineGambling.com's special pages on the NFL Playoffs and Super Bowl?