San Francisco 49ers head coach Kyle Shanahan believes history will repeat itself in Sunday's NFC Championship game when his team takes on the Green Bay Packers in the next Battle of the Bays.
When these teams last met on Nov. 24, Green Bay were 3-point underdogs, and left with their tails between their legs following a 37-8 loss. Now, Green Bay is returning to Levi's Stadium in Santa Clara, CA, as an even bigger dog at +7.5, and Shanahan is expecting a similar result.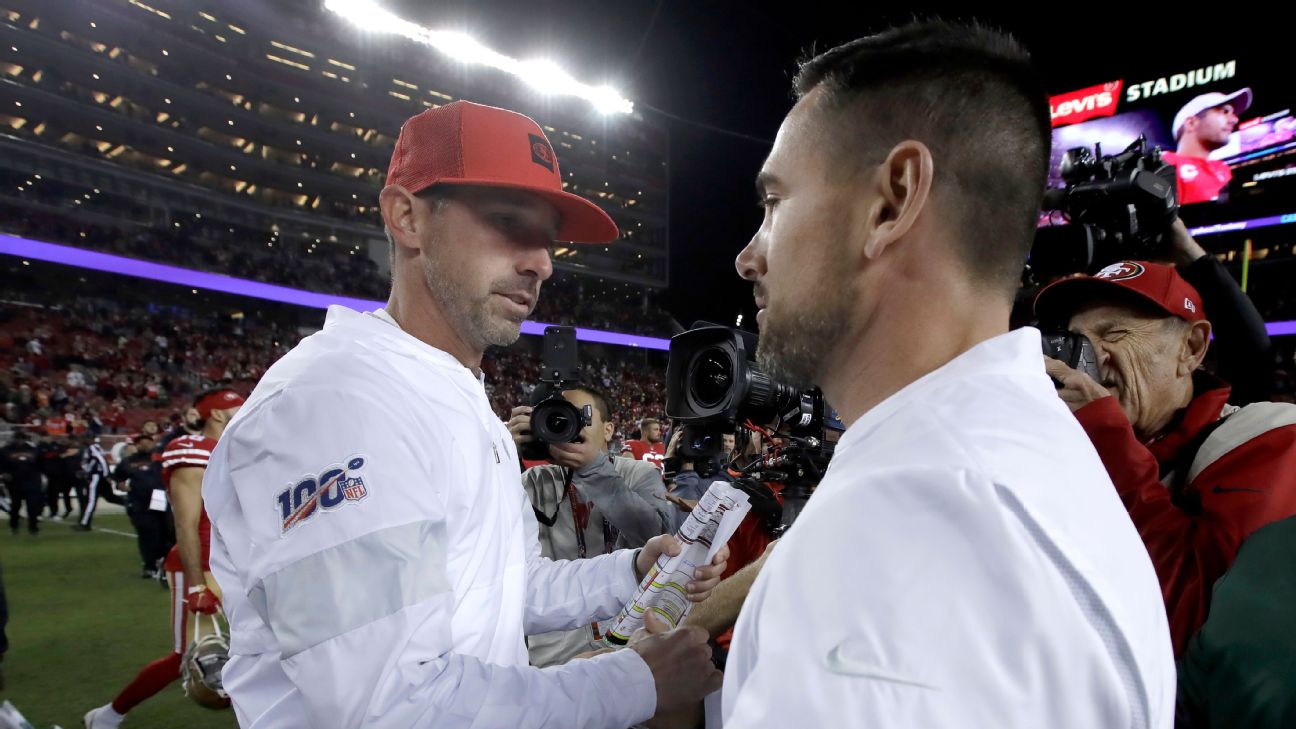 The regular season contest between San Francisco and Green Bay wasn't much of a game, which may explain Shanahan's confidence heading into Sunday. Still, he says the Niners won't make the mistake of overlooking their opponent.
"The game before never matters like that," Shanahan said. "There's four teams left, and it's four very, very good teams. It's going to be a hard game for all of us. Also, our players, the type of guys they are, the way they've been all year, I'm not concerned about that. They'll have to answer that question, I'm sure — a lot — but I don't think that'll be a worry for our players, which means it won't be for me."
LaFleur Promises NFC Championship will be Different
The regular-season loss to San Francisco was Green Bay head coach Matt LaFleur's worst defeat of his inaugural season. It was also the team's last loss, as they went on to win six straight games after that drubbing.
LaFleur has been preaching to the team about that stretch, but he told reporters on Monday he is studying that defeat two months ago.
"I think you have to look at everything," LaFleur said. "You have to learn from your mistakes, so you don't repeat them. I'm going to go back and watch that tape again to really try to grasp what happened and why it happened, and how can we adjust, and what are we going to do to ensure it doesn't happen [again]."
Packers wide receiver Allen Lazard told reporters Monday he looks at Sunday's NFC Championship as a clean slate.
"I don't see it as a hill to climb," Lazard said. "We're not down 29 going into the game. We know we played our worst game of the season that game. They obviously are very good, and they played a really good game."
Packers Offense Looking to Avoid Repeat Performance
The key to San Francisco's November victory was a stifling defense that harassed Packers quarterback Aaron Rodgers. The veteran signal caller was sacked five times, and hit two other times. He finished the game with 104 yards passing.
Rodgers doesn't want to dwell on the loss, but he does want to learn from it.
"The problem is, when you make it bigger than it needs to be, when you try to do too much, when you try and cover for somebody else in your mind, or make up for something that you think needs made up for — that's when the mistakes happen," Rodgers said.
"I think if you look at this game, they're definitely favored by what, seven and a half? Is that right? They're expected to hold court and win. People know, and they're talking about how we played the last time, so I think if they look at pressure, the pressure is in a certain place, and we should be nice and loose."
History though, is against Green Bay. In 13 previous games where there was a blowout win in the regular season, the victor is undefeated in a playoff rematch.