The New York Yankees suffered a sweep at the hands of the Philadelphia Phillies over the weekend, the latest in a string of disappointing results for the preseason World Series favorites.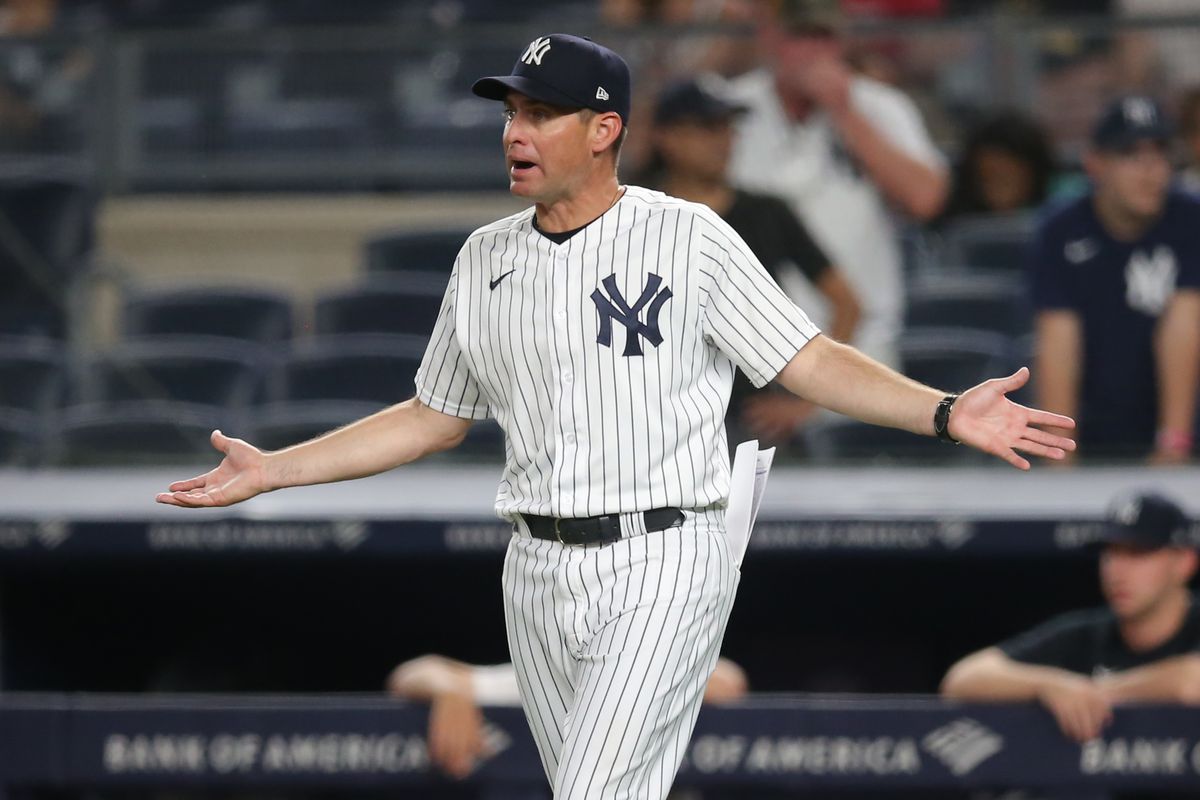 The Phillies blanked the Yankees 7-0 on Sunday, handing New York its third straight loss and its seventh defeat in nine games.
Yankees no longer rank among World Series favorites
Overall, the Yankees have now lost 13 of their past 18 games. That stretch has sent them down to fourth place in the AL East, 8.5 games back of the division-leading Tampa Bay Rays.
Sportsbooks are beginning to react to the slide. The Yankees are now a +1100 fifth choice to win the World Series at FanDuel Sportsbook after beginning the year as co-favorites with the Los Angeles Dodgers. Tampa Bay sits as the +100 favorite to win the AL East, with the Yankees at +330. The Red Sox (+350) and Blue Jays (+450) are also still in the divisional race.
The Yankees are 33-32 through their first 65 games. That's the slowest start for New York since 2016. Things won't get easier going forward, either. The Yankees next face off against Toronto in three critical divisional games.
"We're going to find out what character we're made of," Yankees manager Aaron Boone said after Sunday's lost. We're clearly in the midst of incredibly tough times. We've faced it throughout this season. And we're going to find out what we're made of and if we're the team we think we are."
As of late, nothing seems to be working for New York. The Yankees are scoring just 3.88 runs per game, ranking fifth-worst in the majors. While their pitching has kept them afloat – they're allowing just 3.98 runs per game, which is far better than the league average of 4.41 – New York has suffered a number of pitching meltdowns as of late.
Pitching, injuries add to woes
On Sunday, Domingo German gave up seven runs in just 4.1 innings. The Yankees have compiled a team ERA of 4.61 over their last 18 games.
"Even in the best-pitched seasons, you're going to have these little bumps in the road where it's not perfect every time out," Boone told reporters. "But that's why we're a team. It's on the rest of us to pick that up when the offense is scuffling."
Injuries are also an ongoing issue. Aaron Judge continues to be day-to-day with back spasms, while Luis Severino, Corey Kluber, and Aaron Hicks are among those out for long stretches. First baseman Luke Voit is battling an oblique issue and is currently on a rehab assignment.
Put it all together, and it's a frustrating situation for the entire team. Even so, Boone rejects the idea that the Yankees have lost their winning culture.
"I don't think there's any getting used to freakin' losing. Hell no. Get the hell out of here with that." -Aaron Boone pic.twitter.com/ticm4h6Z0A

— Talkin' Yanks (@TalkinYanks) June 14, 2021
"I know them too well," Boone replied when a reporter asked if the Yankees were getting used to losing games. "I don't think there's any getting used to fricking losing. Hell no. Get the hell out of there with that."