The Denver Nuggets were the never-say-die darlings of last year's postseason inside the NBA Bubble, but this year, the Nuggets lack the same fire that propelled them to the 2020 Western Conference finals. Heading into Game 3 of the West semifinals, the #3 Nuggets find themselves in an 0-2 hole after losing two consecutive games against the #2 Phoenix Suns.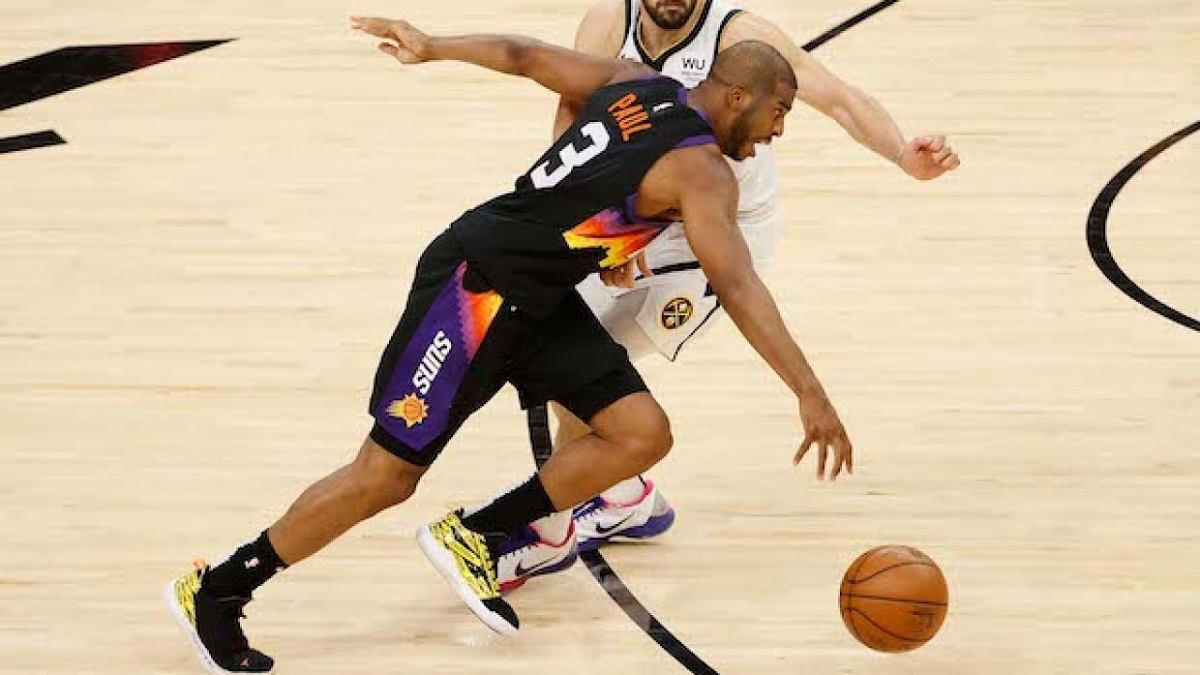 The Suns are playing their best basketball of the season after Chris Paul bounced back from a shoulder injury in the first round. The Suns won the first game by 17 points, then spanked the Nuggets by 25 points in Game 2. The series shifts to the thin air of Colorado, where the Nuggets hope their home-court advantage in the Mile High City will result in a Game 3 victory.
---
Game 3: #2 Phoenix Suns (2-0) vs. #3 Denver Nuggets (0-2)
Tip-off: 7 pm PT
Location: Ball Arena, Denver, CO
Point Spread: DEN -1.5
Total: 223.5 o/u
Money Line: PHX +110 / DEN -115
Series Line: DEN +570 / PHX -910
---
The Nuggets are favorites for the first time this series at -1.5 heading into Game 3. The Suns covered both games in which were a favorite over the Nuggets during the first two matchups in Phoenix. The Nuggets are underdogs at +570 odds to come from behind to win this series. They pulled off a sick run last year when they fell behind, but they had a healthy Jamal Murray.
Without a healthy backcourt for the Nuggets, the Suns are a -910 massive favorite heading into Game 3. The Suns saw their 2021 NBA Championship odds improve to +650, while the Nuggets are the biggest long shot on the board at +8000.
Denver: Non-Joker quitters?
Nikola Jokic was officially named the NBA Most Valuable Player in between Game 1 and Game 2, but even he couldn't lead his lackadaisical squad to a win in Phoenix. He scored 24 points and added 13 rebounds in a losing effort in a game that head coach Michael Malone said felt like his team had quit on the Joker and themselves.
"This was an embarrassing performance for myself all the way to the last player," said Malone. "We are walking out here with our heads held down and rightfully so."
Jokic agreed, saying "They are playing better than us. They are making shots, being more aggressive, finding the open man. It looks real bad out there. We need to change everything."
In Game 2, the Nuggets struggled from 3-point range and missed 29 treys, while allowing the Suns to shoot 47.4% from deep.
"There was a reason that their crowd was yelling 'Suns in four!' and they are calling for a sweep because if we play like this in Denver, this is going to be a really quick series," added Malone.
The Suns put the clampdown on Michael Porter, Jr. He averaged 21.3 ppg in all of Denver's victories in the first round against Portland. The Suns held him to 13 ppg, including 11 points in Game 2. He shot 44% from 3-point range against the Blazers, yet only knocked down 29% of his treys against the Suns.
Willie Barton, who missed the last six weeks with a hamstring injury, saw his first postseason action in Game 2. He scored 10 points off the bench in 11 minutes of action. The Nuggets can use any help they can get in the scoring department.
Phoenix: CP3 MVP
Chris Paul injured his shoulder in Game 1 of the LA Lakers series and averaged only 9.2 ppg while dealing with the injury in the first round. He's now back to looking like his old self, averaging 19 points and 13 assists per game in the Denver series.
With 21 points and 11 assists in Game 1, Paul became only the third player in NBA history to post a points-assists double-double in the playoffs after the age of 36. He joined Steve Nash and John Stockton. In Game 2, he scored 17 points and dished 15 assists. "I feel good," confirmed Paul. "I feel really good."
Paul led a well-balanced attack in Game 2 with all starters scoring double figures. Compare that to the Nuggets, who had just two starters with 10-plus points in the Game 2 blowout. Devin Booker leads the Suns in scoring with 19.5 ppg against Denver. Big man Deandre Ayton averaged 17.5 ppg and 10 rebounds against the Nugs. Jae Crowder (12.5 ppg) is shooting 54% from downtown.
"They have great chemistry together out there," said backup swingman Torrey Craig said. "You can see it. The ball moves. Everybody knows their spots and their shots. Their chemistry is unreal and they're playing at a high level right now. It trickles down to the whole team."
Paul has the Suns' offense humming, but they're kicking butt on defense as well. They kept Jokic in check this series and shut down Porter in the second half of Game 2. "It was one of our better defensive halves of the year against a good offensive team," said Suns coach Monty Williams. "We're relentless with our effort, our communication, and coverages."
Check out OG's coverage of the 2021 NBA Playoffs.