Jayson Tatum ended one of the worst shooting slumps of his NBA career with 51 points for the Boston Celtics in 33 minutes during a 29-point blowout against the Washington Wizards.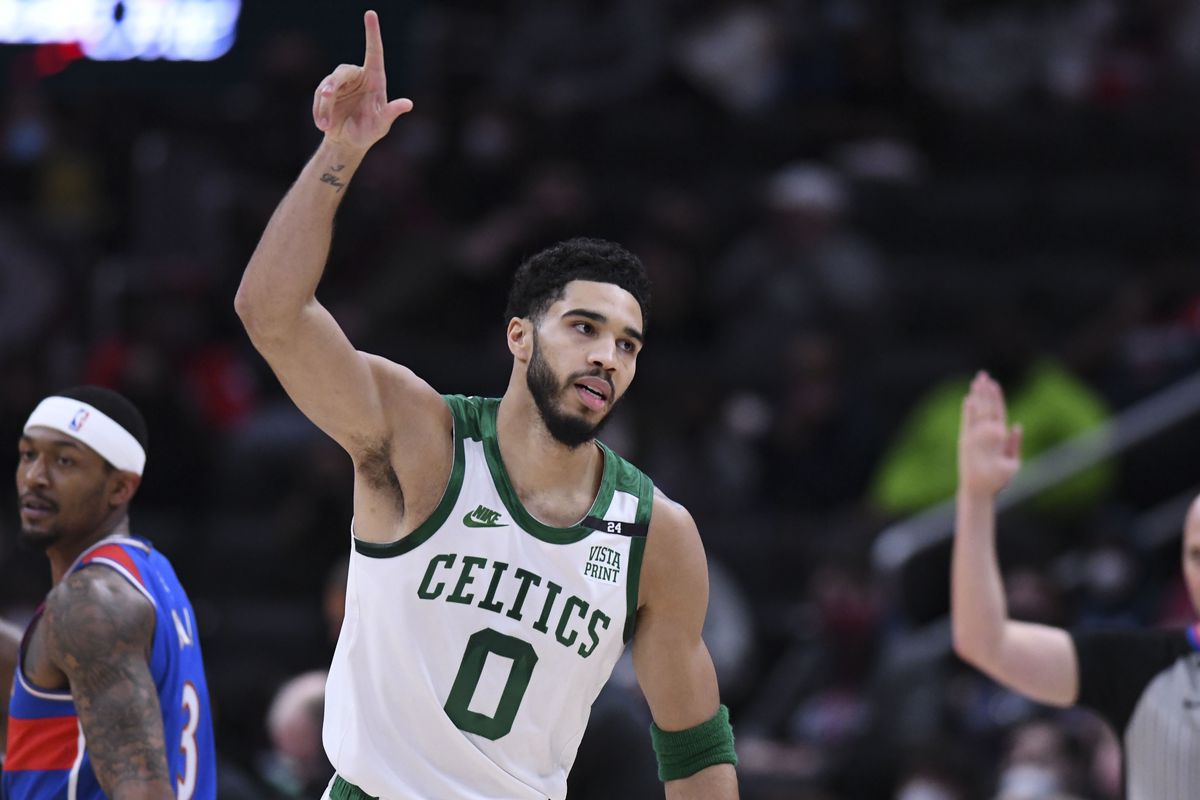 The Celtics had lost two games in a row and dipped under .500 before Tatum led them to much-needed victory against the Wizards.
Tatum had been the subject of gossip and New England talk radio fodder due to a perceived rift between himself and Jaylen Brown. There were rumors that either or both would get shipped out of Beantown by general manager Brad Stevens before the trade deadline. Of course, that's all rumor, but it's hard to ignore that the Celtics have a solid core of players, yet they're fighting to keep their heads above water with a 24-24 record.
"It's us versus everybody," said Marcus Smart. "Nobody really believes in us but us on his team. That's how we feel. We hear the noise. We see it. It is what it is, but it's us versus everybody. That's the mindset that we have."
The Celtics sit in the #8 seed in the Eastern Conference playoffs. They're 6.5 games behind the top-seeded Miami Heat, but fending off a slew of teams on the play-in bubble.
The Celtics are +7000 odds to win the NBA Championship, according to Draft Kings.
Tatum: 51 points
Tatum needed only 33 minutes to tally 51 points, 10 rebounds, and seven assists. He dropped 48 points through three quarters and scored just three points in the fourth quarter, where he didn't see much action due to the blowout.
Tatum shot 18-for-28 from the field, 6-for-6 from the free-throw line, and 9-for-14 from 3-point range. He missed his last 20 3-point attempts spread out over four games and he couldn't buy a bucket from downtown. He didn't think twice about his ugly run when he sniped nine treys.
"When you're missing shots, you know what you're capable of, and sometimes you've got to laugh it off," said Tatum. "It's as simple as sometimes you just don't make shots. You play so many games."
"To Tatum's credit, he had a night," said Washington head coach Wes Unseld. Jr. "Obviously, 51 points, it's a real number. I think he shot 6-for-8 on pull-up 3s, which are tough shots. He's been struggling, but he found his rhythm tonight."
Tatum averages 25.8 points, 8.6 rebounds, and 3.9 assists per game this season. He's the Celtics' top gun and he's ranked #9 in the NBA in scoring.
Tatum set a career-high last season when he torched the San Antonio Spurs for 60 points.
Check out more installments of NBA High Guys.