The Boston Celtics are the consensus top team in the Eastern Conference. According to ESPN's predictive Basketball Power Index, there's no one better in the East to take on (and ultimately lose to) Golden State for the league championship than the squad that was one game away from the finals last year.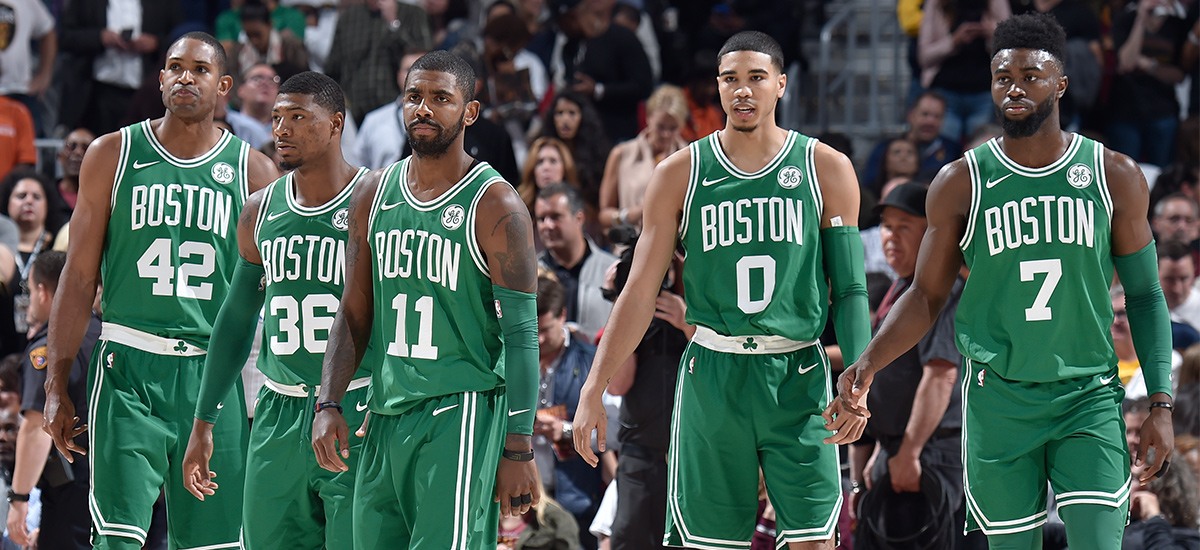 With their two best players returning from injuries – Kyrie Irving and Gordon Hayward – the Celtics are on a mission to secure their spot in the 2019 NBA Finals. The Celtics have the Atlantic Division all but locked up with the other four teams fighting for second place.
The up-and-coming Philadelphia 76ers, led by Ben Simmons and Joel Embiid, will give the Celtics their biggest challenge. The trigger-happy Toronto Raptors are still a playoff-caliber team after they traded DeMar DeRozan to the Spurs for Kawhi Leonard. Meanwhile, the Brooklyn Nets and New York Knicks will be competing once again for the worst team in Atlantic Division.
---
Boston Celtics
Last Season: 55-27 (#2)
Projected Record: 59-23
Odds to Win Championship: 6/1
Odds to Win Atlantic: 5/6
If the Celtics didn't miss 32 treys in Game 7 of the Eastern Conference Finals, the Celtics would have gone onto the NBA Finals instead of LeBron James and the Cavs. With LeBron James playing in LA for the Lakers, the Cleveland Cavs are no longer a threat to the Celtics.
Good news is that Brad Stevens has the same team plus Gordon Hayward (21.9 ppg with Utah) and Kyrie Irving (24.4 ppg) back from injuries. The Celtics have a shot at 60 wins, but should lock up the #1 seed in the East.
Jayson Tatum (13.9 ppg) is emerging as a potential superstar and Jaylen Brown (14.5 ppg) stepped up in the playoffs. Al Horford doesn't get enough credit for holding his own against the Greek Freak and Joel Embiid in the playoffs last year.
Stevens has a deep bench with Marcus Smart, Terry Rozier, and Aron Baynes playing reserve roles this season.
Projected Starters: Kyrie Irving (PG), Jalen Brown (SG), Gordon Hayward (SF), Jayson Tatum (PF), Al Horford (C)
---
Philadelphia Sixers
Last Season: 52-30 (#3)
Projected Record: 54-28
Odds to Win Championship:12/1
Odds to Win Atlantic: 3/1
The Sixers went from a cringe-inducing 10 wins to an astonishing 52 wins in a single season. They now have a legit shot at the #2 seed this year, but lack the experience to overtake the Celtics.
Aussie-born Ben Simmons (15.8 ppg, 8 rebounds, 8 assists) silenced critics with an impressive rookie season. How long before Simmons averages 20 points and a triple double every night?
Simmons has a formidable supporting cast with Robert Covington (12.6 ppg), Dario Saric (14.6 ppg, 39.3% from three-point range), JJ Redick (17.1 ppg), and Joel Emiid (23 ppg, 11 rebounds), who is a force at both ends of the court.
Former #1 draft pick Markelle Fultz is back from a shoulder injury that limited his rookie season to only 14 games.
Projected Starters: Ben Simmons (PG), JJ Redick (SG), Robert Covington (SF), Dario Saric (PF), Joel Embiid (C)
---
Toronto Raptors
Last Season: 59-23 (#1 seed in East)
Projected Record: 52-30
Odds to Win Championship: 22/1
Odds to Win Atlantic: 11/4
How many Kawhi Leonard jerseys do you think Drake currently owns? Kawhi Leonard joined the Raptors after demanding a trade from the Spurs.
Kyle Lowry (16.2 ppg) lost his backcourt partner when DeMar DeRozan left for Texas, but Danny Green was added in the offseason.
Nick Nurse was internally promoted to head coach. As an assistant coach, Nurse revamped the Raptors' offense. The Raptors shot 33 three-pointers per game or 9 more than the previous season.
Expect Nurse to run and gun in Toronto. The Raptors are a good team with a veteran front line anchored by Kawhi Leonard and a top-notch point guard with Lowry. The big question is what kind of impact Leonard will have as a short-time rental before he bolts next summer onto warmer climates to play for either of his hometown teams in Los Angeles.
Projected Starters: Kyle Lowry (PG), Danny Green (SG), Kawhi Leonard (SF), Serge Ibaka (PF), Jonas Valanciunas (C)
---
Brooklyn Nets
Last Season: 28-54
Projected Record: 32-50
Odds to Win Championship: 1000/1
Odds to Win Atlantic: 50/1
It can only get better for Brooklyn, right? They are still picking up the pieces after the disastrous 2013 trade.
Former #2 overall pick D'Angelo Russell (15.5 ppg) has been a bust thus far, but he has a chance to turn everything around in Brooklyn if he stays healthy.
Spencer Dinwiddie (12.6 ppg) will come off the bench. Dinwiddie is the exact type of gritty player that working-class folks from Brooklyn can get behind.
Rondae Hollis-Jefferson (13.9 ppg, 6.8 rebounds) is the best defender on the Nets.
Projected Starters: D'Angelo Russell (PG), A. Crabbe (SG), DeMarre Carroll (SF), Rondae Hollis-Jefferson (PF), Jarrett Allen (C)
---
New York Knicks
Last Season: 29-53
Projected Record: 30-52
Odds to Win Championship: 200/1
Odds to Win Atlantic: 50/1
David Fitzdale was brought in as the new head coach. Kristaps Porzingis tore his ACL last season and Knicks' fans are anxiously waiting for the return of the Unicorn, who could make an appearance at Madison Square Garden as early as Christmas. But there's a chance he might not play at all.
The Knicks will look to Tim Hardaway Jr. (17.5 ppg) and Trey Burke (12.8 ppg) for the bulk of the offensive load. Mario Hezonja a.k.a. the Croatian Kobe was added in the offseason.
Kevin Knox, a top draft pick from Kentucky, killed it during NBA Summer League action in Las Vegas.
With or without the Unicorn, it's another rebuilding year for the Knicks.
Projected Starters: Trey Burke (PG), Courtney Lee (SG), Tim Hardaway Jr. (SF), Mario Hezonja (PF), Enes Kanter (C)