The NBA Eastern Conference finals are even at 2-2, but both the Milwaukee Bucks and Atlanta Hawks have injuries to their leading scorers heading into Game 5. It looks like Giannis "Greek Freak" Antetokounmpo from the Bucks will miss Game 5 with a hyper-extended knee, whereas Trae Young from the Hawks will be a game-time decision with a sprained ankle and bone bruise, Meanwhile, Atlanta center Clint Capela is listed as questionable with an eye injury.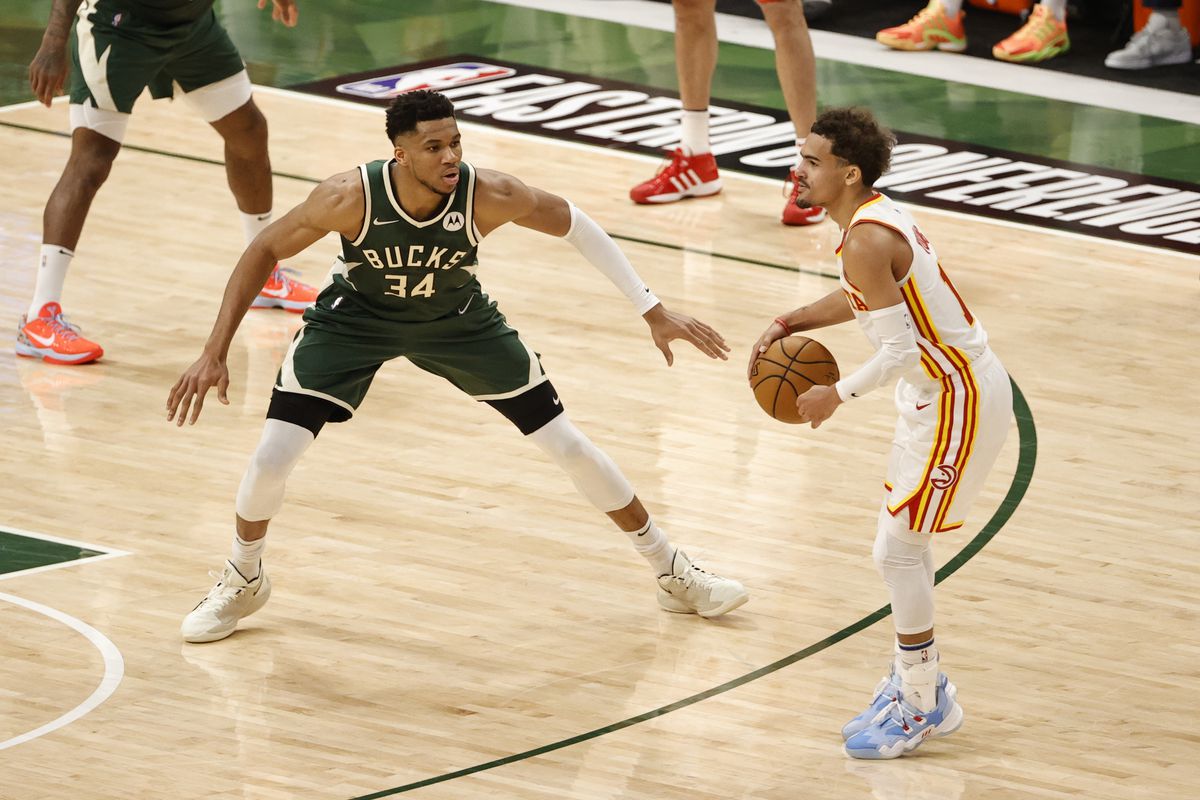 The Bucks went 6-5 during the regular season in games that Antetokounmpo didn't play due to rest or injuries. The Bucks were barely a break-even team without Antetokounmpo, but can they win two more games against the Hawks without him?
---
Game 5: #5 Atlanta Hawks (2-2) vs. #3 Milwaukee Bucks (2-2)
Tip-off: 8:30 pm ET
Location: Fiserv Forum, Milwaukee, WI
Point Spread: MIL -2
Total: 215 o/u
Money Line: ATL +110 / MIL -130
Series Line: ATL -105 / MIL -120
---
The Bucks are favorites to win the series at -120 odds, but the Hawks aren't that far off at -105 odds. The winner of the Eastern Conference will meet the Phoenix Suns in the NBA Finals. The Suns defeated the short-handed LA Clippers in six games to win the Western Conference finals last night.
Can the Bucks win without Antetokounmpo?
The Bucks saw their entire season flash before their eyes when Antetokounmpo clutched his knee and screamed in pain after he landed awkwardly in the second half of Game 4.
The team got a bit of good news when an MRI revealed that Antetokounmpo didn't experience any structural damage to his ligaments, but he's out indefinitely with a hyper-extended knee. Joel Embiid had a similar injury midway through the season and the Philadelphia 76ers' big man missed nearly three weeks while recovering.
"We'll just take it day by day and see how he's doing," said Bucks head coach Mike Budenholzer. "When you talk about the range of possibilities, I think where this has landed has to be looked at as a positive. It's still a really difficult fall."
The Bucks hope they can win Game 5 at home without Antetokounmpo and take a 3-2 series lead. If the Bucks drop Game 5 against the Hawks, you can almost expect that Antetokounmpo will try to play in Game 6.
"Giannis is going to do everything he can to be available," added Budenholzer. "We're going to put his health and safety first and together make good decisions."
"Any time you see your best player go down, it's not great," said PJ Tucker. "But it's an opportunity for somebody else and everybody else to step up. There's no excuses. It doesn't matter whoever is playing, not playing. They've got guys out. Everybody's hurt. Everybody's banged up. Everybody has injuries. You have to fight through it and win."
Antetokounmpo averages 28.2 points, 12.7 rebounds, and 5.2 assists in the playoffs, so there are some big shoes to fill.
Will the Hawks win without Young and Capela?
The Bucks most likely won't have Antetokounmpo in the lineup, so will the Hawks remain cautious and sit Young for one more game? The Hawks proved they can beat the Bucks with Young on the bench, but then again, the Hawks are just two wins away from reaching the NBA Finals and have one more home game remaining (Game 6) in Atlanta.
Capela has an eye injury after taking an elbow to the noggin late in Game 4. If Capela and Young don't play, that makes three starters from the Hawks who are out. That growing list of injuries includes De'Andre Hunter, who tore his meniscus in the first round.
"The preparation is really still the same as far as preparing for them," explained Hawks head coach Nate McMillan. "You don't just prepare for Giannis. They have a lot of other guys over there that are productive and can play and they can go to. We'll continue to prepare for the Bucks as opposed to just one individual."
Bogdan Bogdanovic, who's nursing a sore knee, struggled earlier in the series. He scored 20 points and knocked down six 3-pointers in Game 4's victory without Young. He scored 20 points in the first three games, so the Hawks were thrilled to see Bogdanovic bust out of his slump.
Check out more of OG's extensive coverage of the 2021 NBA Playoffs.