A terrible attack from Venezuela's Adrian Martinez could have left Messi with a serious injury. It happened in Argentina's 3-1 away win in Caracas, in a match counting for the South American qualifiers at the World Cup.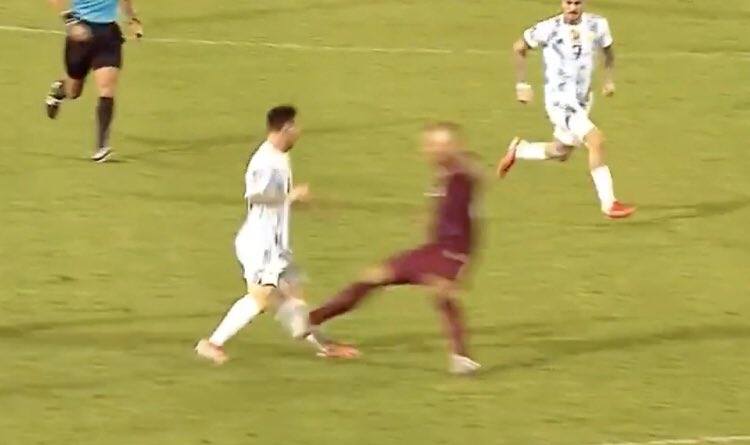 The brutal attack took place in the first half, with Messi trying to put the opposite box under threat. The PSG star got the ball past Martinez, who put his studs to work as he threw them into Messi's shin. Messi's leg bent backward, then Leo fell to the ground in pain. His colleagues, the Argentinean staff, and even the Venezuelan opponents, as well as millions at home, feared the worst had happened.
Venezuela down to 10 men after this horror Luiz Martinez tackle on Messi.

A potential leg-breaker. #WCQ2022pic.twitter.com/rBI9mmOBcP

— 2021/22 Football Season (@JoySportsGH) September 3, 2021
Fortunately, Messi escaped unharmed and could even continue playing until the final whistle in the game. Martinez, Messi's aggressor, came on the pitch just two minutes before the tackle. The referee initially showed him a yellow, but VAR's review showed he was way too soft and a red was the normal decision. Thus, Venezuela went down to 10 men just 30 minutes into the game.
For Messi, the qualifier in Caracas was the first start he got in almost two months. Leo last played from the first minute in Argentina's triumphant Copa America final against Brazil on 10 July. Goals from Lautaro Martinez (45+2), Carlos Correa (71), and Angel Correa (74) made Soldedo's penalty goal in added time count just for the stats, as Argentina had already solved the problem.
With seven (from 18) rounds gone in the South American qualifiers, Brazil leads the race to Qatar with 21 points. Argentina comes second, with 15 points, while Ecuador is third, with 12. Uruguay grabs the last directly qualifying spot at the moment, in the fourth position, while Colombia comes next, in the playoff position.
Martinez fails to apologize to Messi
The 28-year-old Venezuelan defender asked for forgiveness to all but Messi. Adrian Martinez took to Twitter to write a message.
"Today I have no words," Martinez expressed.
"Those who know me are aware that I would never try to affect the physical integrity of a colleague. I want to ask for forgiveness from the technical staff, my colleagues, and our supporters who were close to us with all their hearts. I love my country and I take full responsibility," Martinez added.
Leo Messi is expected to be involved in Argentina's game against Brazil on Sunday evening. The major clash will be hosted in Sao Paulo. Before returning to Paris to resume training at club level, Messi and Argentina will also meet Bolivia on 10 September.