Mel Stottlemyre, five-time World Series winner as the pitching coach of the New York Yankees and New York Nets, passed away at the age of 77 after losing a two-decade fight against myeloma cancer.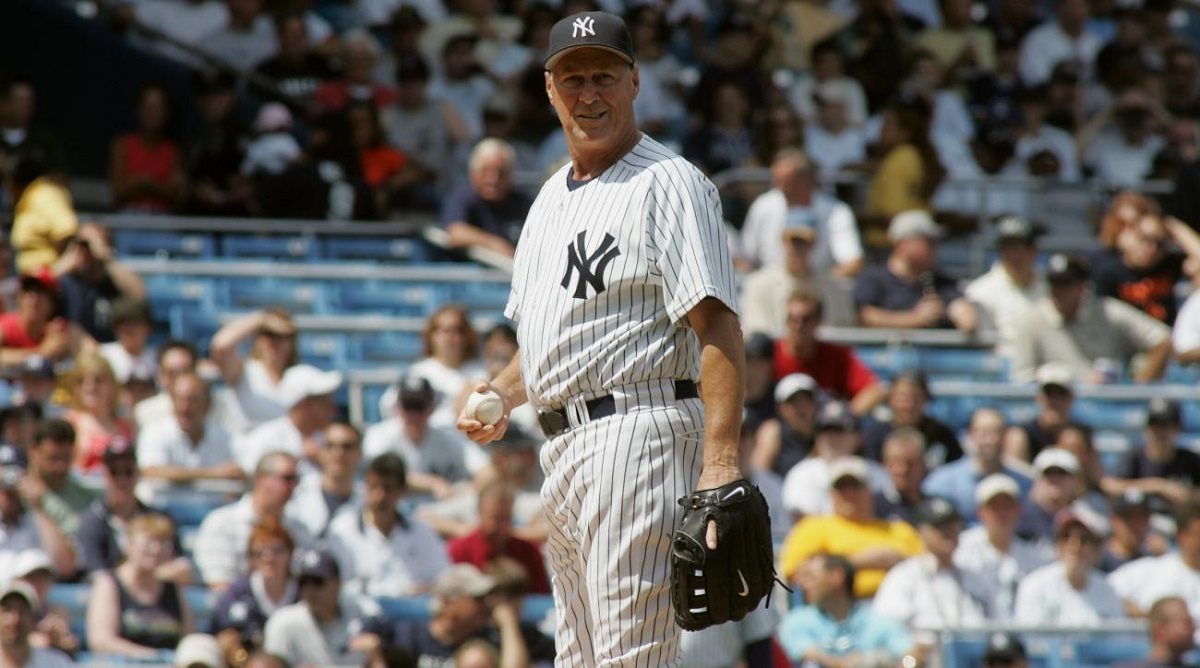 Stottlemyre played 11 seasons in the majors as a right-handed pitcher and he once hit an inside the park grand slam in the summer of 1965. The Ace of the Yankees won 164 games in 11 seasons between their leanest years in franchise history between 1964-1974.
Although Mel Stottlemyre never won a title with the Yankees as a player, he won the World Series five times as a pitching coach, guiding some of the greatest pitching staffs in the late 20th Century including the 1986 Mets and 1998 Yankees.
The Pitcher Whisperer
After his playing career ended in 1974, the Seattle Mariners gave Stottlemyre his first job he pivoted from player to the coaching side. Sottlemyre worked as a scout for the Mariners.
In 1984, the Mets hired Stottlemyre as their pitching coach. He guided young arms such as Doc Gooden and Ron Darling to some of the best years of their careers. In 1986, the Mets won the World Series and Stottlemyre finally won his first ring.
In 1996, the Yankees hired Sottlemyre and he rejoined his former team in the Bronx. He inherited one of the best bullpens in baseball anchored by Mariano Rivera, but he mentored a motley crew of young arms and veterans that would go on to win four World Series titles in five years between 1996 and 2000.
In 2000, Stottlemyre was first diagnosed with multiple myeloma cancer. He sought treatment, but continued to coach. In 2005, Stottlemyre resigned after ten seasons as pitching coach due to a dispute with cantankerous owner George Steinbrenner.
Stottlemyre returned to coach the Seattle Mariners for a single season on 2008 before he officially retired from baseball.
WHO IS MEL STOTTLEMYRE?
Born: 1941
Hometown: Mabton, Washington
Throws: Right
Record: 164-139
ERA: 2.97
Strikeouts: 1,257
Seasons: 11
MLB All-Star: 5 times
Pitching Coach: Mets, Yankees, Astros, Mariners
World Series Titles (Player): 0
World Series Titles (Coach): 5
Stottlemyre had two sons, Todd and Mel, Jr., who both played professional baseball. Todd played for 15 seasons and won two titles in the early 1990s with the Toronto Blue Jays. Todd finished his career with a 138–121 record. Mel and Todd combined for 302 victories.
Bronx Respect
In 2015 on Old Timers Day, the New York Yankees surprised Stottlemyre by by enshrining him in Monument Park.
"Today in this Stadium, there is no one that's happier to be on this field than myself," a stunned Stottlemyre said. "This is such a shock to me because the era I played in is an era where, for the most part, the Yankees have tried over the years, I think, somewhat to forget a little bit. If I never get to come to another Old Timers Day, I will take these memories and I'll start another baseball club, coaching up there, wherever they need me."
Located inside Yankee Stadium, Monument Park is where the team pays homage to their greatest players. The legends like Babe Ruth, Joe DiMaggio, Lou Gehrig, Mickey Mantle, Whitey Ford, and Don Mattingly are honored with plaques. In some circles, being recognized by the Yankees with a plaque is on par with induction to Cooperstown.
Stottlemyre holds the record for second-most complete game shutouts in Yankees history with 40.