In what has been the biggest bet yet on the August 26 fight between Floyd Mayweather and Conor McGregor, ex Sacramento Kings owners Gavin and Joe Maloof plunked down $880,000 on the champion. The duo made the bet Friday at the South Point Casino in Las Vegas.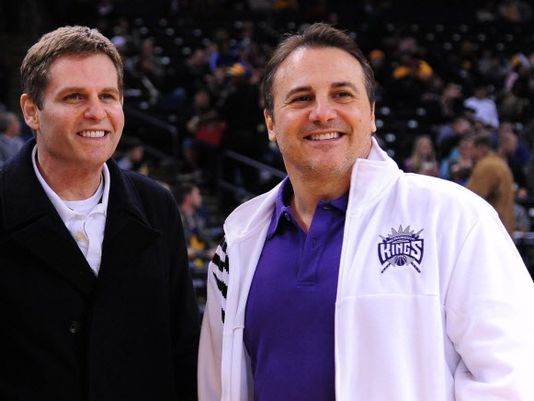 Should the boxer nicknamed "Money" defeat the Irish UFC champion in 11 days at T-Mobile Arena, they won't keep a dime of their winnings. They will donate the $160,000 profit to charities.
Gavin Maloof told the Associated Press on Sunday that the money given will be in the name of their new product, Never Too Hungover, a drink to prevent the after effects of imbibing too much alcohol.
"We have a huge opportunity to help a lot of people in charities, so we decided to do it," Gavin Maloof said. "It's a neat way to enjoy the fight, and it's a fun way to promote our product."
Huge Favorite
The proceeds won't be a huge payday for the wager since Mayweather is such an overwhelming choice to defeat McGregor. The Maloofs got minus-550 odds for a straight up bet on the outcome.
The bet was so large that the South Point had to break up the cash in to two separate $440,000 tickets. Shortly after their visit, the sportsbook moved the line higher, making it minus-600. The same bet would now only pay $146,000 if it came in.
Most of the money has been trending towards McGregor in recent weeks. The line began at 11-1, but at some internet betting sites it is down to 6-1. Paddy Power, which is located in the home country of the Irishman, their line is down to 4-1.
Most boxing experts give the challenger little chance of beating the undefeated champion, who has been called the best pound-for-pound boxer of all time.
But he is 40 years old and McGregor is 29. Some believe he has a chance to pull off the upset. The outspoken MMA athlete certainly isn't lacking in self-confidence.
"The critics say that Floyd has been there before. They discredit my training, my skills, my accomplishments," McGregor said recently. "I am no stranger to being the underdog on paper. I am the better man. After Saturday, August 26, I will be a god of boxing."
Big Mayweather Supporters
The Maloofs though remain steadfastly loyal to Mayweather. The siblings, most notably Gavin, have been huge fans of the fighter and have attended several of his bouts. Gavin also has a home down the street from him in an upscale, gated community in Las Vegas.
Gavin Maloof was invited to a recent workout and came out of the session so impressed, he called his brother to propose the bet.
"So I called my brother, Joe, and said, 'We should put a wager on Floyd, because I don't think he's going to lose,'" Gavin said. "Not to take anything away from Conor. He's good. But I just like Floyd a lot."