The New York Jets lost … again. The Arizona Cardinals beat up the Jets 30-10 on their janky home turf at MetLife Stadium. The LOL Jets started the season 0-5 for only the third time in franchise history.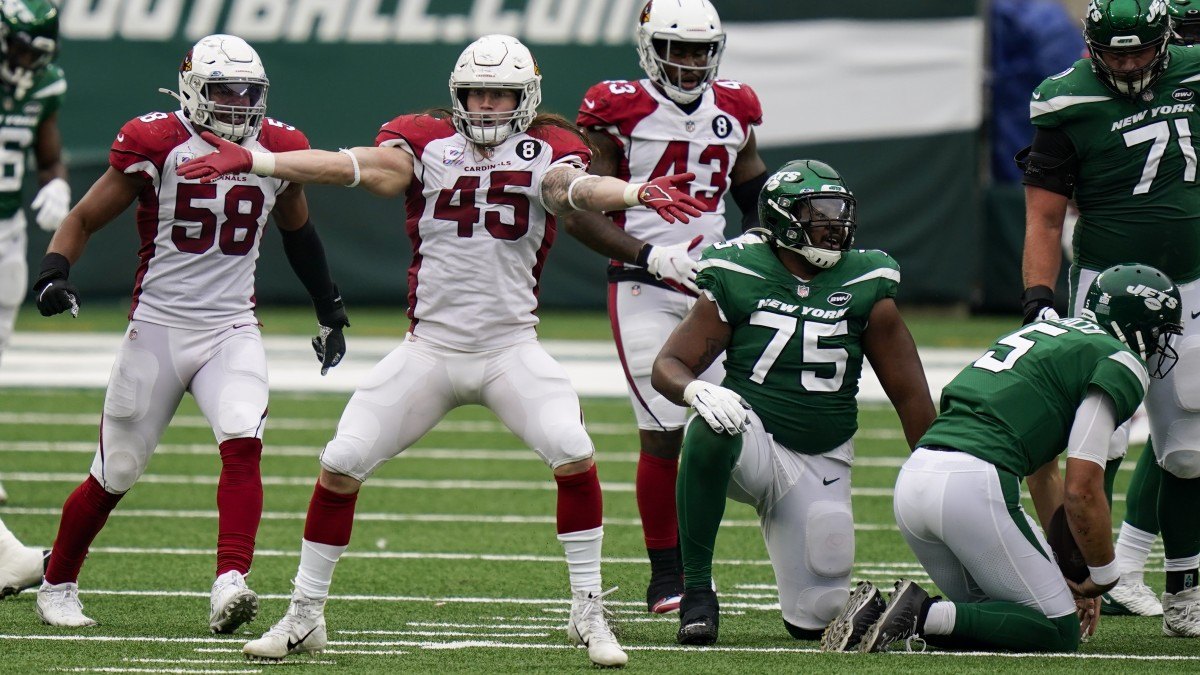 In 1980, a banged-up Jets started 0-5 under Walt Michaels and finished the season 4-12. In 1996, the Jets went 0-8 under inept Richie Kotite and they finished 1-15 that season. Before Gase, Jets fans widely considered Kotite as the worst head coach in franchise history.
If you've been following along with us this NFL season, you know we're betting against the Jets every week until Adam Gase gets fired. If you've been fading the LOL Jets this season, you're now 5-0.
The Cardinals came into this road game in New Jersey favorited by a touchdown, and they nearly covered by three touchdowns. Ouch.
---
Week 5: Arizona 30, NY Jets 10
Point Spread: AZ -7
Jets Record: 0-5 SU, 0-5 ATS
Fade the Jets Record: 5-0
---
We all know that the LOL Jets aren't good, but under Gase, this team continues to exceed expectations from the so-called experts, career bookmakers, and algorithms.
Two other losing teams already dismissed their head coaches. The Atlanta Falcons fired Dan Quinn after a similar 0-5 start. The Houston Texans parted ways with Bill O'Brien last week, who was both their head coach and general manager.
When will the Jets finally fire Adam Gase?
Jets are lucky that fans aren't in MetLife to boo them into oblivion

— Damien Woody (@damienwoody) October 11, 2020
Clueless Gase, Swiss Cheese Williams
Self-awareness is paramount to self-improvement. If you can't recognize or accept a problem, you'll never be able to overcome that problem.
"If you watch these guys practice, you wouldn't know what our record was," said Gase.
According to Gase, the Jets look good in practice, yet embarrass themselves week-after-week on the field. He passive-aggressively threw his team under the bus and has yet to accept blame for the team's overall ineptitude.
"We got to get, you know, learn from this show," Gase said. "We got to figure out a way to play a full 60 minutes in which all three phases are playing well together. It's just like one side's playing while the other side's not on."
Gase, the so-called offensive guru, created an offense that generates 15 points per game. The LOL Jets are ranked #32 in the NFL, or dead last in scoring. The Jets scored 13 or fewer points three times this season.
The defense sucks just as much as the offense. Gregg Williams' D allows 32.2 points per game and the Jets are tied for second-worst defense in the NFL. The Jets allowed at least 27 points per game in every game this season.
Heck, the Cardinals were so confident against the LOL Jets that they went for it on fourth-and-1 at their own 39-yard line. And yes, they converted the play with a first down on a 31-yard pass play.
Ladies & Gentlemen…. @DeAndreHopkins pic.twitter.com/dU8HnFNmWi

— Arizona Cardinals (@AZCardinals) October 11, 2020
It's Not Darnold
A small minority of Jets fans believed Sam Darnold was the main culprit in the Jets horrid start. With Darnold out with a shoulder injury, Gang Green got a chance to see what life would be like without him. Joey Flacco won a Super Bowl with the Baltimore Ravens. He's way past his prime, but he's a veteran QB. Even with Flacco at the helm, the LOL Jets continued to suck. The Gase apologists and Darnold haters have been silenced.
The Jets also had running back Le'Veon Bell in the lineup for the first time since Week 1. Even with their most-talented offensive weapon back in the arsenal, the Jets couldn't score more than 10 points. Bell threw shade at Gase via social media by liking comments suggesting a trade.
Flacco tried to remain optimistic despite the bungling signal calling from Gase.
"We've got good guys," said Flacco. "We just got to kind of look at ourselves here and then start believing that we get the job done."
Flacco thinks the Jets have guys good enough to compete, but the team has given up on themselves because of the lack of leadership.
That's why the Johnson family needed to fire Gase last week. When you lose the team as a head coach, all hope is lost. You can't jump off a sinking ship it's already at the bottom of the ocean.
For weekly musings of a tortured New York Jets fan, take a look at more columns on the LOL Jets.