The hardest part of analyzing Life Is Good's dismantling of Saturday's San Felipe Stakes field at Santa Anita Park is determining what was the most impressive element of his victory.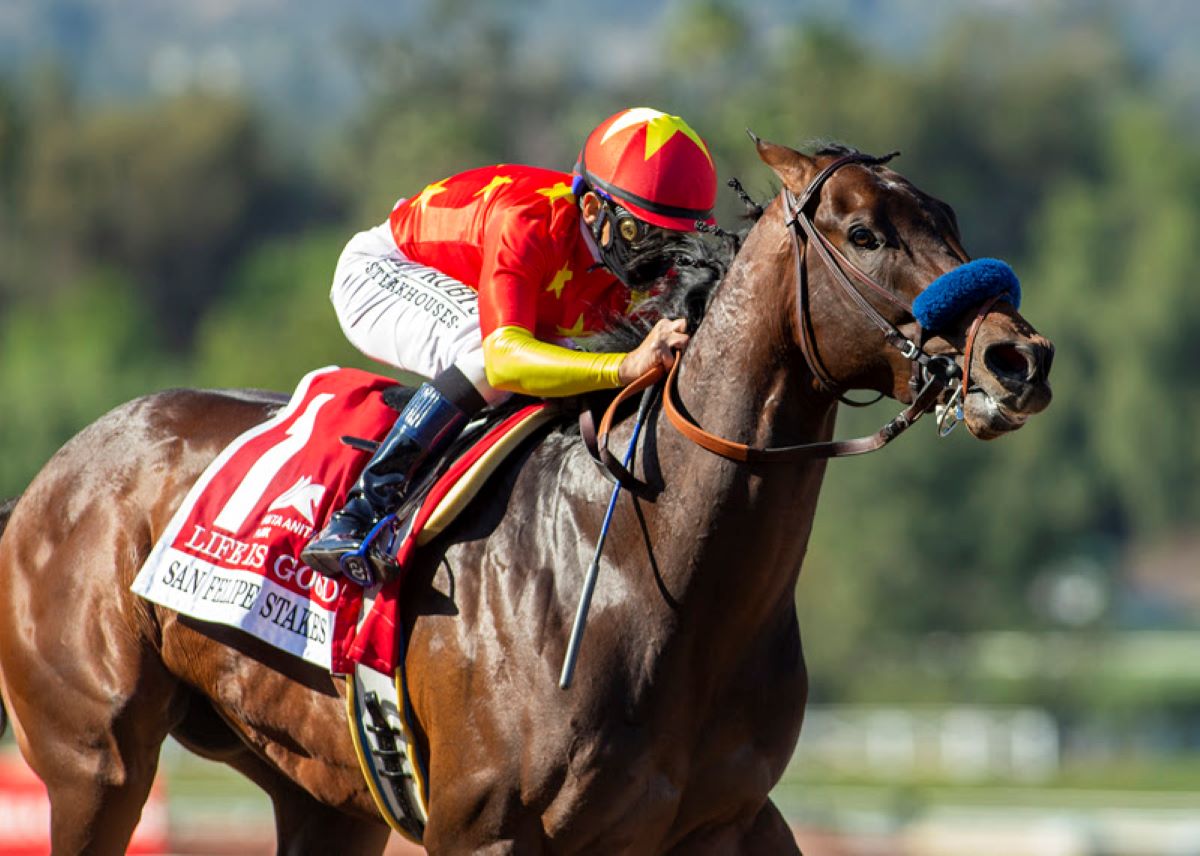 Was it the eight-length victory? The legitimate fractions of 23.63 seconds for the first quarter-mile and 46.83 for the first half? The fact that Life Is Good got faster as the race went on, turning a four-length lead coming into the stretch into his eventual eight-length romp?
Was it his 107 Beyer Speed Figure, coming on a slow Santa Anita Park dirt track that has been stingy in yielding flashy times this winter? Or was it the fact Life Is Good did all that while drifting out into the center of the track during his stretch drive?
More on that latter item in a moment. Meanwhile, let's compare Life Is Good's 107 Beyer with Saturday's other two Kentucky Derby prep winners. At 46/1, Weyburn won the Grade 3 Gotham Stakes at Aqueduct with a 95 Beyer while Helium pulled his Grade 2 Tampa Bay Derby 15/1 upset with an 84.
Neither of those two is currently Triple Crown-nominated, so their 50 points are on hold.
This trip, Life Is Good wasn't a runaway carousel
En route to banking 50 Derby qualifying points and a spot in the gate for the May 1 Run for the Roses, Life Is Good passed a major test. That was controlling his early speed. He set strong fractions in his gate-to-wire victory, but he did so without losing rhythm or going out of control.
Nobody — not stablemate Medina Spirit (who finished second), stakes rookie Dream Shake (third), closer Roman Centurian (fourth), nor speed threat The Great One (fifth) — was catching him.
"I like the way he got away from the gate, both of my horses (including Medina Spirit) got away cleanly. They were in a good spot," Baffert said after the race. "Down the backside, that's where this horse can get a little tough and I was hoping we'd get a little 47 and change (half mile). But (jockey) Mike (Smith) just sat on him. He was doing it so easily. I saw 46 and four (and) I said 'Well, I think I could live with that.' I always thought he would be a super horse … but at the quarter pole, I could tell he was just still cruising, just doing it easy."
Using the entire track unorthodox, but effective here
Life Is Good even made waltzing out into the 10-path look easy. In deep stretch, with nothing but space around him, Life Is Good inexplicably took Smith out into the center of the track. It didn't affect his speed in the least. His 1:42.18 clocking for the 1 1/16 miles is the fastest San Felipe time since Dortmund's 1:41.65 time in 2015. Baffert trained Dortmund as well.
Smith had a reason for the drift: Santa Anita's big infield screen dominates the left sightline of riders and horses coming down the stretch.
"When the big screen is lit up, they can see it," Smith said after the race. "In the mornings, he goes by the screen like it's nothing because it's not on. He was locked on it down the lane today. He's just so talented. I had a strong hold on him down to the wire, just holding on to him, making sure he stayed straight."
If Baffert isn't worried, should we be?
For his part, Baffert was unconcerned. He said Life Is Good came out of the race in good shape and will run the Grade 1 Santa Anita Handicap on April 3.
"He's still green," Baffert told Santa Anita's Ed Golden on Sunday morning. "Remember, Authentic did all that weaving [in] one race. They're still babies. They're still immature. The main thing is, he came out of [it] really well. We saw a lot of raw talent yesterday."
With that raw talent on vivid display, bettors crushed Life Is Good's Derby future odds. He's down to 4/1 at both Circa Sports and William Hill Nevada.