Golden State Warriors head coach, Steve Kerr, says that Klay Thompson is unlikely to come back during the 2019-2020 season, as his recovery from a torn ACL suffered in the NBA Finals will likely keep him out for the year.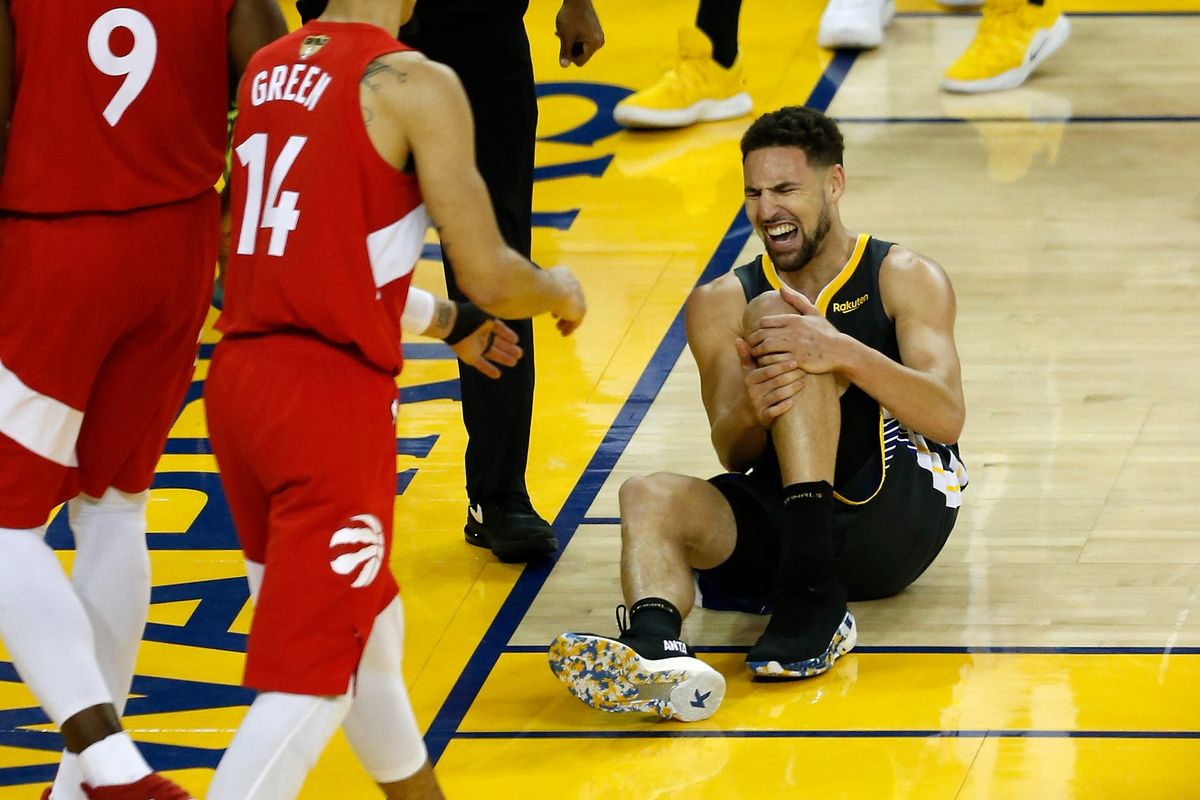 Previously, Warriors officials had held out hope that Thompson might make it back sometime after the All-Star break.
Kerr Looking at Injury 'Realistically'
Speaking to NBC Sports Bay Area, Kerr said that such a quick return was likely unrealistic, and given the typical recovery time for a torn ACL, fans shouldn't expect to see Thompson back until the 2020-21 season.
"You have to look at it realistically," Kerr said. "I had an ACL in college, and I missed a whole season. Generally, an ACL for a basketball player is a full-year recovery, and if it's a full year for Klay, that puts them out for the season."
Kerr says that April 1 is likely the earliest that Thompson could come back, as that would be nine months from the time of his surgery. But even coming back then would be a best-case scenario, and Kerr said that the guard would only be able to play if he was cleared by doctors.
In the meantime, the Warriors will be able to give more minutes to younger players who might not have cracked the lineup otherwise, something that Kerr says could pay off for the team in the long run.
"We have to prepare our young guys to fill that role behind him, and when he gets back, whenever that is, hopefully these young guys now are developed and in the rotation and ready to really be contributors on a playoff team, and we can get better," Kerr said.
Without Thompson, Warriors Title Hopes Fade
The loss of the 29-year-old Thompson will be a major blow for Golden State. Thompson is coming off of five straight All-Star Game appearances, and made the NBA All-Defensive second team last year. Last season, he averaged 21.5 points along with 3.8 rebounds, 2.4 assists, and 1.1 steals per game while playing in 78 games for the Warriors.
Thompson himself told reporters that he has no interest in trying to come back early from such a serious injury.
"The last thing you want to do is rush back, especially for a player like me who wants to play until his late 30s," Thompson said last month.
The Warriors are coming into the season with a very different roster than the one that helped them reach five straight NBA Finals. Along with Thompson's injury, Golden State will also be without Kevin Durant, who joined the Brooklyn Nets in free agency during the offseason. Durant will also miss the entire 2019-20 season with a ruptured Achilles, an injury that he suffered during the Finals.
Those losses have finally knocked Golden State from its perch as a perennial title favorite, though sportsbooks are still showing the Warriors some respect. At FanDuel Sportsbook, Golden State is still the sixth choice to win an NBA Championship this season at +1200 odds.