Kevin Harvick took first place at the TicketGuardian 500 in Phoenix on Sunday, giving the 42-year-old driver his third consecutive win in the Monster Energy NASCAR Cup Series.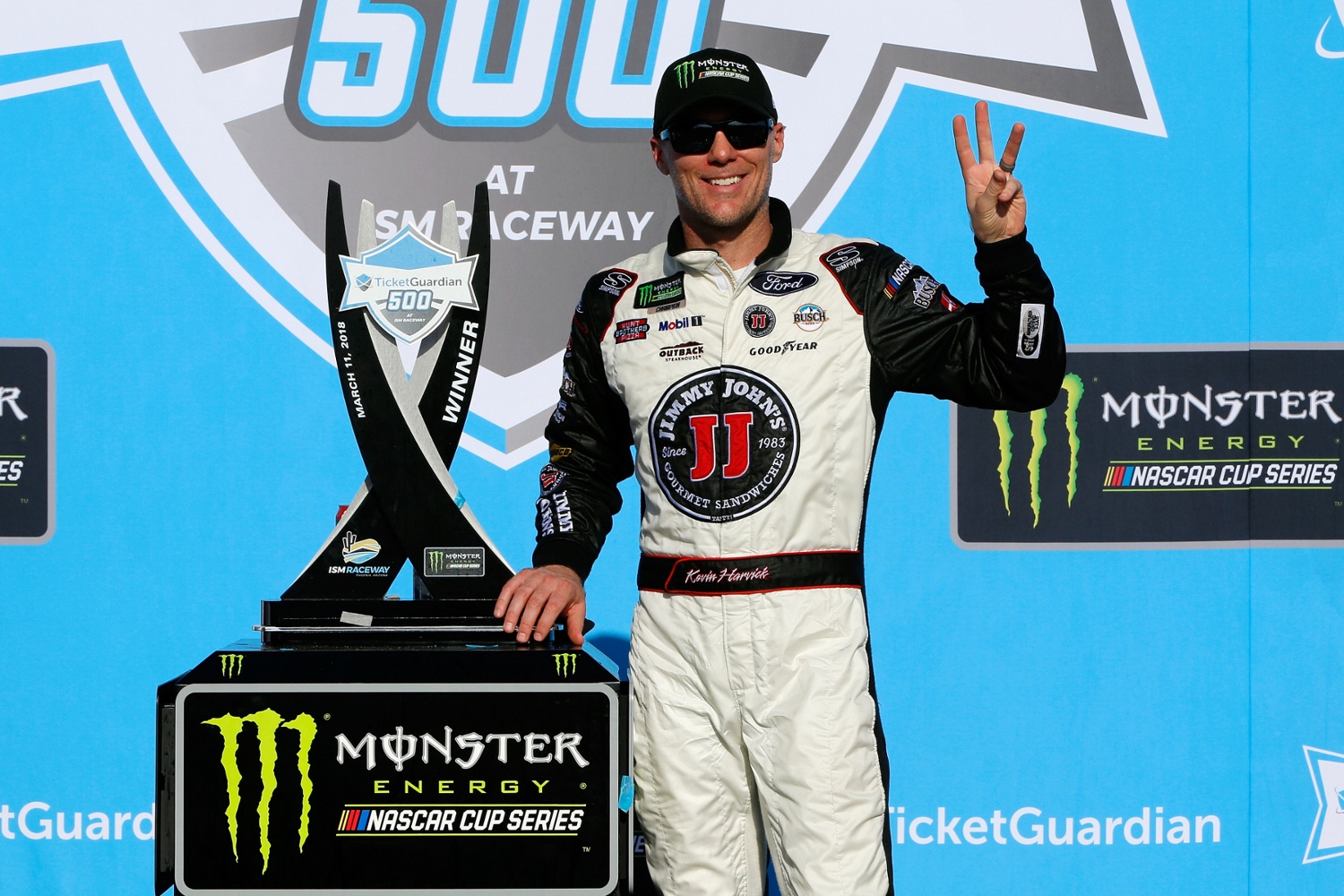 Harvick started his winning streak with a victory in the No. 4 card in Atlanta, then followed that up last weekend with another first place finish in Las Vegas.
The win in Phoenix didn't come easily. Kyle Busch led for the majority of the race after he passed Martin Truex Jr. on Lap 58. Busch would then lead the majority of the race, winning both Stage 1 and Stage 2.
But Harvick would not be denied. He passed Busch with just under 20 laps remaining in the race, and held on until the finish line to continue his winning streak. The win makes Harvick the first driver since Joey Logano in 2015 to win three straight events on the NASCAR Cup Series.
Controversy Fuels Harvick Team
Harvick and his team came into Phoenix with something to prove. Their prior win in Las Vegas came with some controversy, as NASCAR penalized both the driver and Stewart-Haas Racing with 20-point deductions for violations related to the materials used in the car's panel extension and the rigidity of its rear window glass.
Rather than simply get angry about the punishment, Harvick was determined to use the situation as motivation.
"Everybody just came here mad, chip on their shoulder, wanting to do exactly what we did today," Harvick said after the race. "Actions speak a whole lot louder than all the words I can say this week, tweets that you can send out. Parking that thing in victory lane is the most powerful thing, most powerful message you can send, and says the most about our organization and our team."
Harvick was a popular choice to win the TicketGuardian 500, and the bookmakers' favorite, as he has had great success in Phoenix throughout his career. This victory marked his ninth career win at ISM Raceway, making him only the ninth driver in NASCAR history to win at least nine times at the same track.
Pit Stops Prove Decisive
The turning point in the race came not on the track, but during the last set of pit stops taken by the lead drivers. While Harvick has a clean stop, Busch's team struggled, dropping a jack at one point and giving up precious seconds to the eventual winner.
"We lost the race on pit road today," Busch said. "There's been races where I've won it on pit road, too. We'll just have to go into next week and see what we can do there."
Harvick's red hot start has put him on top of the NASCAR Cup Series rankings. He is now 12 points ahead of Busch and Truex, with Logano and Ryan Blaney rounding out the top five.
That early success has made Harvick a trendy pick to walk away with a NASCAR championship this year. Bet365 now has Harvick as the overall favorite at 11/4, just ahead of Truex (4/1) and Busch (9/2).