In SEC conference action, #19 LSU (20-4) picked off #5 Kentucky (20-4) with a buzzer-beater, tip-in by LSU's Kavell Bigby-Williams.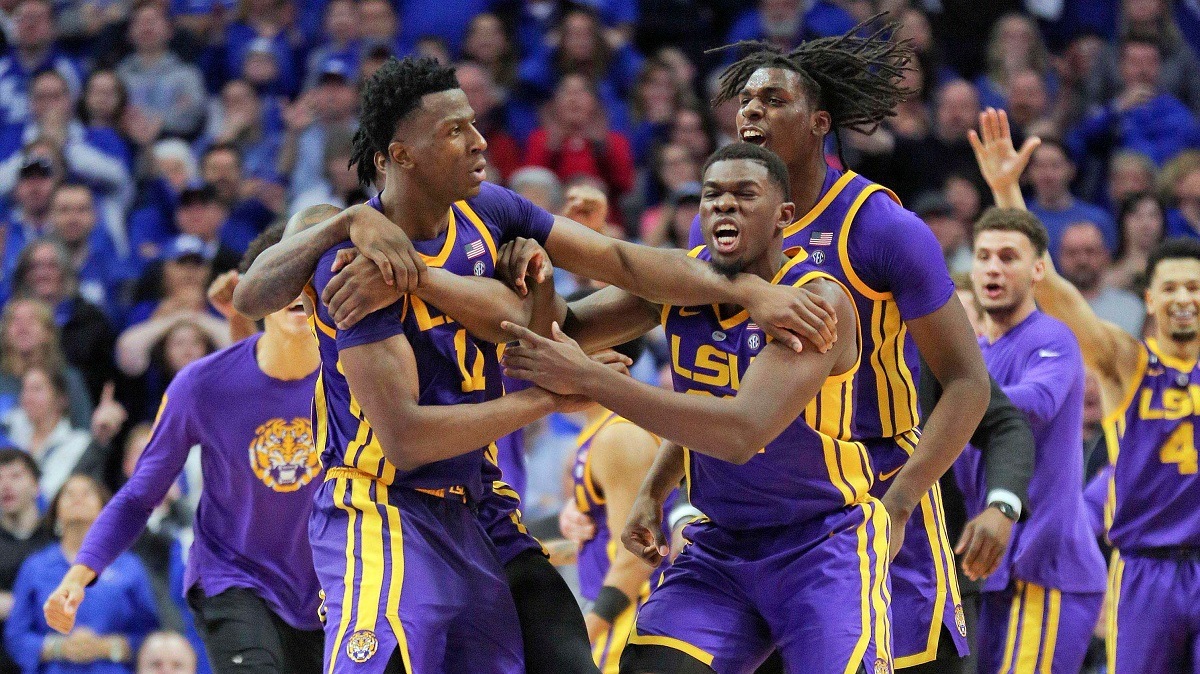 Kentucky lost to LSU at home 73-71. Bigby-Williams beat the buzzer, but replays indicated he committed offensive interference. In addition to the controversial tip-in, officials blew numerous calls down the stretch.
The LSU Tigers ended a ten-year drought with their first win in a decade at historic Rupp Arena in Lexington. Meanwhile, LSU moved into second place in the SEC with a 10-1 conference record. Tennessee is the top-ranked team in the country and holding down first place in the SEC. Kentucky slipped to third overall.
Controversy in Lexington
Strange things were afoot with UK hoops on Tuesday night. LSU found a way to gut out a win, even with their two best guards struggling from the floor. They both shot a 3-for-13 clip, including a combined 2 for 11 from three-point range fora paltry 18 percent.
Kentucky sophomore swingman, PJ Washington, scored 20-plus for a third-straight game and in six of his previous seven games. Washington led UK in scoring and finished with 20 points and 9 rebounds. Freshman guard Keldon Johnson broke out of a mini-slump with 16 points.
Kentucky had an off night from three-point land with 26.3 percent overall and 14 missed treys. UK missed seven free throws including four from Johnson. UK shot only 69.6 percent compared to LSU's 86.4 percent on a 19-for-22 night at the charity stripe.
LSU stuck to a seven-man rotation all night with two key freshman reserves making contributions. Freshman forward Emmitt Williams scored 12 points in 19 points of action. Williams was a perfect 5-for-5 for the night. Freshman point guard Ja'vonte Smart came off the bench and added 8 points and 5 assists.
Bigby-Williams, a 6-foot-11 big man from London, England, took only one shot all game prior to the final play. He finished the night with five points on 2-for-2 shooting, including the tip-in at the buzzer.
"You hate for it to come down to the last play, but that happens sometimes," said Kentucky head coach John Calipari. "You hate that that play becomes questionable, but I will say that it should not take away from what LSU did. They beat us."
Although it was obvious Bigby-Williams touched the ball while it was still on the rim, the call was not reversed. Offensive goaltending is not a reviewable according to rules.
.@LSUBasketball AT THE BUZZER 🚨

TIGERS WIN! TIGERS WIN! pic.twitter.com/cIUUx9NHA5

— SEC Network (@SECNetwork) February 13, 2019
Top 5 Shuffle
In addition to Kentucky's loss, last-place Penn State upset #6 Michigan in Big Ten action. Perhaps this is the week that mid-majors will finally get some love in the AP Poll?
A couple of single-loss teams, #7 Nevada and #9 Houston, might finally crack the Top 5 with Michigan and Kentucky losing on Tuesday night. The Houston Cougars lost only one game this season, yet only ranked #9. The Nevada Wolfpack have been hovering over the Top 5 all season.
Virginia lost at home to Duke last week and slipped from #3 to #4 overall, while Gonzaga moved into the third spot.
On Deck: #1 Tennessee
Kentucky lost the opening game of the season to Duke. Since then, the Wildcats suffered only three losses by a combined five points. Kentucky responded to every loss this season with a convincing win.
However, Kentucky's next game is Saturday against top-ranked Tennessee in Knoxville. For their first meeting of the season, nosebleed seats in Bolling-Thompson Arena are fetching nearly $150 on StubHub.
A win for Kentucky would probably knock out Tennessee from the number one ranking. It would also keep the Wildcats in the Top 5. A loss to the Vols coupled with the LSU loss will certainly result in a drop in the next week's poll.
We will see what the young Wildcats are really made of the next two weeks with two huge games against Tennessee. UK also has games against Missouri, Arkansas, and Auburn sandwiched in between the series against the Vols.