Kentavious Caldwell-Pope has yet to play a game with the Denver Nuggets since arriving in a trade with the Washington Wizards in late June, but the Nuggets signed KCP to a contract extension worth $30 million.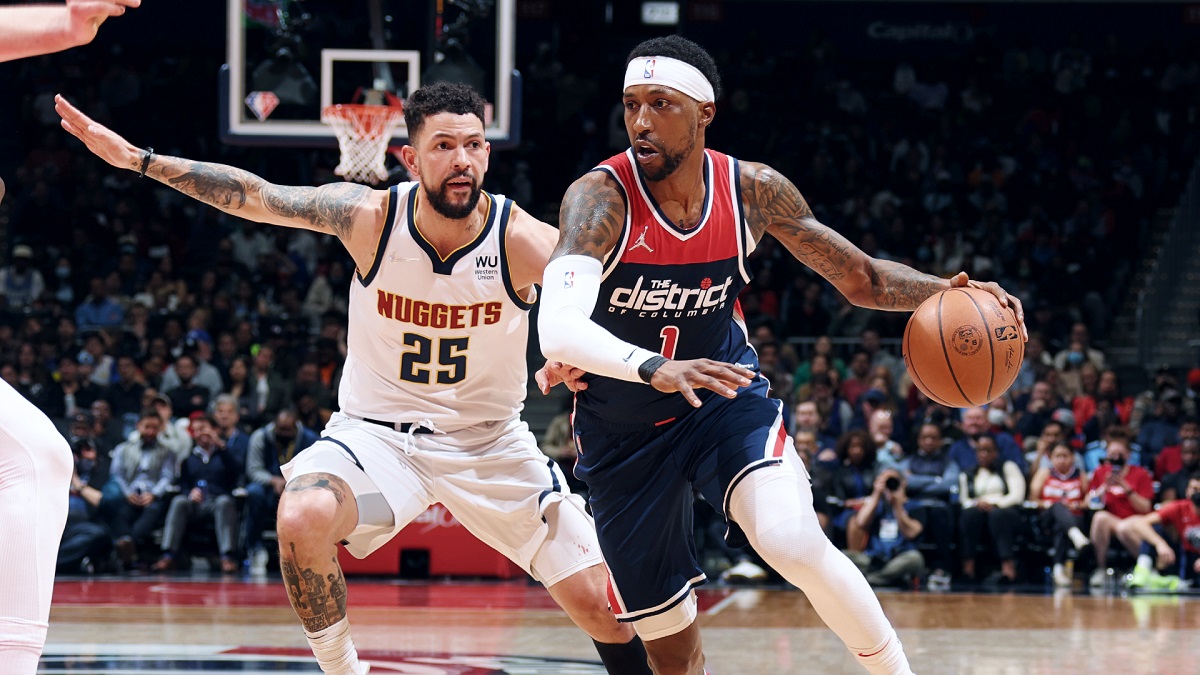 Caldwell-Pope has one year remaining on his current contract worth $14 million this upcoming season. He'll earn $15 million next season, with a player option in the 2024-25 season.
The Nuggets were serious when they said they anticipated giving Caldwell-Pope an extension and they didn't waste any time securing his services for at least the next two seasons as a consummate 3-and-D player. Last season with the Wizards, Caldwell-Pope averaged 13.2 points, 3.4 rebounds, and 1.9 assists in 77 starts, while shooting 39% from 3-point land.
After the addition of Caldwell-Pope, the Nuggets are +1600 odds to win the 2023 NBA championship as the ninth-highest team on the DraftKings' futures board. The Nuggets are the fifth-favorite to win the Western Conference at +900 odds.
You can also back the Nuggets to win the Northwest Division at -140 odds ahead of the Minnesota Timberwolves at +200, who recently saw an odds boost after adding Rudy Gobert in a trade with the Utah Jazz.
Welcome to Colorado, KCP
The Nuggets tried to acquire Caldwell-Pope prior to the trade deadline last season, but they could not work out a deal with the Washington Wizards. They never gave up on trying to bring KCP to the Mile High City. New general manager Calvin Booth made it a mission to improve the team's defense, which is why he traded Willie Barton and Monte Morris to the Wizards in exchange for Caldwell-Pope and Ish Smith.
"I'm excited just to be able to compete again and compete for a championship," said Caldwell-Pope.
Caldwell-Pope will get to play in the same starting lineup as two-time MVP Nikola Jokic, along with Jamal Murray, Aaron Gordon, and Michael Porter, Jr.
Caldwell-Pope brings championship pedigree to the Nuggets. He won a title with the LA Lakers in 2020 as role player, but the Lakers traded him to the Wizards in a mega-deal that included a slew of players for Russell Westbrook. The Lakers realized their error during the season when the Westbrook addition failed to work and LeBron James and company desperately missed a top-notch perimeter defender like KCP, not to mention his sharpshooting skills. He shot 41% from beyond the arc during the Lakers' title run.
The Nuggets were thrilled to add a lock-down defender like Caldwell-Pope to match up against some of the best shooting guards and wings in the Western Conference like Ja Morant, Damian Lillard, and Devin Booker. It will take some pressure off Murray, who returns to the Nuggets after missing all of last season with a serious ACL knee injury.