It's 1980s flashback night in Evanston with the Ohio State jocks taking on the Northwestern nerds in this week's version of Friday Night Football. Northwestern comes into this Big Ten matchup as the biggest home dog that the Wildcats have been in 24 years, with Ohio State favored by 28 points.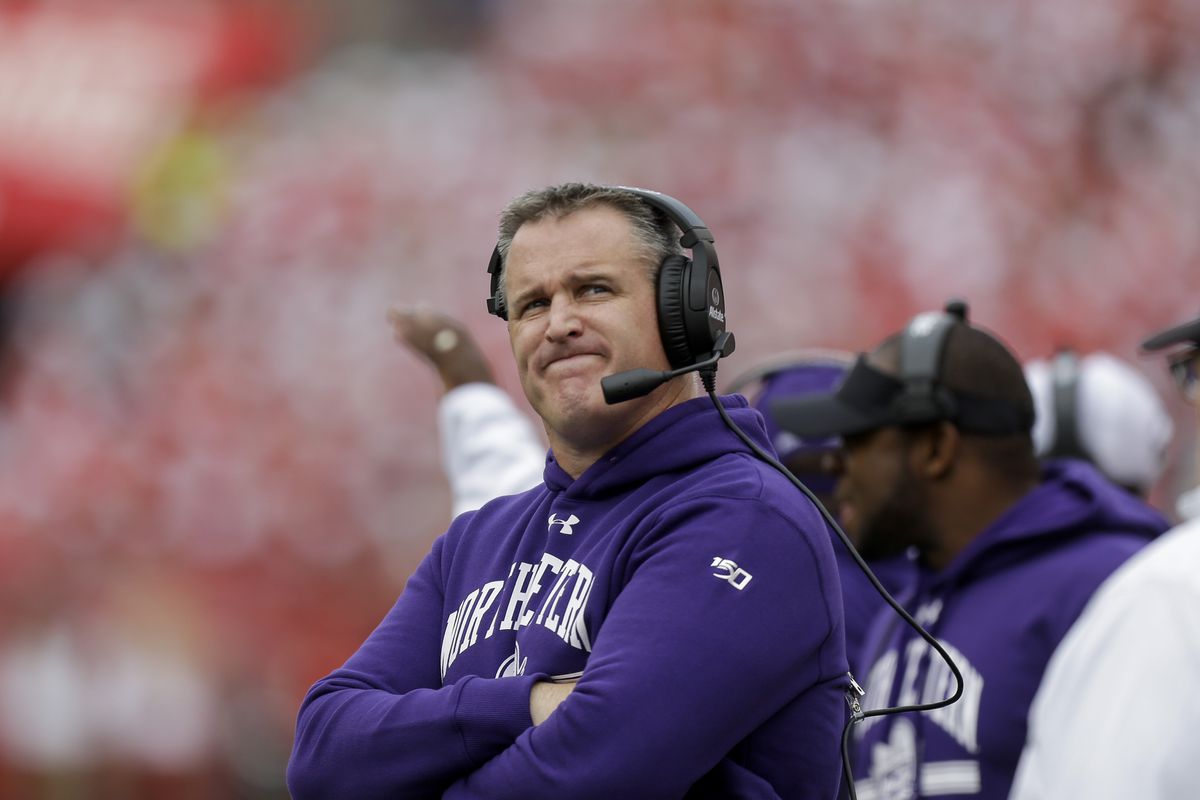 It's weird to think that these two teams met in the Big Ten Championship game last December. Northwestern went 8-1 in conference play in 2018 to finish in first place in the Big Ten West. Ohio State didn't sweat much as a 17-point favorite, and locked up the 2018 Big Ten Championship 45-24, thanks to five touchdowns from Dwyane Haskins.
This season, undefeated Ohio State (6-0) is ranked #4 in the country, while the Northwestern started 1-4 with an 0-3 record in conference play. Northwestern is currently in last place in the Big Ten West after losing a heartbreaker to Nebraska two weeks ago. They are fresh off a bye week, but even the extra rest and preparation are unlikely to help the Wildcats overcome Ohio State's potent offense.
Ohio State is 15-1 against Northwestern since 1992. The Buckeyes are also 9-6 against the spread in their last 15 games against the Wildcats.
#4 Ohio State Buckeyes (6-0) at Northwestern Wildcats (1-4)
Kickoff: 5:30pm PT
Channel: Big Ten Network (BTN)
Location: Ryan Field, Evanston, IL
Point Spread: OSU -28
Over/Under: 50
Money Line: OSU -5500 / NW +1420
Executives at FOX almost moved this game to FOX Business due to prior obligations to air WWE wrestling and a rescheduled MLB playoff game. Instead, the Ohio State/Northwestern game will air on the Big Ten Network (BTN).
Ohio State Look Ahead
Ohio State is battling #6 Wisconsin (6-0) for supremacy in the Big Ten, but the Buckeyes also have National Championship dreams dancing in their heads. Even though Urban Meyer is no longer coaching and starting QB Dwyane Haskins is in the NFL, undefeated Ohio State has been cruising with a 6-0 record, including a perfect 3-0 in Big Ten play. Head coach Ryan Day hasn't skipped a beat, and QB Justin Fields emerged as an exciting dual threat Heisman Trophy candidate.
Pat Fitzgerald and the Northwestern Wildcats are in a unique spot to ambush Ohio State if they catch the Buckeyes looking ahead to their next opponent. Ohio State should beat Northwestern without complications, so long as they're not worried about slugging it out against Wisconsin next Saturday.
Throw out the first game of the season against Florida Atlantic, and Ohio State's defense allowed 32 total points in their last five games. In that same time, Ohio State's staunch defense held three opponents to a touchdown or less. Against colleges located in Ohio, which includes Miami (Ohio) and Cincinnati, the Buckeyes outscored their intrastate foes 118-5. Yikes.
Justin, JK, and Master
Ohio State boasts two of the most exciting offensive players in the Big Ten with Justin Fields and JK Dobbins.
Fields, a sophomore, is a dual threat quarterback who can torch you on the ground and in the air. Fields scored eight rushing touchdowns through six games while averaging 5.0 yards per carry. He also has a cannon for an arm. He tossed 18 passing touchdowns with just one interception.
Junior running back, JK Dobbins averages 7.1 yards per carry, and scored seven total touchdowns in six games (six rushing TDs and one TD reception). Last week against Michigan State, Dobbins destroyed the Spartans with 172 rushing yards and a touchdown. In his last two games, Dobbins rushed for 170-plus yards in each game. He also rushed for 140-plus four times already this season.
If this game against Northwestern is a huge blowout, then fans will get to watch backup RB Master Teague III up close and personal. The freshman running back has been phenomenal, averaging 6.3 yards per carry with three scores. MT3 steamrolled Indiana for 106 yards and a touchdown on only 10 carries.
Oh you thought J.K. Dobbins was the only good @OhioStateFB RB?

Let us introduce you to Master Teague III 👋 pic.twitter.com/eJ6jndMl5Q

— FOX College Football (@CFBONFOX) September 14, 2019
Between Dobbins and Teague, Ohio State boasts one of the most dangerous tandem rushing attacks in the country.
Bad O, Sad Cats
Part of the charm about attending Northwestern is that you earn a top-notch degree that rivals the Ivy League, but your football team sucks in perpetuity.
In an effort to put the student in student-athlete first, Northwestern hurt their football team with their own rigid academic requirements. It's a bold move to continue stringent academic requirements for incoming athletes, considering Northwestern plays in a Power 5 football conference.
Pat Fitzgerald is facing his worst start at 1-4 since becoming head coach 14 seasons ago. Fitz, used to playing the role of overmatched underdog, often finds a way to make his teams compete against superior offenses. However, this Friday Night Football game against Ohio State might be way above his pay grade.
Northwestern's antiquated offense irks fans and alumni. Offensive coordinator Mick McCall installed a boring and predictable offense that is better suited to 1959 than 2019. As a result, Northwestern is ranked #125 (out of 130) in the nation in total offense with 272.4 yards per game. The atrocious passing game averages 120 yards per game by relying on screen passes and avoiding anything vertical or downfield. Transfer QB Hunter Johnson (Clemson) threw one touchdown all season. Northwestern's passing attack is so bad that even Rutgers (1-5) has a better offensive scheme.
Ohio State averages 49.3 points per game versus Northwestern's 14.4. Northwestern scored 72 points all season, while Ohio State can conjure that up in only six quarters. Against Big Ten opponents, the Wildcats crank out a paltry 11.6 points per game. In their four losses this season, Northwestern averaged 5.5 points.
When the non-existent Northwestern offense continually goes three-and-out (predictably on two run plays and a screen pass), it's impossible to give the defense a must-needed breather. The offense is so bad that a shutout seems probable.
How to Watch Northwestern/Ohio State = BTN
Due to a scheduling conflict and a baseball playoff rainout, FS1 will not air Friday Night Football as originally intended. You can find the Ohio State/Northwestern game on the Big Ten Network (BTN). FS1 will air Game 5 of the ALCS between the Astros and Yankees instead.
FOX holds the broadcast rights to all ALCS games this postseason. MLB scheduled Friday off as a travel day, but ALCS Game 4 got postponed due to a rainout. As a result, Game 5 got rescheduled from Thursday to Friday. FOX had a scheduling conflict. Expecting a night off from baseball, FOX scheduled WWE Smackdown for Friday evening. They moved the ALCS to FS1 instead, but had to bump Northwestern/Ohio State. Without a proper channel or a backup plan, FOX suits scrambled to find an alternative broadcasting option.
FOX considered airing the game on FOX Business before persuading BTN to bump their scheduled programming.
"The Northwestern football game getting bumped to the FOX Business network is the most Northwesterny thing ever," said one Northwestern alumni.
With the Northwestern Wildcats listed as a 28-point home dog in this potential slaughter, perhaps its best that no one can find this game on the dial. Hide the women and children from this impending Big Ten bloodshed, because #4 Ohio State is coming to town.