Jimmy Butler drilled a game-winning three pointer to lead the Philadelphia Sixers (14-8) to 127-125 comeback victory over the Brooklyn Nets (8-13).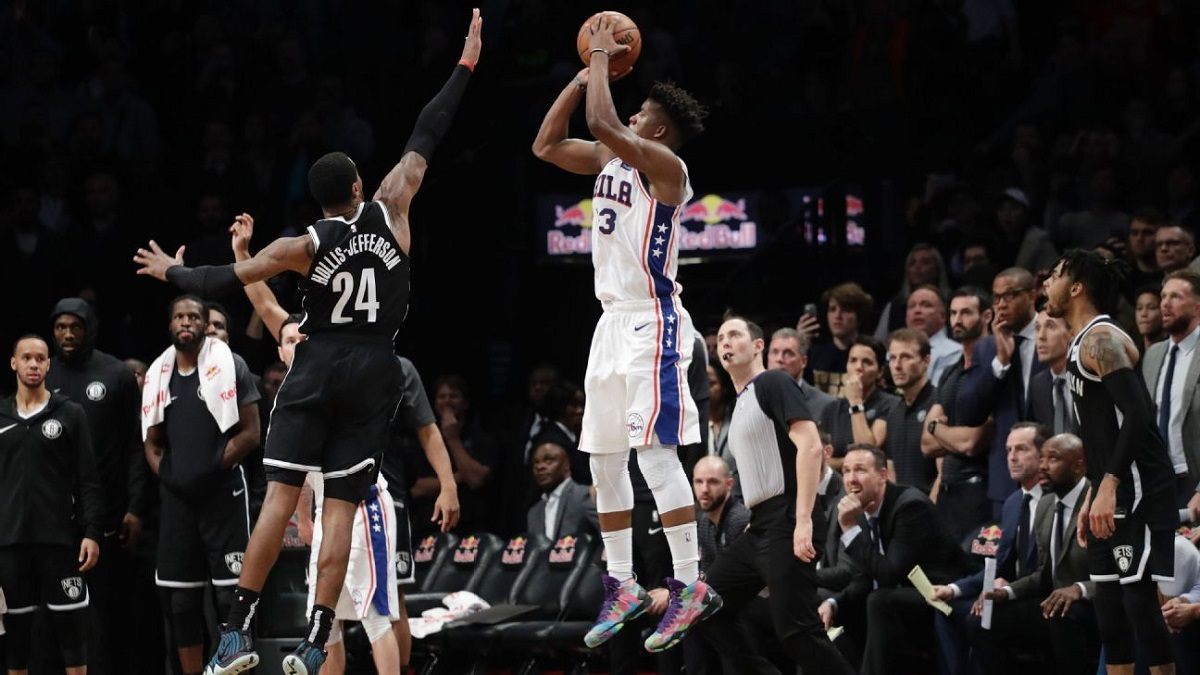 Butler finished the night with 34 points and hit his second game-winner trey in the last five games. He beat the Charlotte Hornets in overtime with a three-point winner only eight days earlier. The Sixers are 6-2 since acquiring Butler in a trade with the Minnesota Timberwolves.
Happy Jimmy, Winning Trey
The Wolves were in the middle of an ugly five-game winning streak before they finally shipped out the disgruntled Butler. Once he arrived in Philadelphia, it was like a rebirth for the coveted all-star guard.
Butler sprained his ankle in a surprise loss to the last-place Cleveland Cavs. He received the necessary treatments and suited up for a game in Brooklyn against the Nets.
The Nets squandered a lead in the fourth quarter after a 16-2 run by the Sixers put them back in the game. Down by a point, Butler hit a step-back three-pointer with Rondae Hollis-Jefferson's hand in his face as time nearly expired to put the Sixers ahead.
"Man, to tell you the truth it could have been anybody," Butler said after the game. "They do have a lot of confidence in me but I got so much more confidence in those guys. They really got us back in game."
Center Joel Embiid added 32 points and 14 rebounds. Butler finished the night with 34 points and 12 rebounds.
The 34 points marked a new high for Butler in seven games with the Sixers. He previously dropped 28 points against the Utah Jazz in his second game with the Sixers.
8 Day Itch
Against the Charlotte Hornets, the Sixers relied on last-second heroics from their new veteran to squeeze out a 122-119 win. Although Kemba Walker exploded for 60 points, the crafty Butler stole the show. Butler shrugged off a tepid shooting night and connected on a clutch three pointer in overtime to put the Sixers ahead for good.
Prior to that dagger against the Hornets, Butler missed his last eleven potential game-winning shots. He has now hit two game winners in five games or a span of eight days.
With his new team, Butler is averaging 20.2 points per game.
With the Boston Celtics off to a slow start, the Sixers are in second place in the Atlantic Division behind the Toronto Raptors. The Milwaukee Bucks, led by the Greek Freak, is the only team in the Eastern Conference  that has a better record than the Sixers.
The South Point Casino and Sportsbook in Las Vegas currently lists the Sixers at 12-1 odds to win the NBA championship.