After becoming the first Cup Series driver to contract COVID-19, Jimmie Johnson has been cleared by NASCAR officials to return to racing. The 44-year-old withdrew from last week's Brickyard 400 at Indianapolis Motor Speedway after testing positive for the disease.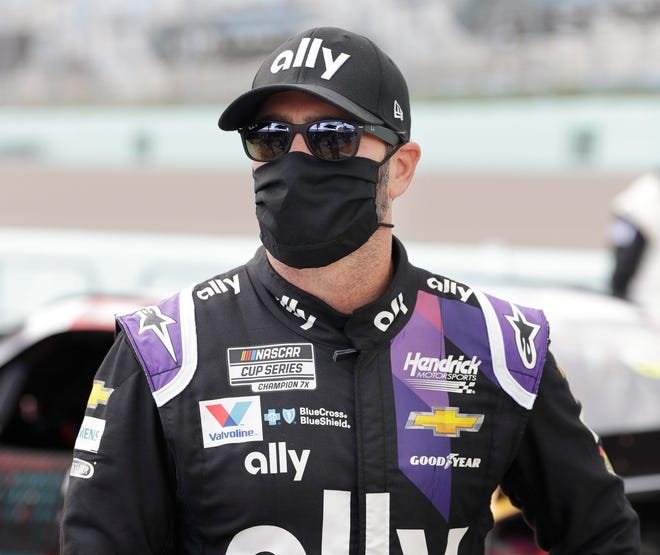 It was the first time in his career that Johnson missed a Cup Series race, snapping his streak of 663 consecutive starts. Johnson's first Cup Series race was the UAW-GM Quality 500 at Charlotte Motor Speedway on Oct. 7, 2001.
After the positive test, Johnson self-quarantined and took two additional tests that both came back negative. Johnson said in a release he is ready to return to the track at this week's Quaker State 400 at Kentucky Speedway.
"My family is so grateful for the incredible love and support we've received over the last several days," Johnson said. "I especially want to thank Justin Allgaier for stepping in for me at Indy and being a true pro. I'm excited about getting back to business with my team this weekend."
Johnson is listed at 20/1 by the Westgate sportsbook to win the race. Kevin Harvick, who won the Brickyard 400, is the favorite at 5/1.
Fortunately, no one on Johnson's Hendrick Motorsports team tested positive for COVID-19. Four crew members were tested, but all of their results were negative.
Johnson Clears COVID-19 Protocols
NASCAR's COVID-19 protocols require that Johnson have two negative tests before he can return to racing. He got those on Monday and Tuesday. He also had to be symptom-free, and be cleared by a physician. When all of that occurred, NASCAR officials allowed him to race.
NASCAR has been vigilant about protecting drivers and crews from contracting COVID-19. The Cup Series had a nine-week hiatus when the season was postponed in March because of the global pandemic. Racing returned on May 17 at the Real Heroes 400 at Darlington Raceway, but without fans. There have been two races where a small number of people, mostly hand-picked first responders and military members, have been allowed to watch races.
Part of Wild Final Season for Johnson
This is supposed to be Johnson's final full-time season on the Cup Series circuit. He announced his retirement last year after finishing 13th at the Cup Series finale at Homestead-Miami Speedway.
This season has been a wild ride for Johnson. The veteran hasn't won a race since June 4, 2017, at Dover. His best result this season was a third-place finish at Bristol on May 31.
A week before Bristol, Johnson failed a post-race inspection after finishing second at the Coca-Cola 600. He was disqualified and placed last.
"It's a tough reality to process, but we are ready for Wednesday and whatever else 2020 throws at us," Johnson said.
With the COVID-19 crisis, Johnson hasn't been able to fully relish his final season. With no fans and limited contact with other drivers, the usual celebrations at racetracks have been shelved. It's a reality that Johnson says he's used to, hopefully, inspire others.
"I can be down and out on my situation, but if I turn on the news and I see how this virus has impacted so many others, I quickly feel thankful that I'm asymptomatic and that I don't have any major issues," Johnson said. "We're hopeful that through our situation that maybe some others can learn from this as well."