The Houston Rockets are in no rush to trade James Harden even though the disgruntled All-Star wants out ASAP, preferably in a trade with a contending team like the Philadelphia 76ers.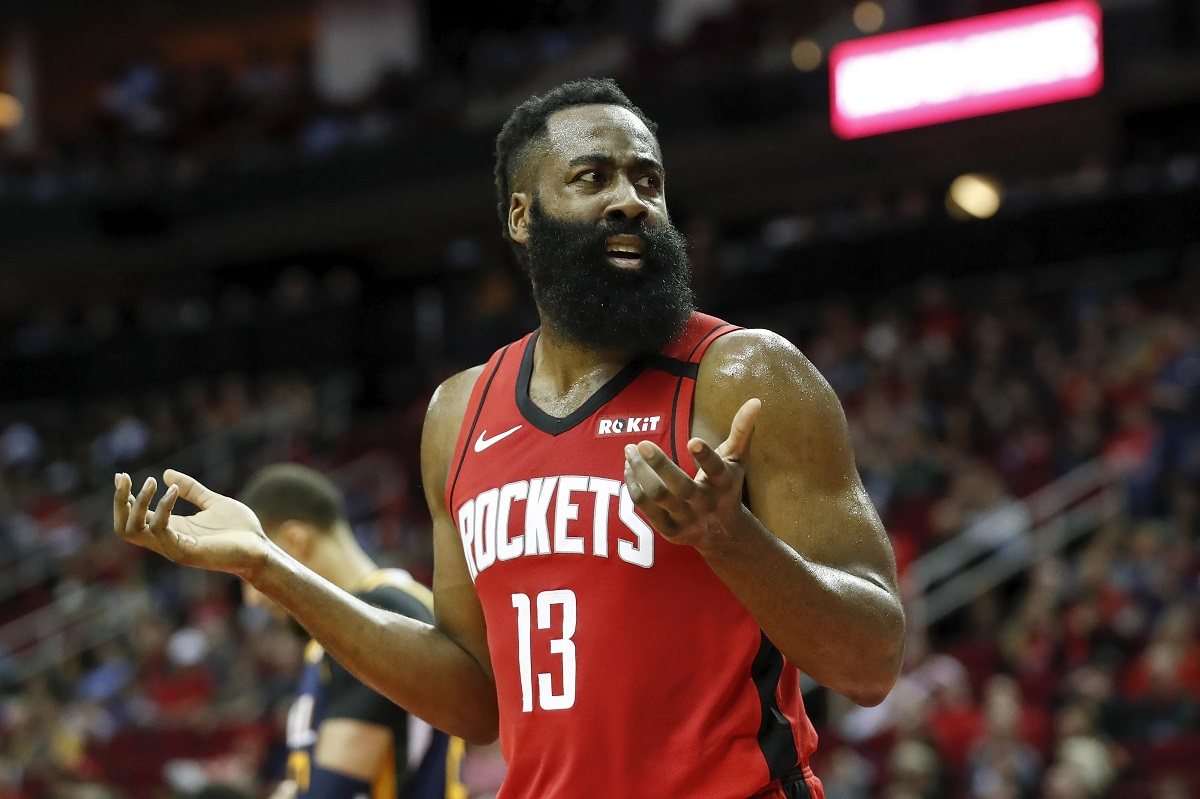 Harden, 31, led the NBA in scoring over the past few seasons, but you know it's a crazy world when the future of the league's purest scorer is in limbo. Last season, Harden scored 34.3 points, 7.5 assists, and 6.6 rebounds per game.
Recent rumors linking Harden to the Golden State Warriors were more of a pipe dream than a reality. Even with Klay Thompson potentially out for another season, the Warriors didn't want to squander future draft capital on a ball hog.
A couple weeks ago, everyone's phone notifications blew up because the Brooklyn Nets and Rockets were finalizing a deal that would send Harden to NYC to play with Kevin Durant and Kyrie Irving. Apparently, that deal fell apart.
The marketplace for Harden is slimmer than you'd think. A team must have the cap space to afford his hefty salary ($41 million this season and $43 million next season). A team must also be willing to cough up draft picks, which seems risky for a guy who will probably bounce as soon as his contract is over. There are no shortage of bottom feeders that desperately need someone like Harden, but many of those basement dwellers don't spend money (e.g., the Sacramento Kings).
The New York Knicks would love a huge star like Harden, but does Harden want out of Houston badly enough that he'll agree to a trade to the worst franchise in the NBA?
Harden Vegas Vacation, Late to Camp
Training camp for the Houston Rockets started last week, but Harden was a no-show. Rookie head coach Stephen Silas was fresh on the job and he was already dodging questions about Harden's whereabouts.
"There is no timetable, as far as I know," said Silas. "It is a setback. You want your best player to be here. What's real is he's not here and he has a reason, but that's on him to tell whatever his reason is."
Over the weekend, a video of Harden chilling out in a club in Las Vegas went viral. He was spotted with hip hop artist Lil Baby. He wanted to get a last bender in before the season began.
The Rockets recently traded Russell Westbrook to the Washington Wizards in exchange for John Wall and a first-round draft pick.
"Me and James had a great talk since I've been traded here," Wall told the media after a recent practice. "We've been friends way before this."
Harden finally arrived at training camp He underwent COVID-19 testing and, as soon as he's clear, he will supposedly start practicing because it looks like the Rockets aren't shipping him to Brooklyn, or Philly for that matter.
It appears James Harden was still partying in Las Vegas last night, this time at Drai's Nightclub.

Harden reportedly missed both a team team practice and an individual workout on Sunday, though the Rockets expect him soon.

As usual, more video below.

(PC: cbodadon on IG) pic.twitter.com/eQ8PUsLvW2

— Alec Sturm (@alec_sturm) December 7, 2020
Philly Love
Daryl Morey, the new general manager of the Philadelphia 76ers, would love to link back up with Harden. The two were close when Morey worked for the Rockets.
Morey says he wants to keep Joel Embiid, but he's been evasive about the future of Ben Simmons. He's a good kid, but he hasn't developed into the superstar everyone hoped he'd become.
Embiid definitely needs scoring help if the Sixers expect to win playoff games. In the last two postseasons, Simmons either disappeared or was injured.
The Sixers also have some young players who could sweeten a deal, including Matisse Thybulle, Tyrese Maxey, and Shake Milton.
Woj from ESPN mentioned there are "no substantive talks" about a Rockets/Sixers trade. For now, Harden will have to tamper his hopes of a trade to the City of Brotherly Love.
According to a recent update by the Mirage Casino in Las Vegas, the 76ers are 25/1 odds to win the 2021 NBA Championship. The Houston Rockets are 80/1 odds to win the title.