A 2018 FBI raid uncovered a solar-energy Ponzi scheme that would ultimately defraud investors for nearly $1 billion, and red flag an entire NASCAR Xfinity team. As race fans gear up for Sunday's Daytona 500, it's hard to believe that just one year ago, DC Solar's collapse was wreaking havoc at NASCAR's most prestigious race.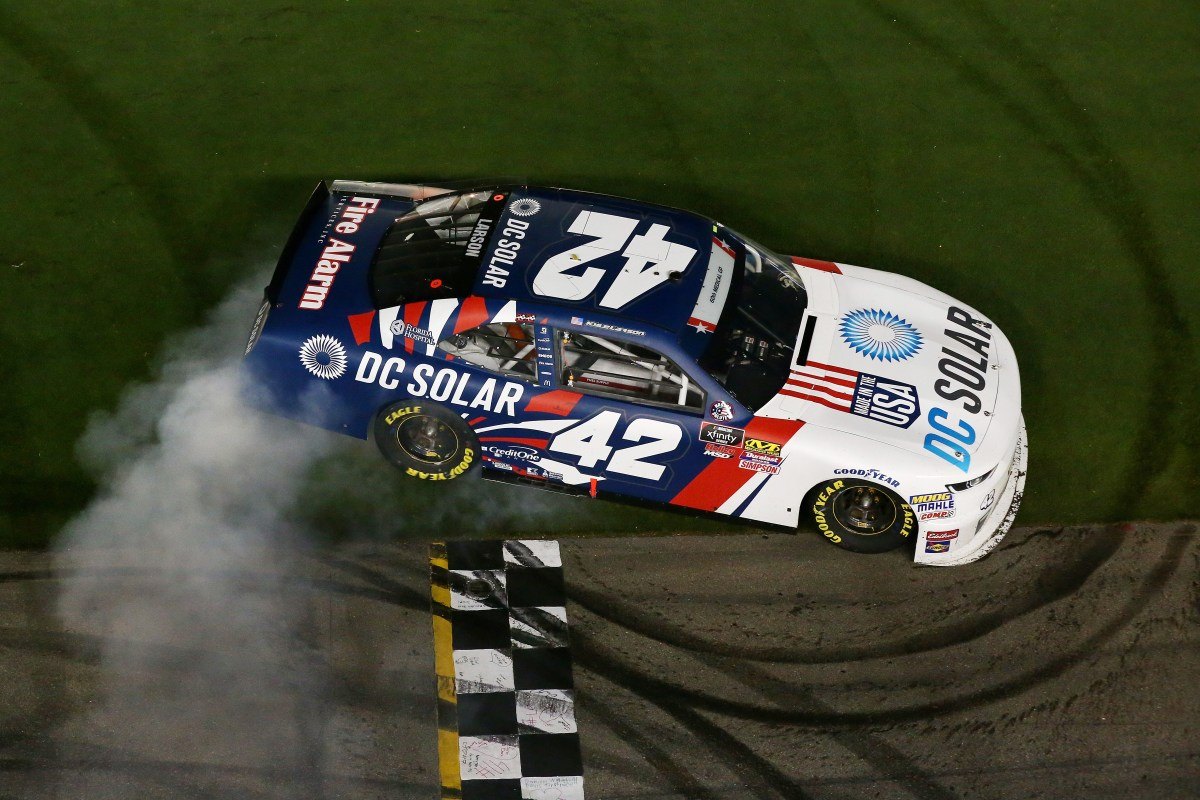 Jeff and Paulette Carpoff pleaded guilty two weeks ago to charges related to the Ponzi scheme perpetrated by the solar generator company they co-owned. The scheme impacted a broad range of companies, from AT&T to legendary investor Warren Buffett. But the timing of the Ponzi scheme's collapse would leave NASCAR reeling, right before the start of the 2019 season.
The DC Solar Ponzi scheme is complicated, but the damage left in its wake is all too easy understand. Authorities have already seized more than $120 million worth of real estate, cars, and other luxury property, but that won't come close to repaying the damage.
Solar-Powered Swindle
Jeff Carpoff founded Roverland USA, a successful Land Rover and Jaguar repair company. After he sold that business in 2008, he started DC Solar Solutions. The company manufactured and sold mobile generators powered by solar panels. DC Solar also leased and financed its generators.
Large investors could also buy generators and have DC Solar lease them out. Investors would receive steady income from their leases. Better yet, DC Solar's customers and investors could qualify for lucrative tax credits granted by the government to encourage renewable energy.
DC Solar was a respected business before it went bankrupt. Inc. Magazine called them a "renewable energy powerhouse."  As a result, DC Solar attracted A-list investors like Warren Buffett's company, Berkshire Hathaway, insurance company Progressive, and paint manufacturer Sherwin-Williams.
Starting in 2015, DC Solar became heavily involved in NASCAR. The company was a title sponsor for a number of NASCAR races, including Xfinity's DC Solar 300 at Iowa Speedway and DC Solar 300 at Las Vegas Motor Speedway.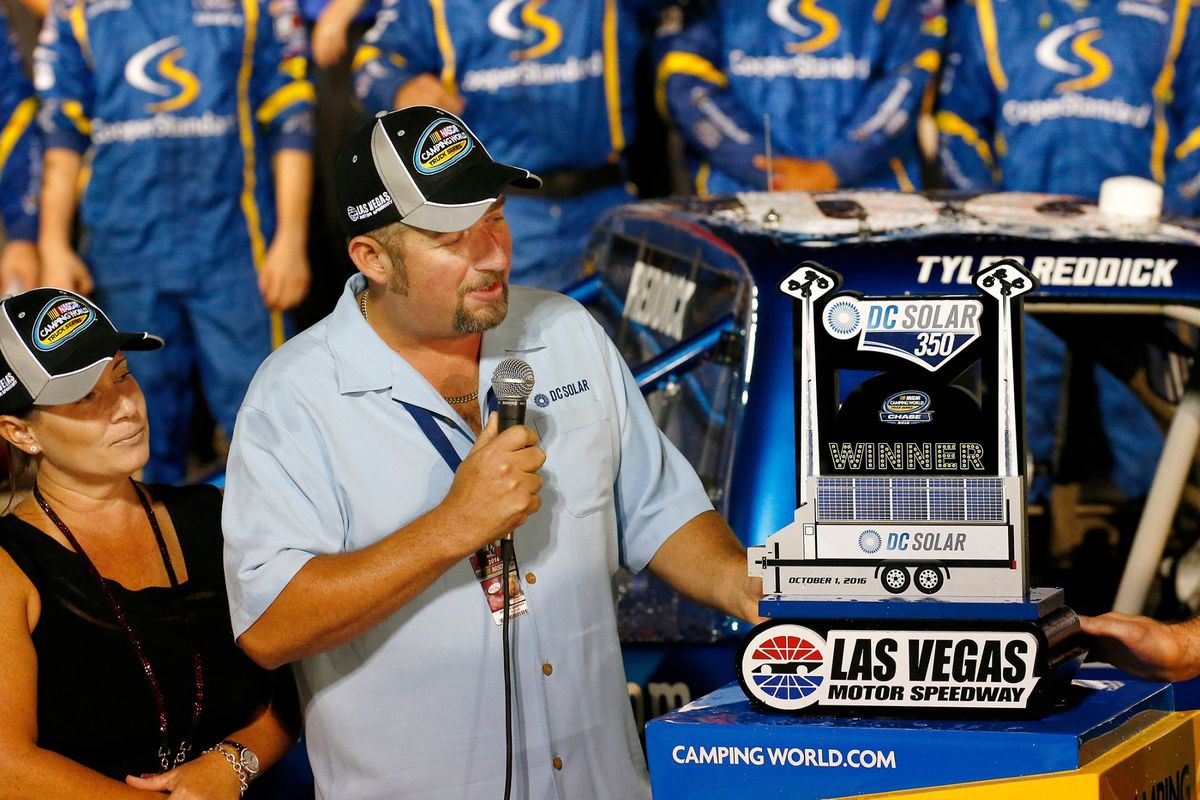 The company sponsored Chip Ganassi's team for Xfinity races and some Cup Series campaigns. The drivers primarily sponsored by DC Solar included Kyle Larson and Ross Chastain.
NASCAR-associated speedways were also DC Solar customers, buying solar mobile generators, charging stations, and light towers for their tracks.
---
---
Fake Solar Generators
No one had an inkling anything was wrong at DC Solar until the FBI raided Carpoff's home and DC Solar's offices on Dec. 18, 2018. Then, like all Ponzi schemes, DC Solar collapsed like a house of cards.
DC Solar did manufacture and lease solar-powered generators and lights — just not nearly as many as they claimed. Basically, DC Solar started to sell non-existent generators to investors. The investors would make a down payment on the generators and DC Solar would "supposedly" lease them out to third parties. To keep the charade going, DC Solar used new investor down payments to make phony lease payments to its old investors.
Since the investors never took possession of the generators, they didn't know they didn't exist. All they did know is that they received lease payments and huge tax credits.
DC Solar Legal Timeline 

Dec. 18, 2018 – FBI Raid
Feb. 3, 2019 – DC Solar files for Chapter 11 bankruptcy protection
March 24, 2019 – DC Solar files for Chapter 7 bankruptcy liquidation
Oct. 22, 2019 – Two DC Solar employees enter into plea deals
Jan. 24, 2020 – Jeff and Paulette Carpoff plead guilty
NASCAR Ponzi Scheme Victims
Without a sponsor, Chip Ganassi Racing had to cancel its 2019 Xfinity season. Meanwhile, DC Solar still owes the team $4.31 million. That left Ross Chastain and Kyle Larson without 2019 Xfinity rides.
Larson didn't just lose his ride. He literally lost his car, which was seized by the Feds and subsequently auctioned. Chastain made the most of the 2019 Truck Series season. In June, however, Chastain became the first NASCAR driver since 1960 to forfeit a victory when his truck failed post-race inspection. Luckily, Chastain was able to keep the checkered flag he won a week later.
According to bankruptcy filings, NASCAR-affiliated tracks also took a hit from the DC Solar fallout. DC Solar owes the International Speedway Corporation $1.025 million. One of its tracks was also  hampered during last year's running of the Daytona 500. Nearly one-third of its solar generators didn't work because there was no one left at DC Solar to repair them.
DC Solar owes the Richmond International Raceway, the Kansas Speedway, the Phoenix Motor Speedway, and the Talladega Superspeedway each $750,000. The International Speedway Corporation, Kansas Speedway's owner, is additionally out more than $1 million, while the service company for Daytona, Americrown, also has an unpaid bill of $750,000.
DC Solar's Other Victims
Unfortunately for the residents of Martinez, California — birthplace of Joe DiMaggio — the Martinez Clippers baseball team was a DC Solar casualty. The independent professional baseball team was owned by the Carpoffs, and only played one season before becoming collateral damage in DC Solar's Ponzi scheme.
Some of DC Solar's biggest victims are its investors, who lost hundreds of millions in tax credits. Berkshire Hathaway had to cough up $377 million to pay for invalid tax credits. After all, fake generators can't earn real tax credits. Likewise, Sherwin-Williams had to take a $77 million charge to offset its invalid tax credits. Progressive increased its income tax provision by $156.1 million, and wrote off another $24.3 on worthless investments thanks to DC Solar.
There are dozens more creditors waiting to find out what, if anything, they'll receive after all is said and done. The Carpoff's luxury car collection net $8.2 million at auction. The Carpoff's also owned dozens of luxury properties. Unfortunately for DC Solar's many victims, that won't make a dent in what the company owes.
NASCAR was scammed, but not materially damaged by DC Solar's Ponzi scheme. And when they wave the green flag at Daytona this week, NASCAR can hopefully look forward to a better year.