Kyle Busch had made the most noise this year, winning four races, but his new teammate, Martin Truex Jr., is making a racket of his own. The 2017 NASCAR Cup Series champion won his fourth race of the season last week at Sonoma, matching his Joe Gibbs Racing teammate.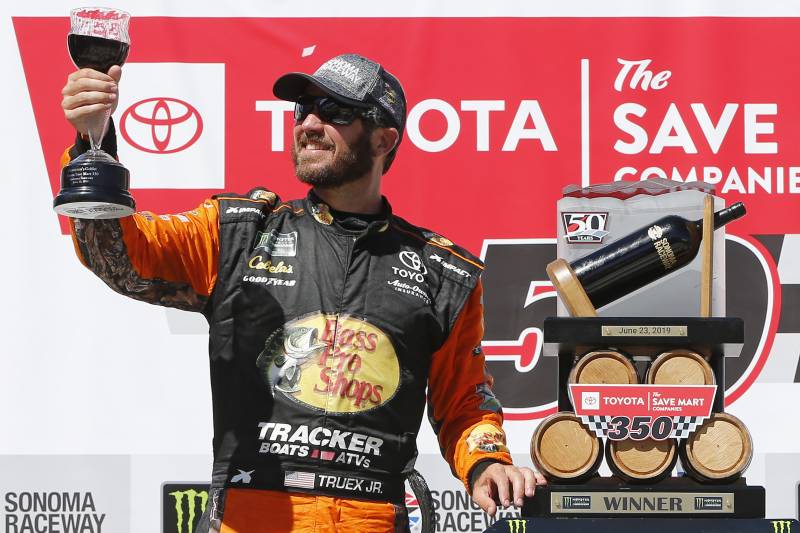 It has also created a sibling rivalry of sorts. The two have been battling each other for years, and when Truex's sponsor Furniture Row Racing decided to leave NASCAR last year, he needed a new home.
It could have been awkward joining JGR, but Truex said he and Busch have a healthy rivalry.
"I think it's a good rivalry," Truex said. "We're obviously teammates. We've been racing together for a long time. We've raced each other really hard but with respect. I think that's part of what's made us good teammates is that we have that mutual respect for each other. Kyle hates to lose. Everybody knows kind of how he is. For me, he's just been an amazing teammate."
For Busch, he has welcomed Truex to the JGR family, and when he won last week at Sonoma, Busch joked that he "hated" Truex.
TV Ratings Improve
Fox Sports ended its NASCAR coverage last weekend with the race at Sonoma, and got some good news. According to Sports Media Watch, the network's viewership increased slightly from last year.
The sport had seen a boom in viewers in the early 2000s, but had fallen in recent years. In 2017, there was 4.9 million viewers, but last year it was 3.98 million.
This year for their portion of the NASCAR schedule, Fox Sports averaged 4.07 million viewers up 2 percent from last year.
Chastain Bounces Back
It didn't take long for Ross Chastain to having his second victory of the year taken away. The Truck Series driver was disqualified two weeks ago at Iowa Motor Speedway when his truck had failed a post-race inspection. Officials said that the truck was too low, and stripped Chastain of the victory.
Last week the races were in Madison, Illinois for Saturday's The Raceway at Gateway. Chastain finished 0.740 seconds ahead of Todd Gilliland in the 160-lap race on the 1.25-mile oval.
"They're not taking it from us this time," Chastain said.
Penske Receives Honor
President Donald Trump said Thursday that racing owner and businessman Roger Penske would receive a Presidential Medal of Freedom.
"It is truly an honor to be recognized by President Trump and awarded the Presidential Medal of Freedom," Penske said in a statement. "I am humbled by the president's acknowledgement of our achievements in business, in motorsports, and in our community. Thank you to President Trump for this special recognition. On behalf of my wife Kathy, our family and our nearly 65,000 team members worldwide, it will be my privilege to accept this prestigious award."
This Week's Odds, Pick
The second half of the season starts this week at the Camping World 400, and Kyle Busch is the favorite at 3/1, with Kevin Harvick next at 9/2.
We like Brad Keselowski at 8/1. He has an impressive record at Chicagoland, including two victories.