Just because the Cup Series drivers were off last week, doesn't mean there wasn't any action in NASCAR. The Truck Series was at Iowa Speedway, and there were two significant incidents.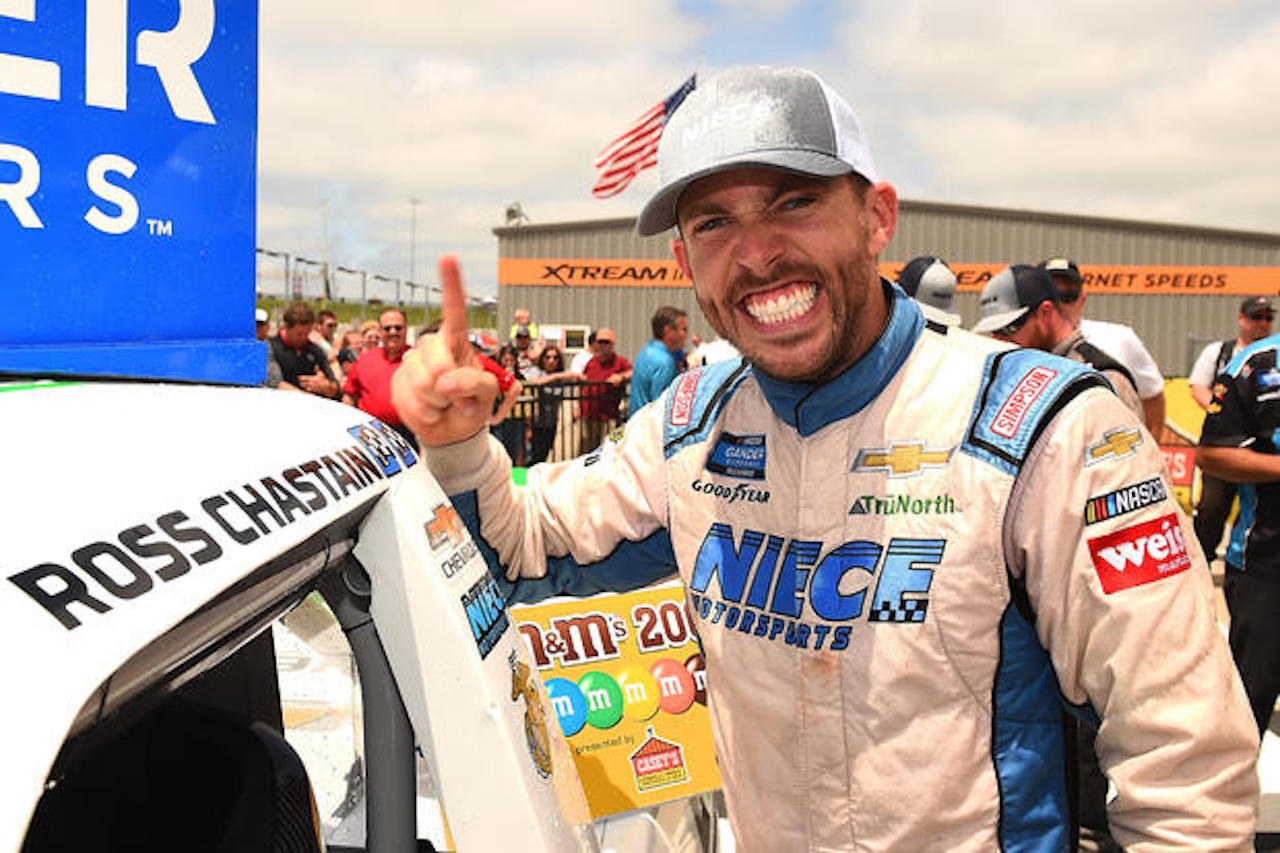 The first was the disqualification of Ross Chastain's victory. The second was a one-race suspension to Johnny Sauter.
Chastain thought that he had won Sunday's race, but was informed that his truck had failed a post-race inspection. Officials said that the truck was too low, and stripped Chastain of the victory. Second-place finisher Brett Moffitt was declared the winner.
Chastain's team, Niece Motorsports, appealed the decision, but was told on Wednesday the decision was being upheld. Owner Al Niece had said the truck passed opening and pre-race inspections and may have suffered minor damage during the race that left it too low.
"Although our team disagrees with the decision, we have exhausted our options for recourse and must move on," Niece said in a statement. "Our sight will remain set on the obstacle in front of us – which is making the playoffs."
It is the first time a driver has forfeited a victory since 1960. In that race at Wilson Speedway in North Carolina, Emanuel Zervakis was disqualified because of an oversized fuel tank.
Another driver, Mike Skinner, had a victory taken away from him in 1999 because of an unapproved cylinder head. He, however, won his appeal.
Sauter Suspended
The second incident on Sunday was between Sauter and fellow driver, Austin Hill. Sauter had been bumped into the wall by Hill. While a yellow caution flag was up, Sauter rammed Hill's truck, sending the two of them into the wall.
Scott Miller, NASCAR senior vice president of competition, told Associated Press that the confrontation was severe enough to warrant Sauter being taken off the track for the rest of the race.
"We tend to look at incidents under caution as more of a retaliatory thing," Miller said. "Obviously, him driving half a track with a smoking truck and winding through a few cars to get to the 16 and then running over him, then bouncing off the wall and running into his door, it was pretty aggressive. It was definitely not anything that could in any way, shape or form be defended as a racing incident."
Miller also said the two will be talked to before they get back on the track again.
"Those conversations will take place again before they are placed on the race track again together," Miller said, "and there will be a pretty good understanding that we don't want to see any more contact or aggressive behavior out of either one of them, toward each other or other competitors."
This Week's Odds, Pick
The Cup Series returns with the Toyota/Save Mart 350 at Sonoma, and Kevin Harvick is the favorite at +350. Martin Truex Jr. is next at +450, followed by Clint Bowyer and Kyle Busch at +600.
We like Denny Hamlin who is at 14/1, and has success on road courses.