Ten-time all-star Carmelo Anthony, averaging a career-low 13.4 points per game, lasted ten games before the Houston Rockets and general manager Daryl Morey determined it was time to part ways.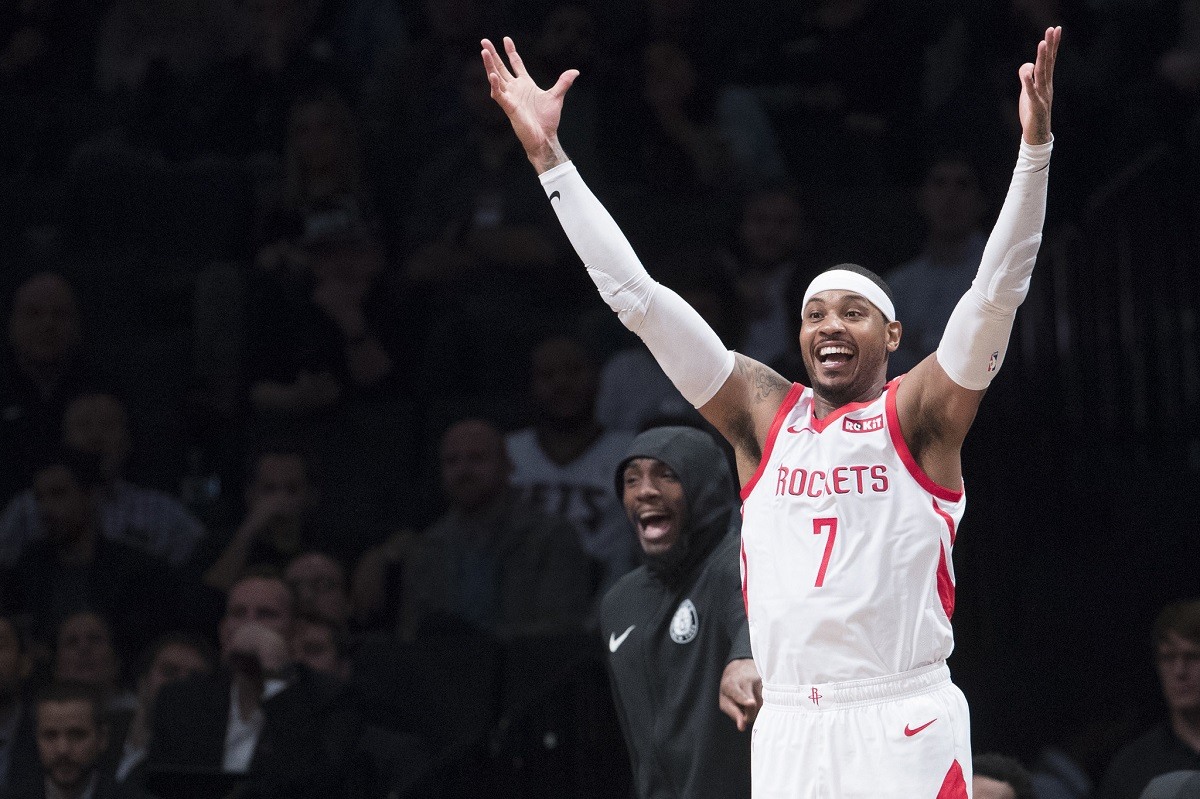 The Houston Rockets are 6-7 and in fourth place in the Southwest. The Rockets were expected to clinch another Southwest division title, and as frontrunner in the Western Conference finally topple the Golden State Warriors for supremacy in the West.
Hello Melo, Goodbye Melo
Carmelo Anthony, 34, was supposed to be the veteran player that put the Rockets over the top of the Warriors in the Western Conference finals. The Warriors defeated the Rockets in seven games.
The Rockets offered Melo a minimum contract and were clear about his new role as a scorer off the bench. It was supposed to work in theory. However, in reality, Anthony's was not a good fix. It was evident the first night of the season during a blowout to the Pelicans. And Melo's mental challenges only grew worse.
General manager Daryl Morey released a statement, "After much internal discussion, the Rockets will be parting ways with Carmelo Anthony and we are working toward a resolution. Carmelo had a tremendous approach during his time with the Rockets and accepted every role head coach Mike D'Antoni gave him. The fit we envisioned when Carmelo chose to sign with the Rockets has not materialized, therefore we thought it was best to move on as any other outcome would have been unfair to him."
Chris Paul and James Harden lobbied management to bring in their close friend Anthony. They argued they could have used the skills of a ten-time All Star and 3-time Olympian to finally beat the Warriors. Anthony is currently 16th overall in NBA scoring. That was despite the fact Oklahoma City Thunder coach Billy Donovan benched Anthony in the fourth quarter of key playoff games, during the Thunder's first round exit of the playoffs.
Pope John Paul I lasted 33 days before he passed away, but Carmelo Anthony's reign in Houston lasted 30 days.
Scapemelogoat
The Houston Rockets won 65 games last season, James Harden averaged 30.5 points and won the MVP. The high-scoring Rockets played pretty good D for such a high-potent offensive squad. This year's team lacks the consistent offensive output and the defense is nonexistent. At 103.2 ppg, Houston is 28th out of 30 teams. They were ranked #27 in defensive rating.
The Rockets got off to a horrendous start and it had very little to do with Carmelo Anthony. After losing five out of their first six games. The Rockets hit the road and went on a three-game winning streak. Just when everyone thought the Rockets were back on track, they lost two ugly games against top teams in the Western Conference.
The Thunder beat them by 18 points and Anthony had one of his worst games of his entire career wth a 1 for 11 night from the floor. That would be his last game in a Rockets uniform. Anthony missed the next game due to an "illness" and the organization downplayed his absence. However, word got out that Melo was dunzo.
Last weekend, New York Times reporter Marc Stein revealed that Melo's "brief time in Houston would be ending soon."
On Tuesday, ESPN reported that Anthony's reps were exploring potential landing spots for their client. No specific teams were mentioned, which lead to believe there was very little interest.
After deflecting and evading Melo's illness situation most of the week, Morey finally released a statement on Thursday.
Trying to make my guy @carmeloanthony the fall guy huh!? Man y'all need to stop. That's the easy way out instead of addressing what the real problem.

— DWade (@DwyaneWade) November 12, 2018
Next Stop, BKLYN?
Anthony failed to adapt to the modern NBA that relies on up-tempo spread offense, catch-and-shoot, with emphasis on high-percentage three-point shots. For many years, Anthony's old-school post-up, ISO, and fade-away midrange jumper was the bread and butter of offenses. That time passed.
As much as Melo would love to join LeBron James in Los Angeles and the Lakers, LeBron is looking to build a championship team and not let freeloaders ride his coattails.
The Blazers were a name floated in a few stories, but Anthony couldn't crack the starting line up in Portland. Melo would love to play for the Philadelphia Sixers, but they already acquired Jimmy Butler in a trade.
Brooklyn seems to be a logical choice. Anthony was born in New York City and grew up in Red Hook before moving to Baltimore. Brooklyn is as close to home as you can get. Plus, the Nets lost Caris LaVert to a gruesome leg injury earlier this week.
China is always a good option these days. Jimmer Fredette dropped 75 points over the weekend. And he's become a huge celebrity in a short time. Melo could be a superstars in Asia, if he's willing to put the ego aside and explore overseas options. Stephon Marbury revitalized his sputtering career in China.
The Rockets play the Golden State Warriors on Thursday evening. The Warriors started the season as the favorites to win the NBA championship, which would mark three in a row. At the Westgate SuperBook in Las Vegas, the Rockets drastically dropped from 7-2 odds to 16-1.