Former cruiserweight and heavyweight world champion Evander Holyfield is making his first fight appearance in 10 years on Saturday when he takes on former MMA champion Vitor Belfort in the main event of a Triller Fight Club per-per-view card.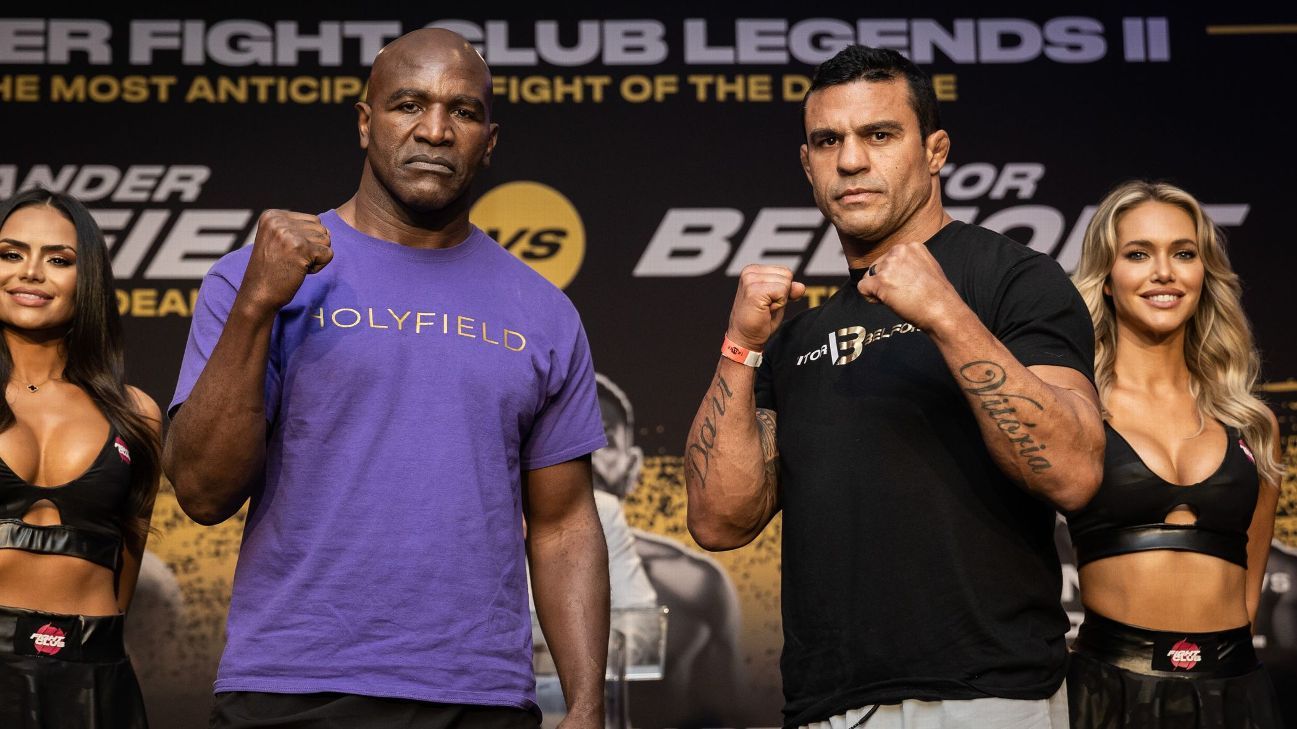 The fight has attracted extensive criticism since Holyfield stepped in to replace Oscar De La Hoya eight days before the bout, after De La Hola tested positive for COVID-19.
California balks at licensing fight
The scrutiny centers primarily on Holyfield's age. The 58-year-old hasn't boxed in a decade, and the California State Athletic Commission refused to license Holyfield (44-10-2, 29 KOs). That decision forced Triller to move the card to the Hard Rock in Hollywood, Florida, where that state's athletic commission sanctioned the bout.
"We have approved this as a full pro bout," The commission told ESPN. "If Triller and the fighters elect to not have this go on BoxRec, we will honor that request, but pro boxing rules will still apply with judges, scoring and a clear winner, just as if it were a pro bout."
Many fans expressed even more concern after watching Holyfield show his current form during an open workout.
Holyfield will reportedly earn millions for the fight, according to ESPN. But even he acknowledges that the people who are concerned about him have a point. "At least I'm fighting somebody that I know I can protect myself [against]," Holyfield told reporters. "I know all the things that's necessary to be safe. It's kind of hard to turn down a big sum of something when you know you can do it."
MMA rules send Belfort toward boxing
Belfort (1-0, 1 KO) comes in as a relative youngster at the age of 44. The Brazilian may not have much boxing experience – his only fight was a knockout win over Josemario Neves in 2006 – but nobody doubts his knockout power, as he stopped 18 opponents in his MMA career.
Belfort made his name in MMA, and that's where his heart still lies. But he says that at his age, boxing represents a better opportunity.
"[MMA is] good just for certain people in their 20s," Belfort told MMA Junkie. "I feel like when you become a little older, it's too hard on your body, so it's hard to stay relevant for so long because the rules have never been reviewed. We've never changed the rules. The fighters are not involved. We don't have a union. We don't have [anyone] protecting us fighters. We have to change something for the future. This will never be an Olympic sport the way it is right now."
Despite his lack of experience, oddsmakers see the younger Belfort – who also appears to be in much better form – as a solid favorite. DraftKings Sportsbook rates Belfort as the -210 pick over Holyfield (+170), giving the former MMA star a +110 shot of winning by knockout. Holyfield, on the other hand, seems more likely to win by decision (+380).