Derek Brunson defeated Darren Till on Saturday at UFC Fight Night in Las Vegas to earn one of the biggest wins of his career and, potentially, secure a title shot in the middleweight division.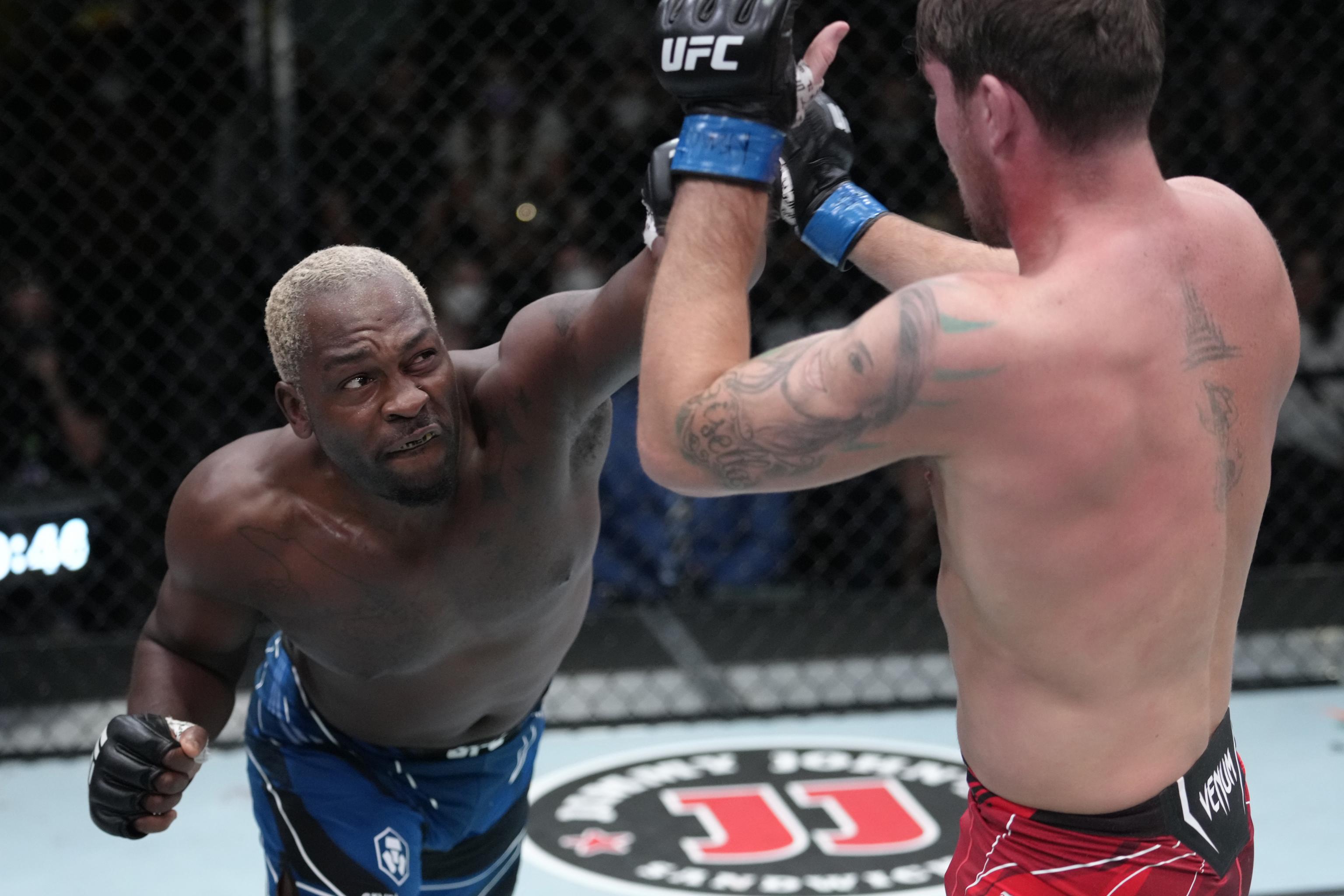 Brunson scored a third-round submission via rear-naked choke, his first submission victory since 2013.
Brunson uses wrestling skills to earn signature win
Till opened the fight by doing well on his feet, getting the best of the standup striking battles. Then, Brunson took Till down in the first and used ground and pound to do the only real damage in the early going.
Brunson then landed further takedowns in the second and third rounds. In the third, Till managed to land some punches and even stunned Brunson. But it was Brunson who got the best of Till, taking him down, taking his back, and landing the submission.
"I saw a submission the whole time," Brunson said after his win. "I'm really good on the ground, and I want to showcase it."
With the win, Brunson (23-7) moved up to the No. 4 spot in the UFC middleweight division. Middleweight champion Israel Adesanya will likely face Robert Whittaker in his next defense. While Brunson may not be the obvious choice to face the winner, he's certainly in the mix, and says he wants his chance at the crown.
"I can wait until next March or so," Brunson said. "I'm not the youngest guy in this division, and I've been working really hard for this moment."
Trump in the booth for Triller fight
Triller Fight Club announced that former president Donald Trump will be part of the commentary team for its card on Saturday, which features a headliner between former heavyweight boxing champion Evander Holyfield and MMA legend Vitor Belfort.
Triller says that Trump will "host and commentate" on the event. Belfort planned to fight Oscar De La Hoya, but the former six-division champion tested positive for COVID-19 and had to drop out of the event.
"I love great fighters and great fights," Trump said in a press release. "I look forward to seeing both this Saturday night and sharing my thoughts ringside. You won't want to miss this special event."
The boxing card features another fight of interest to UFC fans, as Tito Ortiz battles Anderson Silva in the co-main event.
Jorge Masvidal wants title shot, calls out Paul brothers
Welterweight contender Jorge Masvidal told ESPN that he wants a fight that will put him in line to challenge division champion Kamaru Usman. Masvidal also called out two other opponents who could make him a lot of money: Jake and Logan Paul.
"I'm gonna beat up all the Pauls," Masvidal told ESPN. "If they put money in my pocket, that Logan Paul dude, Jake Paul, whatever Paul dudes – if they put money in my pocket, of course I'd like to break some Disney characters' faces."