The Detroit Red Wings are no stranger to hockey fights this season and they've already gotten into major scraps this month with the Colorado Avalanche and the Boston Bruins.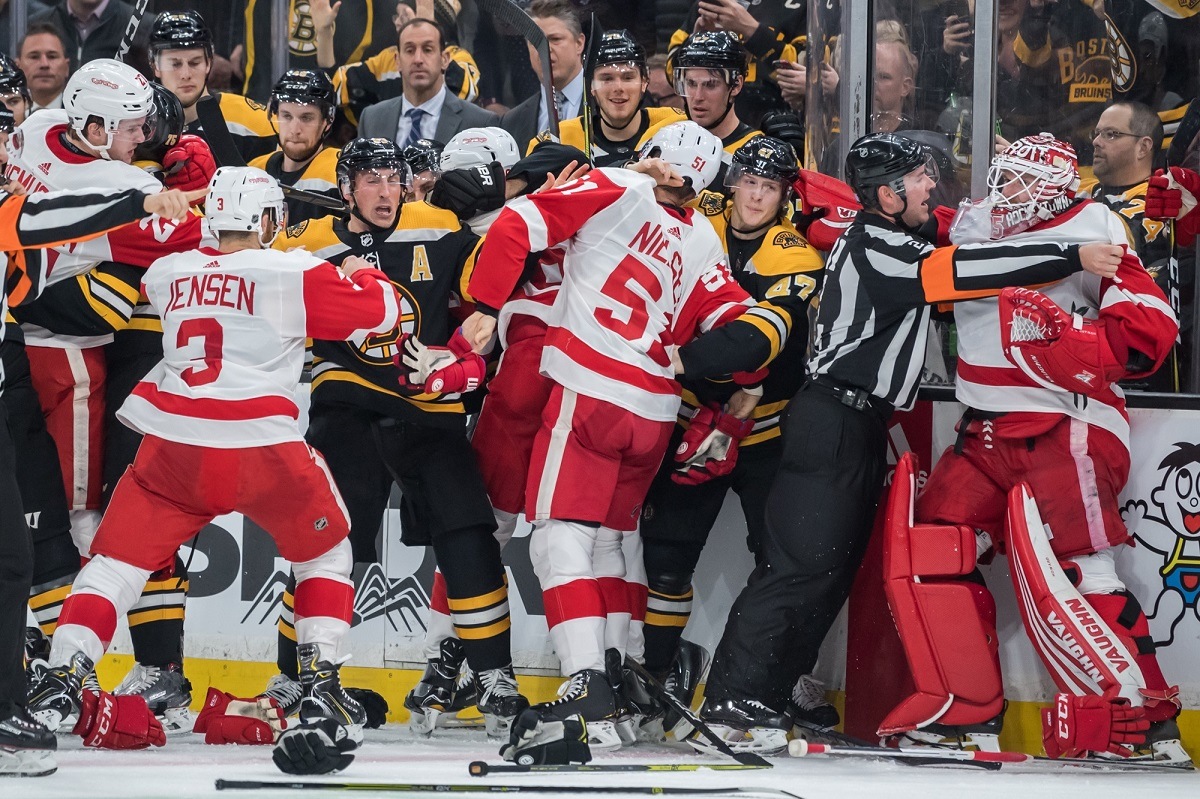 The Red Wings won their first game in Boston in five years inspired by a mini-brawl that almost incited a fight between both goalies.The Wings a trying to reestablish a tougher and more physical image and couple big fights helped energize the team.
The Wings are 13-12-4 this season with 30 points. They are currently the #7 seed in the Eastern Conference.
This NHL season has seen some amazing performances and high-intensity hockey fights, such as the back-and-forth bout Jamie Benn and Josh Anderson. The start of the season was highlighted by the old-fashioned line brawl with the Nashville Predators and Winnipeg Jets.
Fists of Colorado Fury
The headline editor at the Detroit Free Press should get a juicy bonus this year with this gem: Detroit Red Wings Lose to Avalanche, But Win Both Fights.
The Red Wings were shutout 2-0, but they sent a violent message to the Avalanche in the third period. Several players and the coaching staff were fed up with excessive hits from the Avs on some of their top skaters.
"We'll go a lot further sticking up for each other than any downside of losing guys (on penalties)," said Red Wings coach Jeff Blashill. "They're real good players but we're going to win in this room as a group and we're going to win fighting for each other, sticking up for each other. We said that from day one."
Defenseman Ian Cole from the Avs crushed the Wings' Andreas Athanasiou at center ice. Teammate Tyler Bertuzzi took matters into his own hands and went after Cole. Although Cole landed a couple of punches, Bertuzzi came out on top.
Later on that period, two more players dropped the gloves when Avs defenseman Patrik Nemeth took down Dylan Lark, Anthony Mantha stepped in for a tussle.
Beatown Brawlers
It took five years, but the Red Wings finally broke a winless streak in Boston. The Wings defeated Boston 4-2 in a game so rough and crazy that a goalie fight almost broke out.
Luke Witkowski delivered a clean hit on David Krejci in the second period, but the Bruins took offense to the collision. Joakim Nordstrom and Witkowski dropped the gloves to settle their disagreement.
The hit and ensuing fight later led to a bigger scrum with Bertuzzi playing the protagonist. Brad Marchad had a shady hit on Nick Jensen and then slashed Howard, irked Bertuzzi. Marchad tried to skate away, but Bertuzzi grabbed his sweater and a brawl ensued. Everyone on the ice dropped their gloves and officials attempted to restore order in front of the benches.
Meanwhile, tensions flared so high that even the goalies had to be restrained from going at it. Red Wings goalie Jimmy Howard and Bruins goalie Tuukka Rask almost engage in a rare goalie fight. The two were jawing at each other. Two linesman quickly separated the goalies, who are actually good friends in real life.
"I was ready," Howard said. "It would have been something. He's a great guy. I've had a lot of fun with him along the way. I'm kind of happy it didn't happen."
The Red Wings went on to win 4-2 with two big goals in the third period.
"What sparked us was Witter's hit and Witter's fight," Bertuzzi said. "It was a big hit and that's something we appreciate on this team."
The South Point Casino and Sports Book in Las Vegas lists the Detroit Red Wings at 250-1 odds to win the Stanley Cup Finals. The Boston Bruins are 10-1 odds to win.