The Heisman Trophy ceremony is Saturday in New York City, and the outcome looks to be a foregone conclusion. LSU quarterback Joe Burrow is all but sure to walk away with the prestigious title, and the only intrigue around the ceremony seems to be whether the senior will garner the most first place votes, and who will finish second.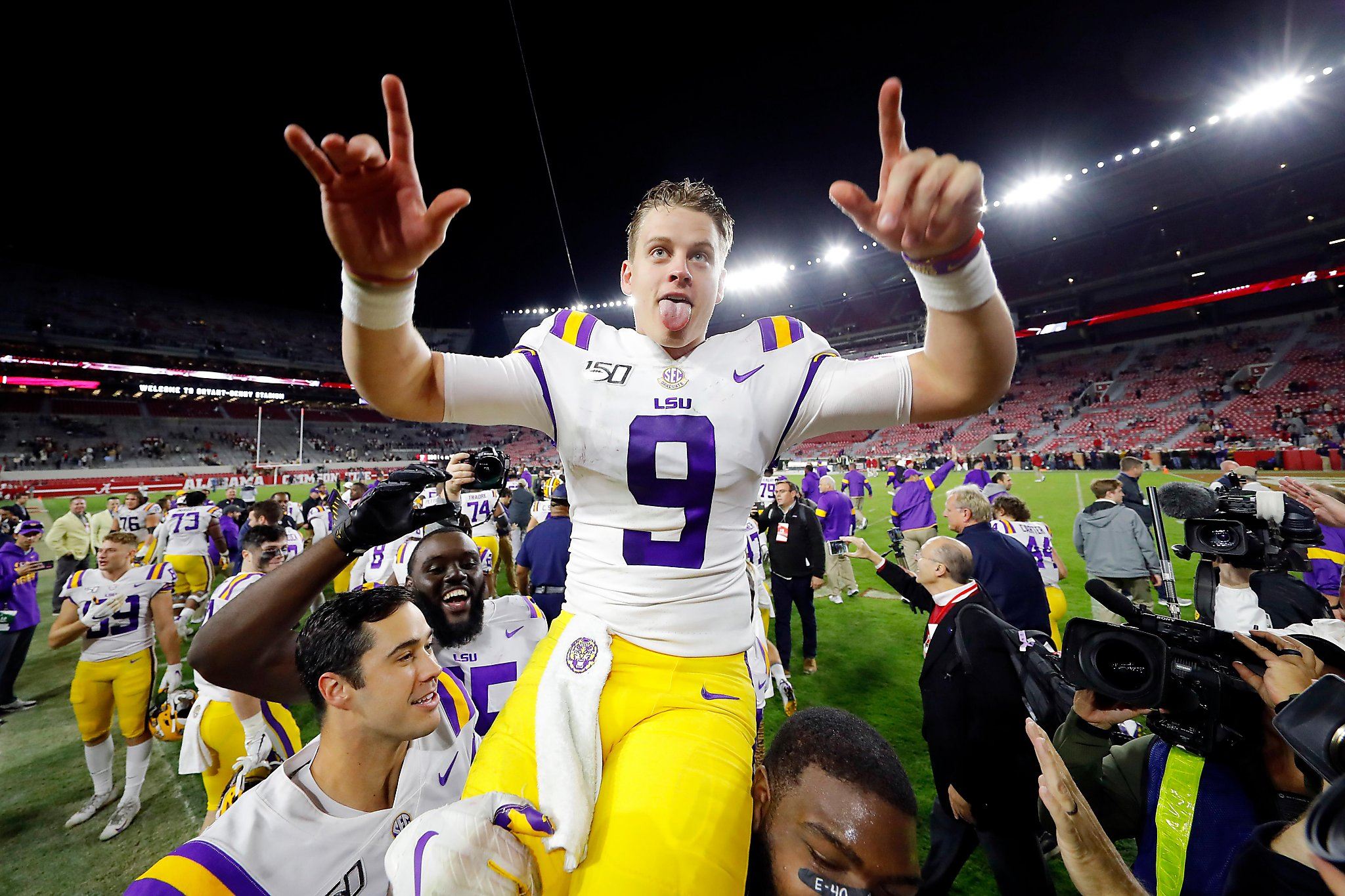 There are four finalists invited to the ceremony held at New York City' PlayStation Theater. Joining Burrow will be Ohio State quarterback Justin Fields, Ohio State defensive end Chase Young, and Oklahoma quarterback Jalen Hurts. This year marks the first time that all four finalists are competing in the College Football Playoff. All three of the quarterbacks are transfers from other schools.
Burrow is the overwhelming favorite at -30000. Hurts is next at +2500. Fields and Young are at +3300. BetOnline has put out a prop bet on who will finish second. Hurts and Young are at +120, while Fields is at +200.
Burrow's Long Heisman Trophy Odds Disappear
Before the season began, Burrow was a huge long shot to win the Heisman. The transfer from Ohio State was listed at 200/1 at the Westgate Las Vegas SuperBook. Alabama's Tua Tagovailoa was the favorite at 5/2. At the end of June those odds hadn't budged for either one of them.
Bettors started plunking money down on Burrow once the season began. After Week 2, his odds went from 150/1 to 18/1. They fell even further a month later when he became the favorite at 3/1.
When the Crimson Tide hosted LSU on Nov. 9, Burrow cemented his status as front-runner. Burrow led the Tigers to their first victory over Alabama since 2011, and he went to -800.
When the Tigers defeated Georgia in the SEC Championship, Burrow sat at -2500. At the time, his coach, Ed Orgeron, said his quarterback was the best player in the country.
"In my opinion, he should win it," Orgeron said. "In my opinion, he's going to win it. The best thing about Joe is he's a team player. All he wants to do is win this game. Individual awards are not high on his list. That's what makes him such a great team player."
Burrow has thrown for 4,715 yards and 48 TDs, both SEC records, on 342-of-439 passing this season. He boasts an NCAA-best 77.9 percent completion rate, which eclipses the old record of 76.7 percent set back in 2008.
BetOnline has a prop bet on whether Burrow will beat former USC running back O.J. Simpson's 1968 Heisman Trophy record of 855 first-place votes. The yes is the underdog at +300. The no opened at -1000, but according to BetOnline's Dave Mason, has come down to -500. Mason said that 86 percent of the money is on the yes.
Solid Years for Fields, Hurts, Young
Hurts transferred from Alabama to Oklahoma last season after losing his starting job to Tagovailoa. He was trying to become the third-straight Sooners quarterback to pick up the award, joining Baker Mayfield and Kyler Murray. Hurts had the numbers. He finished the year with 3,634 yards on 222-of-309 passing with 32 TDs. He also racked up 1,255 yards rushing and 18 TDs on 219 carries.
Fields, who transferred from Georgia to Ohio State, is a sophomore, and is trying to become the eighth Buckeye to win the award. The quarterback finished with 208-of-308 pass attempts for 2,953 yards, and 40 touchdowns with just one interception.
Young wasn't even on the betting board when the odds opened in February, and still wasn't by the end of June. It was the junior's dominating play that made him a viable candidate to become the first, true defensive player with a chance to win the award. A two-game suspension hurt his chances, however.
Still, Young managed to lead the nation in sacks with 16.5, and tackles for loss per game at 1.91.