As fickle as superspeedways can be, Fords have had a strong record at Talladega, and it is no surprise that Ryan Blaney is the favorite to win Sunday's YellaWood 500. The Ford driver won the last two races at the famed racetrack in Lincoln, Alabama, including the playoff race in 2019.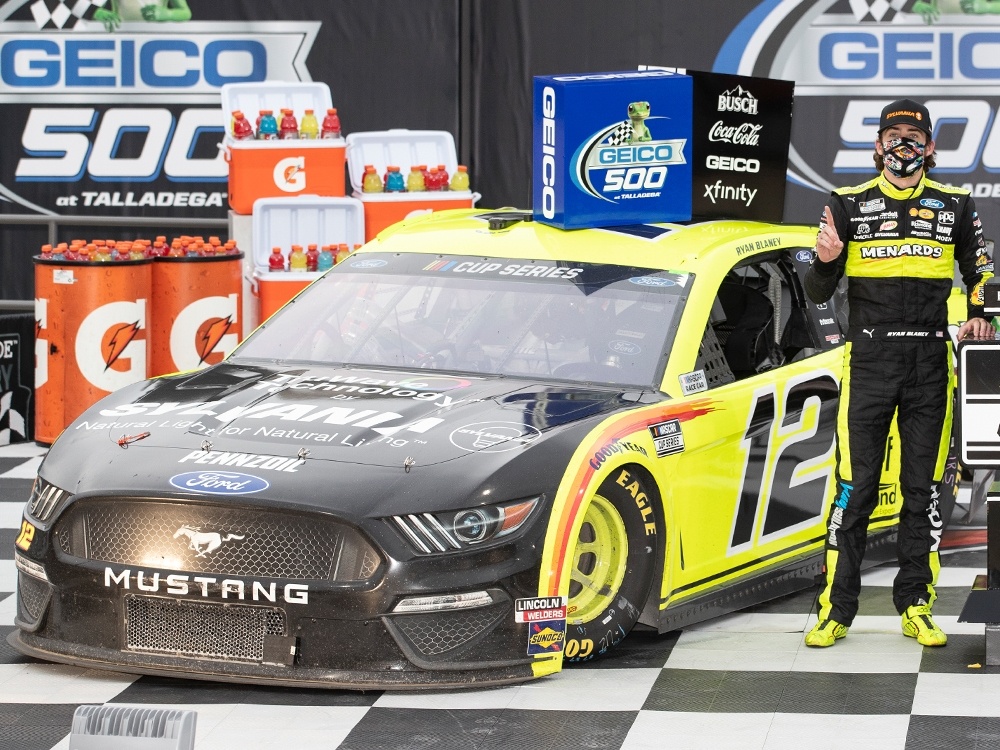 Ford Drivers have dominated the YellaWood 500, winning the last six consecutive playoff races at Talladega.
Toyota driver Denny Hamlin plans on breaking the stranglehold Ford has had over Talladega, and a couple of sportsbooks have him as the favorite.
Kevin Harvick is one of the few Ford drivers that hasn't dominated at Talladega, winning only once back in 2010.
__________________________________________________________________________________________________________
Blaney, however, is not only driver having success at the YellaWood 500 in a Ford. Aric Almirola won this event in 2018, Brad Keselowski in 2017 and 2014, and Joey Logano in 2016 and 2015. It is no surprise that Ford is the +125 favorite to be the winning car, followed by Chevrolet at +155 and Toyota at +300.
Odds to Win YellaWood 500
| | |
| --- | --- |
| Ryan Blaney | 10/1 |
| Brad Keselowski | 11/1 |
| Chase Elliott | 11/1 |
| Denny Hamlin | 11/1 |
| Joey Logano | 11/1 |
| Aric Almirola | 14/1 |
| Kevin Harvick | 14/1 |
| Kyle Busch | 14/1 |
| Ricky Stenhouse Jr. | 14/1 |
| Kurt Busch | 16/1 |
| Alex Bowman | 20/1 |
| Martin Truex Jr. | 20/1 |
| Clint Bowyer | 25/1 |
| Jimmie Johnson | 25/1 |
| William Byron | 30/1 |
Source: BetMGM
The 24-year-old Blaney has four career victories, two of them at Talladega. He told the Anniston Star that he has had some good breaks go his way.
"Just being in the right place at the right time at the last two Talladega races and winning them by a combined two-feet," Blaney said. "You are going to be on the good side of those and the bad side of those and I have been on both sides of them. It's a testament to fast cars and executing on all sides, not only my sides but my spotter at the end of these races and being very aware of what is around us and making the right moves that pay off. You are going to make moves that don't pay off for you too but you have those. That is just part of speedway racing."
Hamlin Wants to Crash Ford Party at YellaWood 500
The last Toyota to win at Talladega was Denny Hamlin, when he won the regular-season Geico 500 in 2014. Before that victory, the last time a Toyota won was Tony Stewart in 2008.
That doesn't matter to Hamlin. Even though he is set to advance to the Round of Eight in the NASCAR Playoffs, he knows that the YellaWood 500 will be an unpredictable race. His success at another superspeedway, Daytona, has oddsmakers at DraftKings installing him as the 8/1 favorite.
"I mean we have seen crazy races at Talladega with a lot of wrecks, and we've seen some that don't have a lot of wrecks," Hamlin said. "I just think that it depends, I don't think anyone has a certain mode that they can switch to that will make them do something that they haven't done before."
Harvick's Talladega Record Spotty
As solid a driver as Kevin Harvick has been, Talladega has not been one of his most successful tracks. In his last four races, his best finish was 10th. The 44-year-old told reporters he isn't really have a specific strategy for the YellaWood 500.
"I have no idea," Harvick said. "You just show up and see how it develops. "All you can do is show up for a weekend at Talladega and see how it develops and go from there."