John Velazquez went to Santa Anita Park on New Year's Day with a six-race lead over Flavien Prat on the Santa Anita Park jockey standings. When he left the track on Saturday evening, that lead was cut down to one.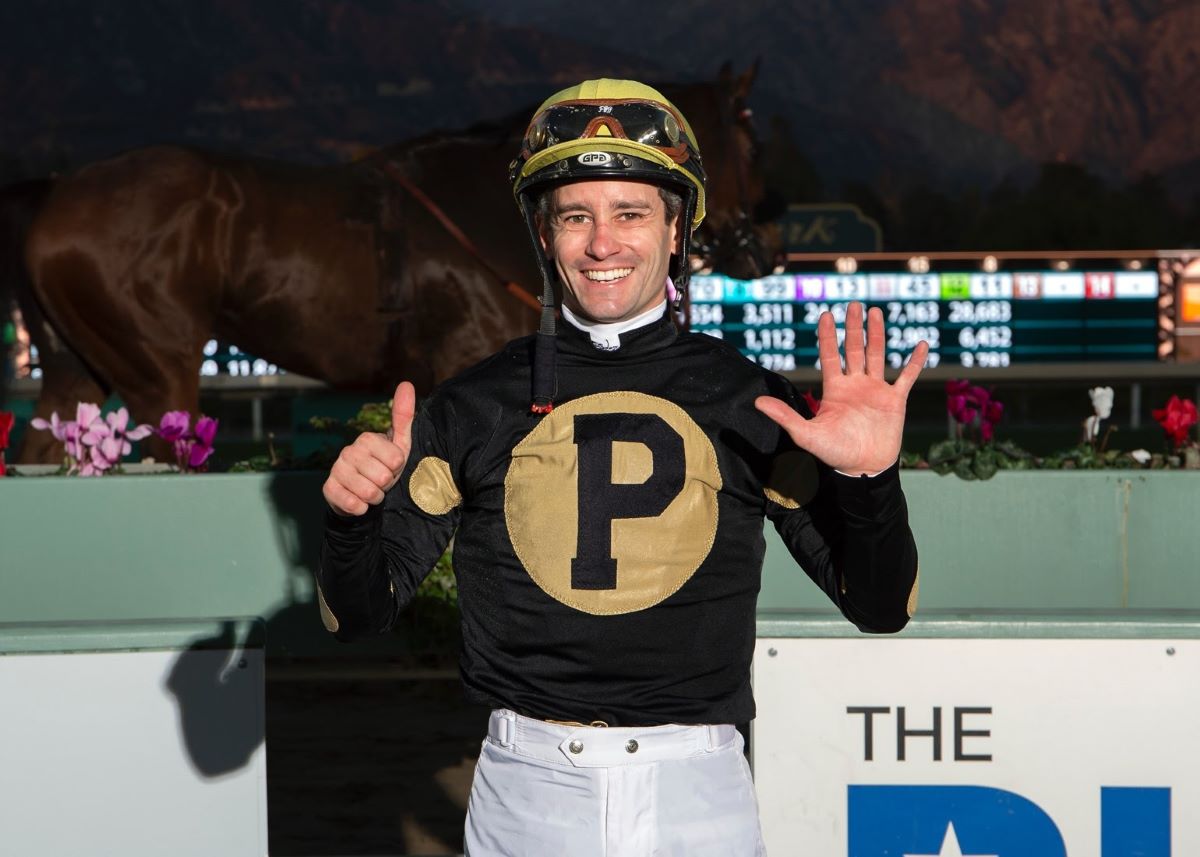 For the third time in as many years, Prat won six races in one day at Santa Anita. The perennial Santa Anita riding champion went 6-for-10 on New Year's Day, finishing second in the other four races for good measure.
Prat last won six races in a day at Santa Anita on March 12, 2021. He first turned the trick 10 months earlier, on May 18, 2020. He was the fourth jockey to do it twice at Santa Anita, joining Laffit Pincay Jr. (1973 and 1981), Sandy Hawley (February and March 1976), and Darrel McHargue (1978 and 1979). Before Prat won six in one day for his first time, Rafael Bejarano (2006) was the last Santa Anita jockey pulling down a six-pack.
Pincay holds the track record with seven, single-day wins. That came on March 14, 1987.
Prat nearly had a record-tying seventh win
Prat came within a whisker of tying Pincay. He and 11/10 favorite Beer Can Man lost the Grade 2 Joe Hernandez Stakes by a nose to Chewing Gum.
Instead, Prat contented himself with stakes victories aboard As Time Goes By in the Grade 3 La Canada Stakes and aboard Luck in the Grade 3 Robert Frankel. After a runner-up finish aboard Liberty Forever in Saturday's opener, Prat opened his account aboard 9/10 favorite Queen of Thorns in the second race. He won the third race by 5 ½ lengths aboard 3/10 favorite Smuggler's Run before finishing second aboard 2/1 second choice Invincibella in the fourth.
Prat rectified that oversight in the fifth, piloting 6/5 favorite Mad Steven to a neck victory. The second in the Joe Hernandez followed in the sixth. Prat's last runner-up came in the seventh aboard 3/2 favorite Rockefeller in the Grade 3 Sham.
Closing the door in the last three races
From there, he ran the table. Prat won the eighth aboard Luck in the Frankel, the ninth by 13 ½ lengths aboard As Time Goes By in the La Canada, and the day's finale aboard 1.90/1 Riding With Dino.
It's not like Velazquez, who moved his tack to California from New York for the Winter/Spring Meet, is having an off meet. Through the first four days of Santa Anita's meet, he's 10-for-22  for an incandescent 45% winning percentage. But Prat's latest six-pack illustrated the West Coast's riding king isn't going anywhere.
Prat is 9-for-29, which is good for 31%. Any rider north of 20% is considered successful. His mounts already brought in $795,000 in earnings. Velazquez's banked $743,850.
'Flavien is so good'
"What can you say? Flavien is so good," trainer Doug O'Neill rhetorically asked. " I've been around here since the '80s with (Bill) Shoemaker, (Chris) McCarron, and all the legends. Prat is still young, with a big future. I think we're looking at a legend in the making."
O'Neill will undoubtedly help Prat to more earnings aboard Hot Rod Charlie, who is headed to Dubai on Jan. 17. He'll ride one prep race before the March 26, $9 million Dubai World Cup.