Baylor's waited 71 years to return to the Final Four, making it back for the first time since 1950. Heading into the Final Four, the #1 Baylor Bears' three-guard attack faces their toughest opponent in March Madness against the #2 Houston Cougars and their stifling defense.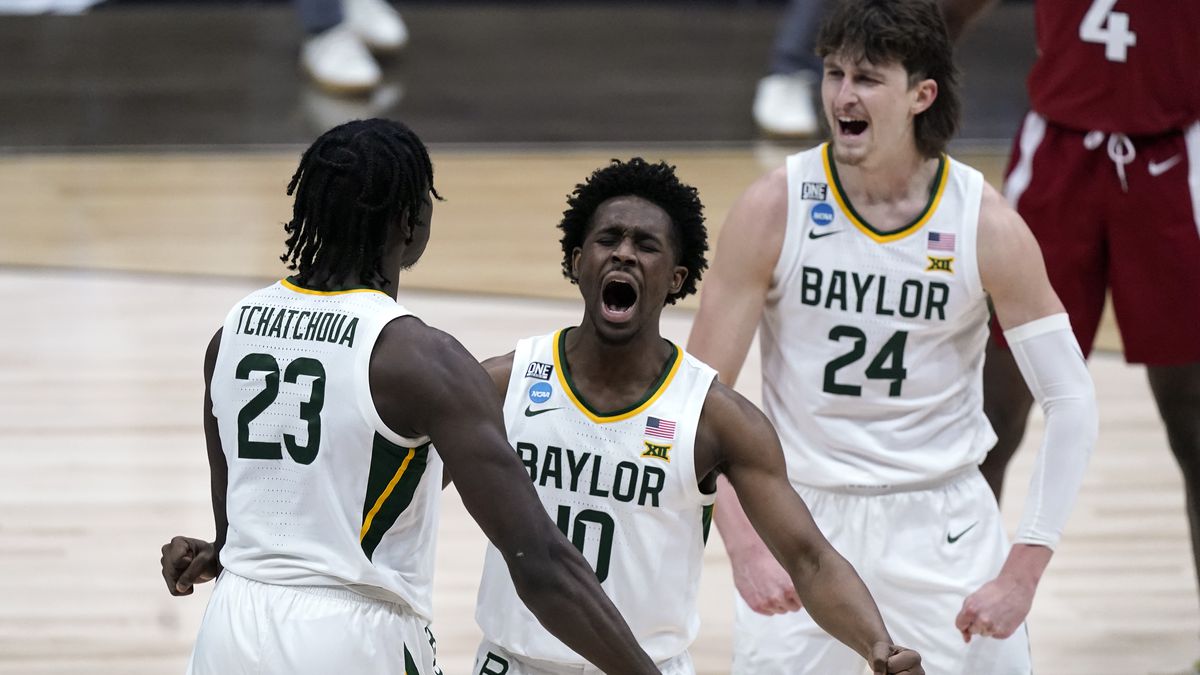 No one shoots the 3-pointer better than Baylor, who leads the nation in long-range shooting with a 41% rate, but Houston's smothering perimeter defense will be in their faces all game.
Baylor is a 5-point favorite coming into their Final Four matchup against Houston. It's the closer of the two Final Four games, according to the opening point spread.
---
#2 Houston Cougars (28-3) vs #1 Baylor Bears (26-2)
Tip-off: 5:14 pm ET
Point Spread: BAY -5
Over/Under: 134.5 o/u
Money Line: BAY -220 / HOU +180
---
Baylor has never won a March Madness title, but they came close once with a runner-up finish in 1948. Baylor's become known for its college football program and top-notch women's basketball teams under Kim Mulkey, but Scott Drew is working to finally put Baylor basketball on the map.
Baylor is +250 odds to win March Madness, according to a recent update by DraftKings at the start of the Final Four. KenPom ranked Baylor #2 overall this season.
Big Bears: Butler, Teague, Mitchell
Baylor's three-guard attack includes a trio of snipers who shoot 40% or better from long range. They're also tough defenders, especially Jared Butler, who usually gets the toughest defensive assignment.
Butler, a 6-foot-3 junior guard, leads Baylor in scoring with 16.5 ppg. He's had a subpar March Madness so far with erratic shooting from 3-point land. He had two bad games in which he shot 1-for-8 and 1-for-9 from downtown, and both happened to be his lowest output in four tournament games.
MaCaio Teague, a 6-foot-4 senior guard, averages 15.9 ppg this season. He shot a smidge below 40% from beyond the arc this season. After a bad outing against Villanova in the Sweet 16, he bounced back with 22 points against Arkansas in the Elite 8.
Davion Mitchell, a 6-foot-2 junior guard, averages 14 ppg, but he's the deadliest shooter on the team with a 45% clip from downtown. He hasn't hit a 3-pointer since the second round, however, and shot blanks with an 0-for-3 clip against Villanova. He didn't even attempt a trey in the Elite 8 against Arkansas.
Fan-favorite Matthew Mayer sports a mullet, but don't let his goofy hairstyle fool you. Mayer, a 6-foot-9 swingman, posted a couple of big games so far in March Madness, including 17 points against Wisconsin. He only averages 8.2 ppg, but he shoots 40% from 3-point range.
Path to the Final Four
Baylor won all four of their March Madness games by double digits, yet they had two games in which they shot blanks from 3-point range.
Baylor ended the regular season with the #3 ranking, according to the AP Top 25 Poll, and earned a #1 seed in the South Regional.
In the opening round, Baylor edged out #16 Hartford by 24 points despite terrible outside shooting, including missing 22 3-point shots. Baylor's Big 3 combined for 47 points, which is impressive, considering Hartford tallied just 55 points.
During the Round of 32, Baylor edged out #9 Wisconsin by 13 points, but shot much better from 3-point range with a 47.1% clip. Butler and Mitchell added 16 points each, while Mayer and his awesome mullet led all scorers with 17 points off the bench.
In the Sweet 16, Baylor bypassed #5 Villanova in a low-scoring affair, but still won by 11 points. Villanova blew a double-digit lead and Baylor stormed back and outscored Villanova 39-21 in the second half. Baylor's starters went cold from beyond the arc, shooting a combined 1-for-13. Mitchell was the only starter to score in double-digits. Baylor was boosted by 24 bench points, including 16 points from backup guard Adam Flagler.
In the Elite 8, Baylor slipped by #3 Arkansas with an 11-point victory. The Bears utilized better shot selection, especially the starters, who combined 5-for-10 from downtown. Overall, Baylor shot 53.3% from 3-point range, while the Bears' perimeter defense held Arkansas to 3-for-11 in 3-point shooting.
Check out more Final Four betting previews.