Even when Lexitonian needed easing in a race, Jack Sisterson never eased his expectations. And when his 5-year-old had a bad race, Sisterson knew he wasn't a bad horse.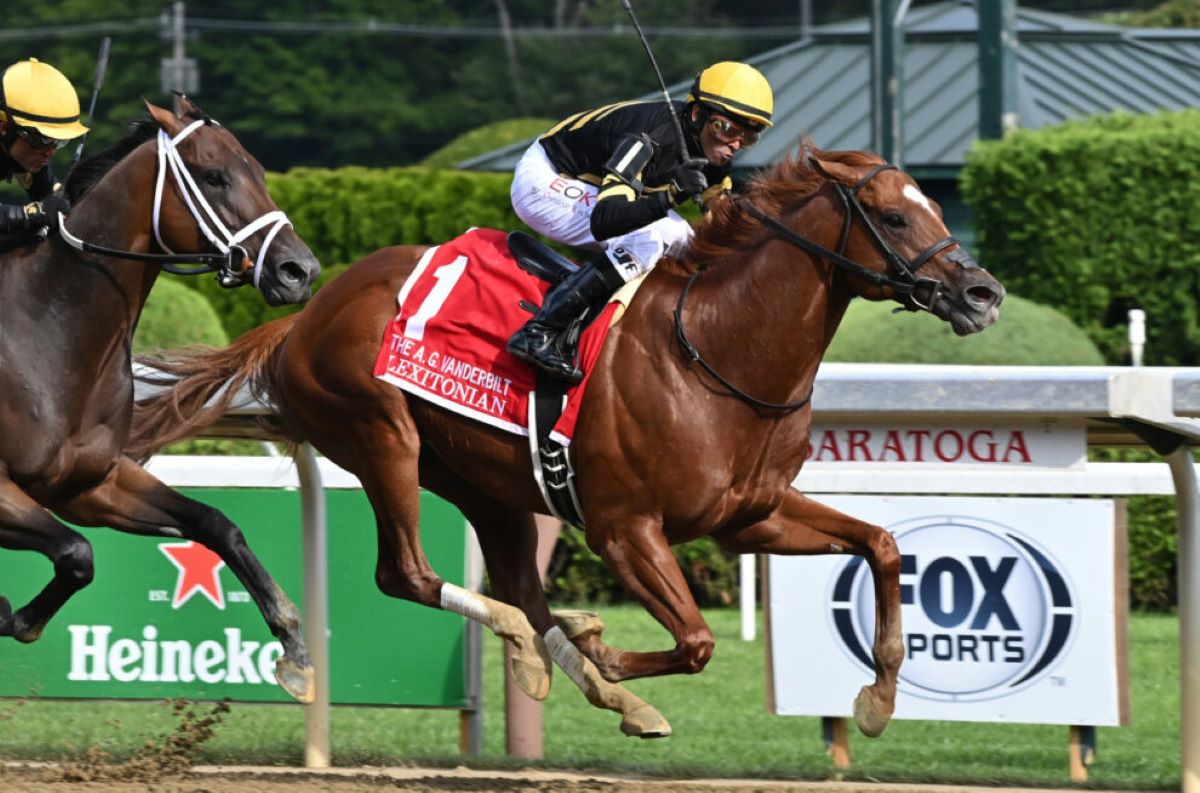 And, when Lexitonian left the Saratoga starting gate in Saturday's Grade 1 Vanderbilt Stakes as the biggest price on the board at 34/1, Sisterson knew he was a bigger horse than that.
Those who agreed with their wallets thank him for that. Lexitonian pulled off the upset, pulling away from Special Reserve in the final sixteenth to win his first Grade 1 race. The victory came in his 19th start. Those of you not holding Lexitonian tickets that paid $70 for a $2 bet can be forgiven. This was Lexitonian's first victory in 14 months, and his first graded stakes win since May 2019. That score in the Grade 3 Chick Lang at Pimlico came 14 races ago.
Lexitonian mixes the good with the bad
If you watched Lexitonian's last race, the June 5 Met Mile at Belmont Park, you also get a pass. That's because you saw the son of Speightstown bumped coming out of the gate, tire coming into the stretch, and ease over the final furlong. He finished 45 ¼ lengths behind winner Silver State and 36 ¾ lengths behind fifth-place Dr Post.
"I was really proud of his effort because, from a past-performance standpoint, he might be a little untrustworthy at times with a good race and a bad race, but he does all the hard work," Sisterson told the New York Racing Association. "We don't mind taking a shot with him and being a long shot. As long as he's doing well, he gives us confidence to run in any type of race we can."
So even with Sisterson's reputation as an upset maestro, Lexitonian carried this baggage into the Vanderbilt. There, five other graded stakes winners awaited.
Sisterson didn't blink when Lexitonian did
Not that Sisterson is one to dodge competition. He entered Lexitonian in last year's Vanderbilt, only to scratch him after Whitmore (who finished third this year) broke through his gate and spooked him. Without missing a beat, Sisterson sent Lexitonian across the country to Del Mar, then watched him finish second to Collusion Illusion in the Grade 1 Bing Crosby. That 111 Equibase Speed Figure was his previous career-high before Saturday.
Jockey Jose Lezcano followed Sisterson's advice to get Lexitonian out of the gate quickly on Saturday. Sisterson told Lezcano that if you put him in a pressure situation, he'll respond. And when Special Reserve stuck his head in front, Lexitonian did just that. The two dueled down the stretch before Lexitonian prevailed by a half-length.
That gave Lexitonian his first Grade 1 win and his first triple-digit Beyer Speed Figure, a 102. His 116 Equibase also marked a career-best. It was also an 88-point improvement from his Met Mile number.
Watch for him in the Forego or Vosburgh next
"I have to give Lexitonian a ton of credit," Sisterson said after the race. "He ran in the Met Mile and he was eased. You'd think a horse that was eased and thrown in some clunkers, you'd sit back and think, 'Let's drop him down a grade and give him a confidence builder.' But I've run him in every Grade 1 and [have] been hard on him, and this is how he responds today. I have to give credit to Lexitonian."
Now, Sisterson is giving another Grade 1 – the Forego – a hard look for his hard-charging horse. That race comes on the Aug. 28 Travers Stakes undercard, meaning a three-week turnaround. Lexitonian finished fifth in last year's Forego, splashing through the muck in a downpour on a sealed track.
"I know I'm a little biased, but I didn't think he ran badly in the Forego last year," Sisterson said. "It was in a downpour and probably not his ideal conditions. He paid $70 yesterday, so no one respected him. But I understand why the public felt that way, because he threw in a clunker there. But when he's on his form, he has a chance."