Only three games into the season, Duke freshman big man Zion Williamson keeps adding more thunderous dunks to his highlight reel.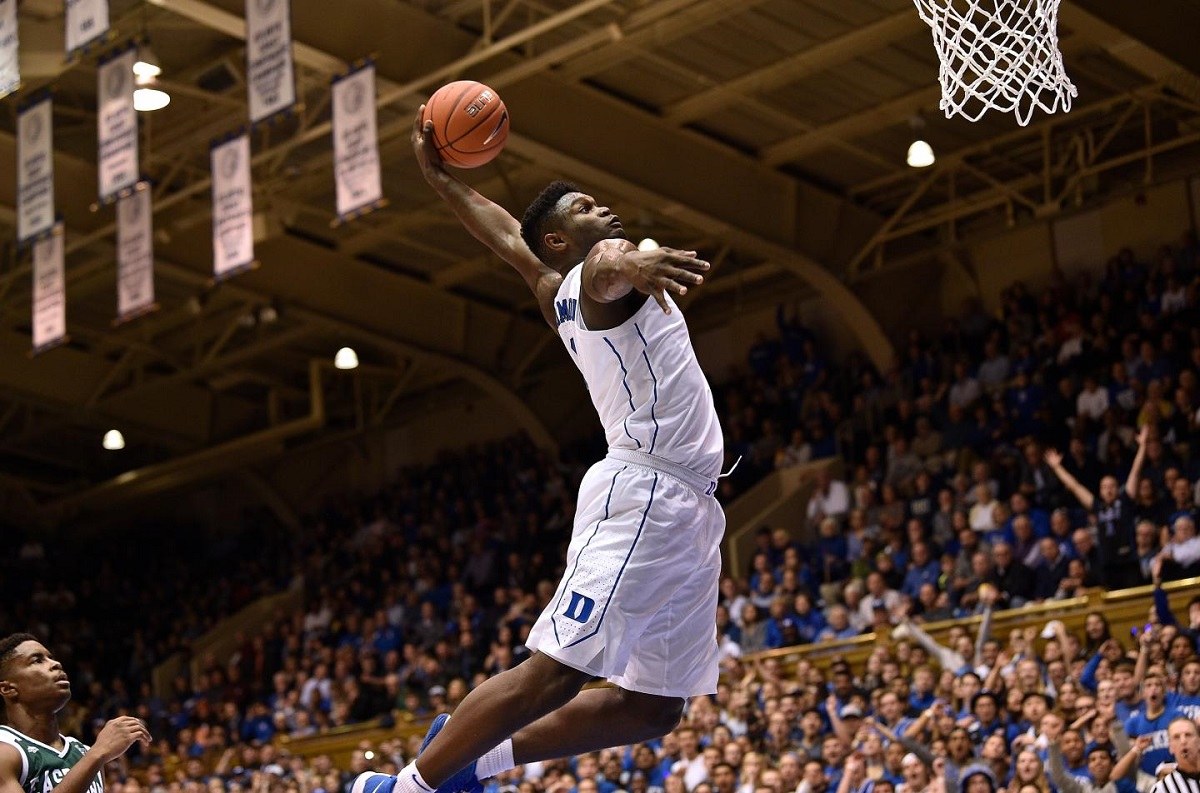 In an 84-46 blowout win against Eastern Michigan, Duke dunked the ball 14 times and Zion Williamson threw down several monstrous dunks.
Zion Shines in Debut
In three games this season, Williamson is averaging 25.3 points per game. His 82 percent shooting is what has been turning heads. Williamson is not just scoring, but at a super-efficient clip.
In the Eastern Michigan game, Williamson scored the first points for Duke with a dunk. That set the tone for the rest of the game as Duke coasted to their third win of the season.
Despite seeing limited action, Williamson scored 21 points and 9 rebounds in 21 minutes. Freshman swingman RJ Barrett added 20 points in the easy win against EMU.
In the first game of the season, an instrumental Williamson led #4 Duke to a big win over #2 Kentucky. Barret and Williamson combined for 61 points in the 118-84 rout.
With Williamson looking unstoppable, Duke is one of the favorites to win March Madness next spring.
Blue Chipper and YT Star
Zion became a household name when the high schooler made OMG-induced waves on YouTube with his dunk highlight reels garnering millions of views and likes. In the era of social media, Williamson was an internet sensation before he signed with Duke.
"Zion's dunks are crazy," Duke teammate Tre Jones said.
"It is crazy," head coach Mike Krzyzewski added. "More than how high he jumps, is his incredible body control."
The sensational standout from the Sparkle City a.k.a. Spartanburg, South Carolina was heavily recruited by all of the major programs. Duke won the bidding war over in state South Carolina and nearby North Carolina. Coach K landed one of the top prospects in the nation, but knew he'd only have him for a short time before he turned pro.
One and Zion
Williamson is the perfect example of why the NBA rule prohibiting high school players from entering the NBA. Williamson clearly has NBA-caliber talent and should not be wasting this season in ACC, when he could be holding his own against the best players in the world including this incoming crop of NBA rookies, such as Trae Young, Luka Doncic, and top-draft pick DeAndre Ayton.
The One-and-Done rule will not be around much longer. In the meantime, Williamson should use this time to mature as a teammate, learn how to handle fame, and deal with the media. Even though he's miles ahead of his peers on the skill level, he has a lot of off-the-court aspects of the professional life he has yet to master.
TE Freak Material
Despite never playing tight end in high school. Williamson drew eyes of SEC coaches. LSU assistant coach Eric Mateos reached out to Williamson and offered him a scholarship on size alone. The 6-foot-7, 285 pound Williamson would have been a monster on the field for the LSU Tigers.
"If he's 285, you're talking a rare specimen, Mateos said. "A Julius Peppers-type of freak. I used to think Jadeveon Clowney was the biggest freak I'd ever seen. Zion probably brings the same or better athleticism based off what I've seen."
According to an ESPN report, Williamson never returned the recruiting call.