Once you get past the obvious, that Greatest Honour is clearly the favorite to add the Fountain of Youth to his Gulfstream Park Kentucky Derby prep resume, this race opens up a wealth of other storylines.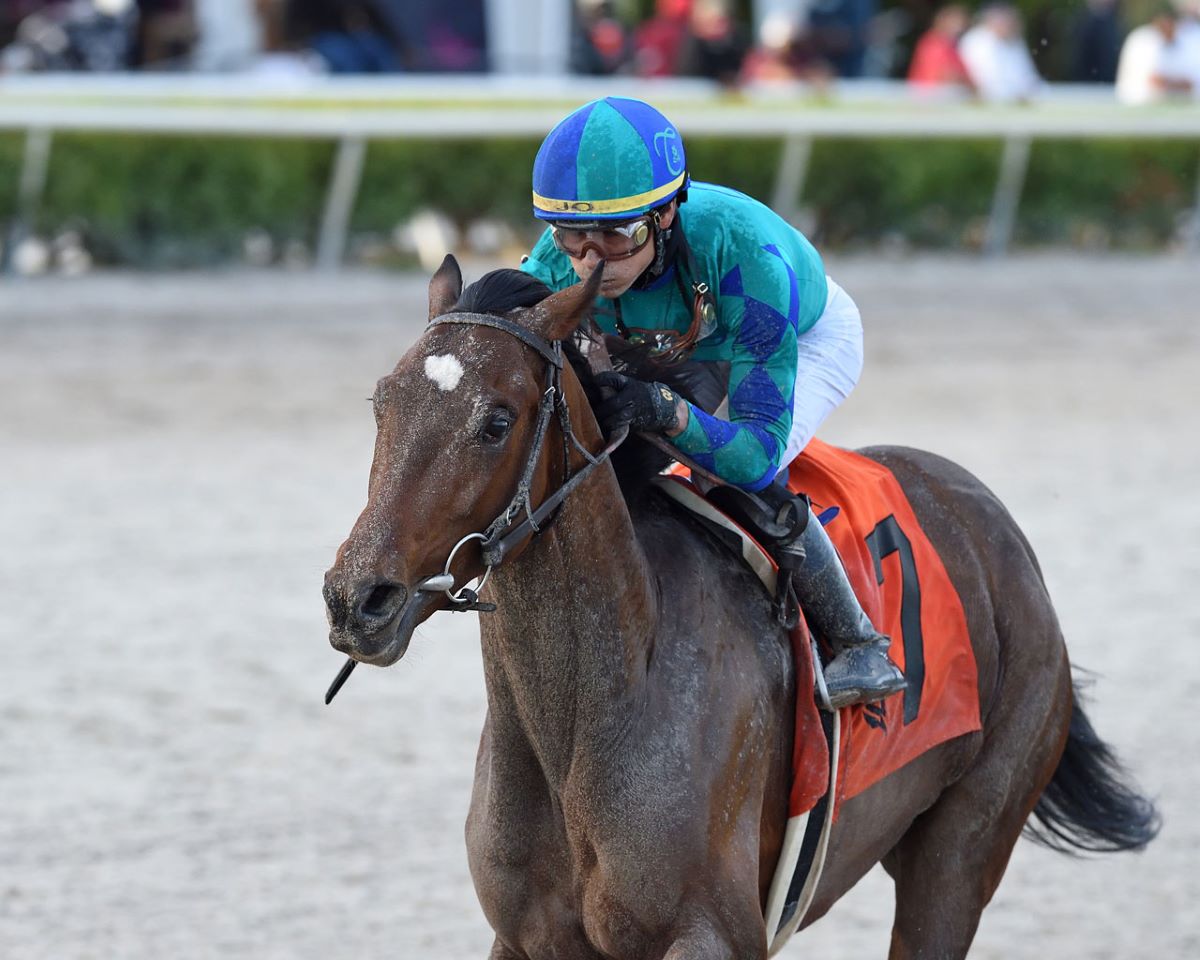 Can Fire At Will handle dirt as well as he handled turf? Is Prime Factor for real? And who is Drain the Clock, and where did he come from?
The Grade 2 Fountain of Youth is the second "win and you're virtually in" Derby prep race. It offers 50-20-10-5 Derby qualifying points to its top four finishers. The 1 1/16-mile Fountain of Youth headlines Gulfstream Park's 14-race Saturday card, and it does so carrying some nice historical luggage along the way.
Dating to 1945, the Fountain of Youth cranked out some of the 20th century's best Thoroughbreds. Tim Tam (1958), Kauai King (1966), Spectacular Bid (1979), Thunder Gulch (1995), and Orb (2013) all pulled off the Fountain of Youth/Derby double.
Call Fountain of Youth a Derby factory
Losing the Fountain of Youth doesn't preclude you from finding the Churchill Downs winner's circle, as Carry Back (1961), Forward Pass (1968), Dust Commander (1970), Cannonade (1974), Pleasant Colony (1981), Swale (1984), Unbridled (1990), and Go for Gin (1994) can all attest. All told, 13 Fountain of Youth alums won the Derby, and 96 horses from that race made the Derby field.
While Orb is the only 21st century Fountain of Youth alum to win the Derby, the race sent Shackleford to the 2011 Preakness Stakes title. It also sent Jazil (2006) and Union Rags (2012) to the Belmont Stakes winner's circle.
---
Grade 2 Fountain of Youth/Gulfstream Park
Morning Line (Jockey/Trainer)
Drain the Clock, 5/1 (Edgard Zayas/Saffie Joseph Jr.)
Prime Factor, 5/1 (Irad Ortiz Jr./Todd Pletcher)
Sososubtle, 20/1 (Paco Lopez/Armando De la Cerda)
Fire At Will, 7/2 (Kendrick Carmouche/Mike Maker)
Jirafales, 30/1 (Javier Castellano/Gustavo Delgado)
King's Ovation, 15/1 (Corey Lanerie/Dale Romans)
Tarantino, 8/1 (Tyler Gaffalione/Rodolfo Brisset)
Greatest Honour, 9/5 (Jose Ortiz/Shug McGaughey)
Tiz Tact Toe, 20/1 (Rajiv Maragh/Robert Hess Jr.)
Papetu, 9/2 (Junior Alvarado/Antonio Sano)
---
History lesson over, the question now is, who are the candidates to join that gilded group? The 10-horse field starts with Greatest Honour (9/5). Speaking of Orb, the 2013 Derby winner is the template trainer Shug McGaughey uses to plot Greatest Honour's path to the 2021 Run for the Roses. McGaughey conditioned Orb to that Derby victory.
Greatest Honour and Orb have plenty in common
Like Orb, Greatest Honour brings a finisher's kick. His stretch surge en route to a 5 ¾-length romp in the Holy Bull put Greatest Honour on the first page of many Derby futures lists. He closed as the 9/1 third individual choice in the Kentucky Derby Future Wager Pool 3. He sits at 11/1 at Circa Sports and 10/1 at William Hill Nevada.
It bears mentioning that McGaughey is selective when putting his charges on the Derby trail. He doesn't send just anyone out. With that, Greatest Honour's main concern here isn't his talent vs. his rivals. It's two-fold: overcoming his outside post (8), which is often problematic at Gulfstream for a 1 1/16-mile race, and improving on his 89 Beyer Speed Figure from the Holy Bull.
"We'd like to see some speed ahead of him. When you have a horse that comes from behind, if you have some pace in front of you, it helps you," McGaughey told Gulfstream Park. "But I'm not going to be overly worried if there isn't."
Unlike the Southwest Stakes, the Fountain of Youth offers good betting value up and down the program. That starts with Drain the Clock (5/1). A newcomer to the Derby trail, this Maclean's Music colt has been called a wild card in virtually every story about this race.
Drain the Clock starts his Derby clock here
With good reason. First, the pros. There are his four wins in five races. That's eye-opening. The only race Drain the Clock didn't win was his third, when an iron broke and he dumped his rider. Afterward, Drain the Clock won the Limehouse and the Grade 3 Swale at Gulfstream, the latter by six lengths.
Along with that, Drain the Clock is the lone speed in this race. He's perched on the rail here, with Gulfstream riding mainstay Edgard Zayas, who wins 28% of his races riding for trainer Saffie Joseph Jr.
Now, the cons. Drain the Clock's best Beyer was the 85 from that Swale. While they've improved every race, save the one in which he lost his rider, he'll need a jump to get into serious Derby contention. And there's the not-insignificant fact he hasn't gone beyond seven furlongs or taken two turns. He is an intriguing, but tough call.
Can Fire At Will fire on dirt?
So, for that matter, is Fire At Will (7/2). The Mike Maker charge is 3-for-4, with two of those on turf. The latter came at the Breeders' Cup Juvenile Turf at 30/1. His only win on dirt came over three other horses on a sloppy Saratoga track last summer.
This Declaration of War colt has the pedigree, but this may be deeper waters than he's built to swim. This may be one of those instances (see Cowan) where a horse's connections come down with Derby fever and pigeon-hole a horse into a style or surface he's not suited for.
"It's a tough task, whether he's a dirt horse or a turf horse, but he's earned the chance," Maker said.
That brings us to Prime Factor (5/1). As the even-money favorite in the Holy Bull, the Todd Pletcher trainee stalked the pace perfectly coming into the final turn. At that point, Prime Factor had nothing left, finishing a well-beaten third to Greatest Honour and Tarantino.
Spoiler alert: Pletcher, Ortiz batting .333 at Gulfstream
Pletcher and jockey Irad Ortiz Jr. combined to win a stunning 33% of their efforts at Gulfstream this season. Ortiz is winning 27% of his races at Gulfstream. Translation: the Fountain of Youth is make-or-break time. If Prime Factor doesn't put in a prime effort, consider this his Derby trail off-ramp.
The pick: Greatest Honour. This comes with a caveat to use him as the key to exotics because his odds will drift into the even-money or odds-on neighborhood. Keying him with Drain the Clock, and maybe Tarantino in exactas and trifectas, is the better betting path.