Denny Hamlin will try to become the first driver ever to win three consecutive Daytona 500 races on Sunday, as NASCAR's 2020 season kicks off with its marquee race.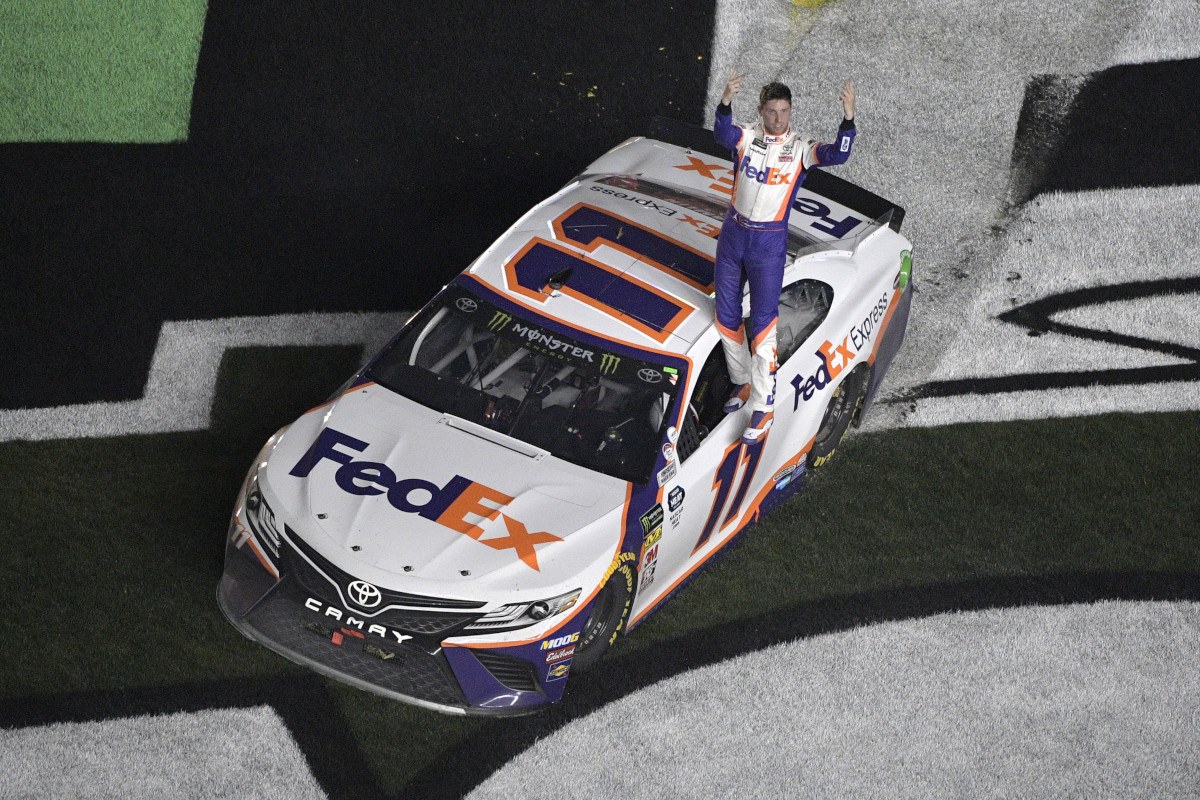 Hamlin will start in 25th position, but remains the favorite to work his way up the field and make history at Daytona International Speedway.
Hamlin: Win Would be Biggest of Career
Only four drivers have won the Daytona 500 twice in a row. Last year, Hamlin joined Sterling Marlin, Richard Petty, and Cale Yarborough on that list. Hamlin has also won the race three times in total, all in the past five years.
"This is a big opportunity for us and my team and myself personally, it's just I never would have imagined that we'd be in this position by any means, especially five years ago when we didn't have any," Hamlin told reporters. "In these situations and anytime you get asked, I think about all the ones that slipped away that I had in control and didn't make the right decision at the end to finish it off. It would be by far my biggest victory of my career and one that I probably wouldn't exchange for anything."
Hamlin enters the Daytona 500 as the +800 pick to win the race, according to FanDuel Sportsbook. That puts him just ahead of Ryan Blaney, Joey Logano, and Chase Elliott, all at +1000.
Alex Bowman took the poll position in qualifying on Wednesday night, claiming that position for the second straight year. William Byron qualified second, giving Hendrick Motorsports a sweep of the front row heading into Sunday's race. Byron stands as a +1600 pick to win the Daytona 500, with Bowman at +1800.
Catch up with your #DAYTONA500 pole winner, @Alex_Bowman! ⬇️ pic.twitter.com/OIyN9qdJjP

— Hendrick Motorsports (@TeamHendrick) February 11, 2021
"I think it means a lot to Mr. H – he wants to win everything," Bowman told reporters. "Here it really just comes down to who built the fastest race car. And I think it's important for Hendrick Motorsports to come up and prove that they're the ones that did that."
23XI Racing Makes Daytona 500 Debut
The Daytona 500 will also mark the first official race for 23XI Racing, a new team co-owned by Denny Hamlin and Michael Jordan. Bubba Wallace (+1800) will drive for the team, and will start in the sixth position on Sunday.
---
Daytona 500 Odds (via FanDuel Sportsbook
Denny Hamlin: +800
Ryan Blaney: +1000
Chase Elliott: +1000
Joey Logano: +1000
Kyle Busch: +1200
Brad Keselowski: +1200
Aric Almirola: +1400
Kevin Harvick: +1400
Kyle Larson: +1400
William Byron: +1600
Martin Truex Jr.: +1600
Alex Bowman: +1800
Bubba Wallace: +1800
Ricky Stenhouse Jr.: +2000
---
"My bosses are a three-time Daytona 500 winner and maybe the greatest athlete who ever lived," Wallace said of Hamlin and Jordan, respectively. "My crew chief has already won a Daytona 500. I am going to listen to everything they have to say whenever they have to say it, no matter when that is."
Elliott comes into the 2021 season as the +500 favorite to win the NASCAR Cup Series Championship. He ranks just ahead of Kevin Harvick (+600) and Hamlin (+650), with Brad Keselowski (+800), Logano (+800), Kyle Busch (+800), and Martin Truex Jr. (+800) also in the mix.