Dallas Seavey outlasted 46 teams to win the 2021 Iditarod, which marked his fifth victory in the great Alaska Trail Sled Dog Race. Seavey, led by lead dogs North and Gamble, crossed the finish line at Deshka Landing shortly after 5 am Alaska time to complete the perilous 850-mile journey.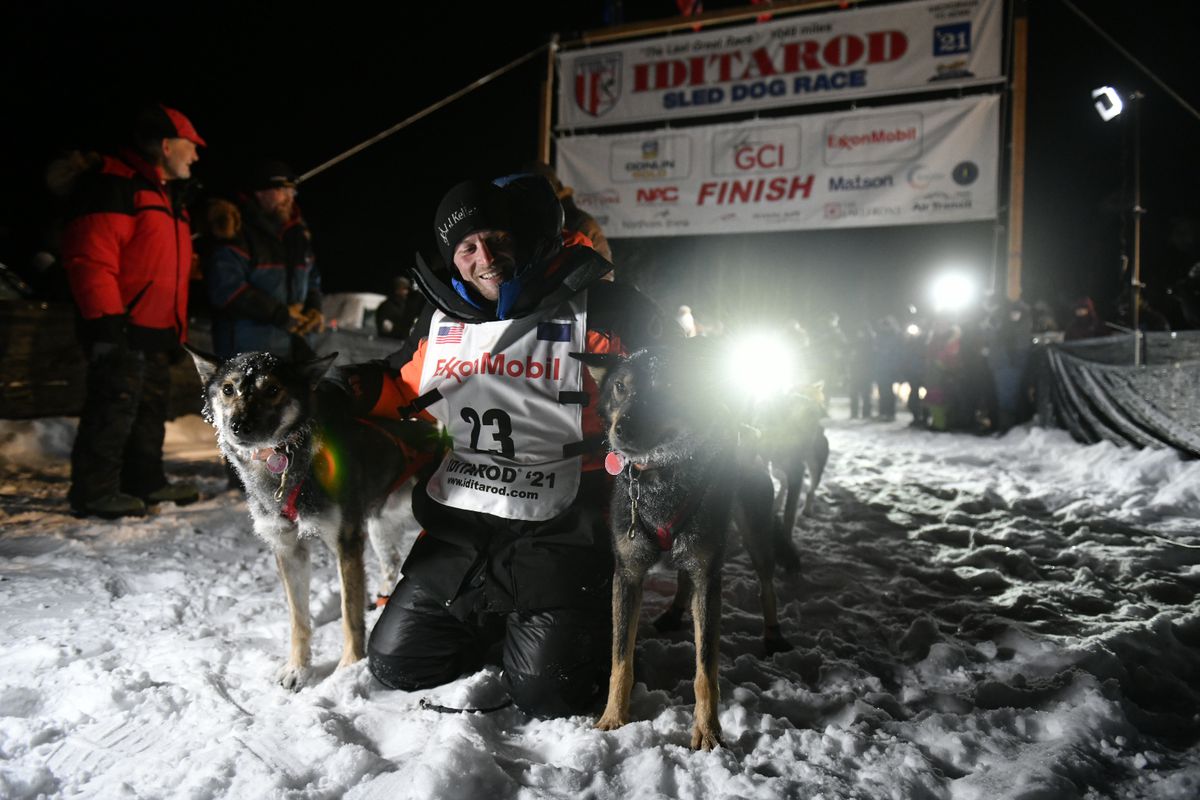 Only 37 teams remain out of the original 46 teams who entered, with 33 of them still racing on Gold Loop Trail.
Seavey completed the 2021 Iditarod in seven days, 14 hours, and eight-plus minutes.
In the age of COVID-19, this year's Iditarod was reduced from its usual 1,000-mile trek from Anchorage to Nome. In order to protect smaller communities in Alaska's interior, race organizers reduced the 2021 course to 850-miles. Mushers and sled dog teams would race to the old ghost town of Iditarod and turn around to head back to the start/finish line in Deshka Landing, located outside Willow, Alaska.
Five-Time Champ
Seavey, 34, became the youngest champion musher at 25-years old when he won the 2012 Iditarod, led by his lead dogs, Guinness and Diesel.
He won the Iditarod three straight years between 2014 and 2016. He stepped away from the racing circuit in 2017 after a canine-opioid scandal and skipped the last four years. In his first race back, Seavey didn't waste any time returning to his old form.
Coming into this year's race, Seavey was tied with Susan Butcher, Doug Seingley, and Lance Mackey with four victories, and was eyeing the overall record of five wins by Rick Swenson.
"We got it, and that's huge, man," said Seavey. "I've looked up to Iditarod champions my whole life, and I've dreamed about this my whole life. Now, to see it happen, that's pretty cool."
In 1977, Swenson won his first Iditarod, which took 16 and a half days to complete. He won three more times between 1979 and 1982, but had to wait nearly another decade to add a fifth win.
Seavey Family Legacy
Seavey won the Iditarod at the age of 25, which was rare for sled dog racing where most of the champions were in their 40s.
The Iditarod is one of the only sporting events in which men and women compete against each other In the same field. Due to the harsh conditions and elements of the Alaskan Wilderness, experience and wisdom are often more important than youth.
But racing is in Seavey's blood, and the family name is synonymous with sled dog racing. His grandfather, Dan Seavey, participated in the inaugural Iditarod in 1973. Dallas' father, Mitch Seavey, won the Iditarod in 2004, 2013, and 2017.
During the elder Seavey's third win, Mitch broke the course record of 8 days, 11 hours, and 20 minutes that Dallas set in 2016. Mitch edged out his son by nearly eight hours, and set the current record at 8 days, 3 hours, and 40 minutes.
Between 2012 and 2017, neither Dallas or Mitch Seavey won the Iditarod.
Day 7 and Day 8: Chasing Dallas
Seavey made his move in the second half of the race. From that point onward, everyone else was fighting for second place.
By Sunday morning, 38 teams were still alive. 2019 champion Pete Kaiser and Dennis Kananowicz scratched at the McGrath checkpoint.
Seavey opened up a four-mile lead, but only had 10 dogs in harness, with 76 miles remaining in the race. Aaron Burmeister, the next-closest musher, was in hot pursuit with 13 dogs. Brent Sass, who led for most of the first half of the race, was 17 miles behind Seavey.
"If I falter, those two are within striking distance," said Seavey. "We got ourselves a dog race!"
Mille Porsild attempted to become the first woman to win the Iditarod since Susan Butcher's victory in 1990, but she was in fourth place and behind by 31 miles. Ryan Redington, one of the early Iditarod leaders, sat in fifth place, but he was down to seven dogs in harness and 43 miles behind Seavey.
By Sunday evening, 37 teams were remaining after rookie Jeremy Traska retired at the Nikola checkpoint.
Seavey arrived first at the Skwentna checkpoint, the penultimate checkpoint that was 67 miles from the finish line at Deshka Landing.
Burmeister arrived at Skwentna an hour behind Seavey in second place. When Sass finally made it to Skwentna, he was almost an hour behind Burmeister and trailed Seavey by two hours.
Seavey beat Burmeister to Deshka Landing by three hours and 15 minutes. Sass crossed the finish line more than four-and-a-half hours after Seavey.