Ten college football conference championship games are scheduled for this weekend, including the Power 5 conferences. The odds haven't moved much since they opened Sunday night, but there are plenty of College Football Playoff implications with some of the games.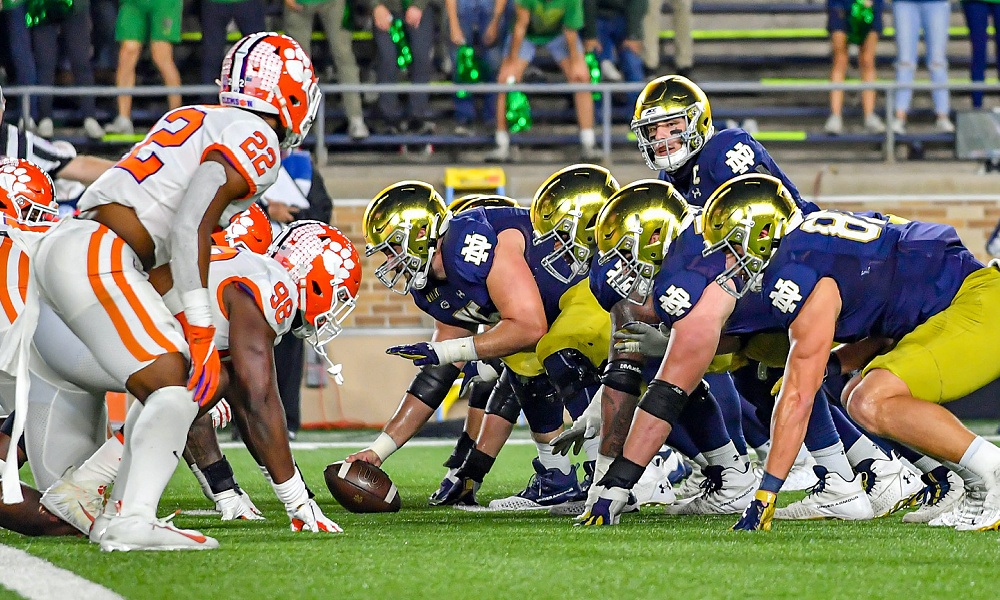 Undefeated and No. 1-ranked Alabama will face No. 11 Florida on Saturday at Mercedes-Benz Stadium in Atlanta. Florida is hoping an upset of the Crimson Tide will keep alive their slim hopes of getting into the College Football Playoff. The game opened with Alabama favored by 14.5 points, but has since moved to 17.
---
College Football Conference Championship Games
| | | |
| --- | --- | --- |
| Conference | Teams  | Odds  |
| Conference USA | UAB vs. Marshall | Marshall -7 |
| MAC | Ball State vs. Buffalo | Buffalo -13.5 |
| Pac-12 | Oregon vs. USC | USC -3 |
| Big 10 | Northwestern vs. Ohio State | Ohio State -20.5 |
| Big 12 | Oklahoma vs. Iowa State | Oklahoma -5.5 |
| Sun Belt | Louisiana vs. Coastal Carolina | Coastal Carolina -3 |
| ACC | Clemson vs. Notre Dame | Clemson -10.5 |
| Mountain West | Boise State vs. San Jose State | Boise State -6.5 |
| American | Tulsa vs. Cincinnati | Cincinnati -14.5 |
| SEC | Alabama vs. Florida | Alabama -17 |
---
The ACC contest is a rematch between Clemson and Notre Dame. The two teams met Nov. 7 and the Fighting Irish prevailed, 47-40. Clemson is the favorite for this game, which will be played Saturday at Bank of America Stadium in Charlotte, North Carolina. The line opened at 7.5 points, but moved up to 10.5
College Championship Games Could Affect CFP
In the first game against Notre Dame, Clemson was without starting quarterback, and presumptive No. 1 NFL draft pick Trevor Lawrence. The junior is back from a COVID-19 scare and, since his return, the one-time Heisman Trophy favorite has led his team to a 52-17 victory over Pitt, and a 45-10 win over Virginia Tech.
Clemson coach Dabo Swinney said Notre Dame joining the ACC for football this season has been beneficial for Clemson, and should make for an exciting conference championship game.
"I think we had one of the most watched games, maybe in a long time, this season especially in the first game, and I'll be shocked if this one's, not even better," Swinney said. "So, it's been good for college football. It's been good for our league and, hopefully, it's been good for Notre Dame. Who knows what they'll do going forward, but it's been a good year."
Florida Holding Out Hope
The Gators are currently No. 7 in the College Football Playoff rankings. Head coach Dan Mullen still believes his team can be one of the four teams in the CFP, despite having two losses on the season.
"We win next week, we're SEC champs," Mullen said. "That is all we control, and I guess that's a good question for the committee. That's their deal, with what's important. But I tell you what, I'm proud of our guys of how they faced through everything, played a 10-game SEC schedule, played beat up, played short-handed a bunch of these games this year."
Ohio State's Half-Schedule Criticized
Mullen was possibly referencing Ohio State, who has only played five games, but is ranked No. 4 in the CFP. The Big 10 began its season later than other conferences, and the Buckeyes had games with Maryland, Illinois, and Michigan canceled because of COVID-19 issues.
OSU hasn't played the requisite six games to qualify for the Big 10 Championship, but received a special waiver so they could face Northwestern on Saturday at Lucas Oil Stadium in Indianapolis. The Buckeyes are favored by 20 points.
Head coach Ryan Day, who missed games because of a positive COVID-19 test, had a curt answer for anyone who questioned whether Ohio State should be in the CFP.
"Everybody has their opinion," Day said.